How Kitchen Nightmares Affected The Business At Down City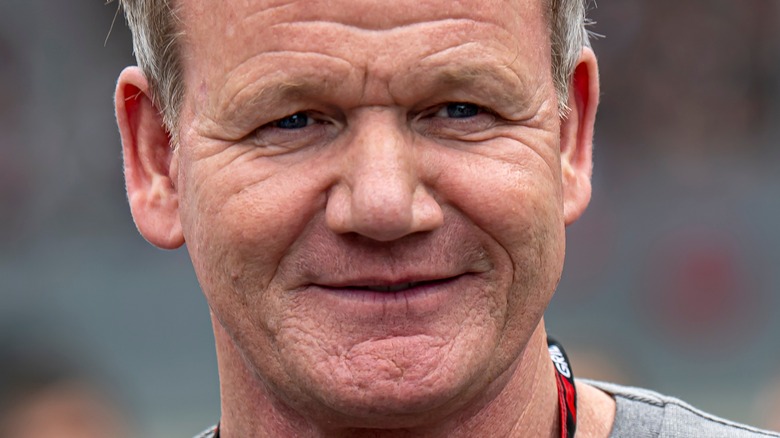 motorsports Photographer/Shutterstock
It often seems like Gordon Ramsay tries to work culinary miracles. On his long-running show "Kitchen Nightmares," the chef and TV icon attempts to breathe new life into failing establishments on the verge of closing. Sadly, as is often the case, the show has outlasted many of the restaurants it has featured. Such was the case with Down City, featured in Season 4, Episode 7, in 2011. Despite Ramsay's best efforts, he couldn't change Down City's downward trajectory. So what led to Down City's closing, and did the show affect its business?
Located in Rhode Island, Down City was owned by Abby Cabral and Rico Conforti, who had been operating the establishment since 2005. By the time Ramsay arrived, public perception had turned against the restaurant. The primary sources of contention were apparent the moment the "Hell's Kitchen" star walked in — overly complicated menus and a hostile work environment that boiled over from the kitchen into the dining room. And Abby tended to berate staff, customers, and even Chef Ramsay. 
With Ramsay's help, Down City appeared ready for an upswing with a revamped menu and a more organized staff. The immediate impact on business after the episode aired indicated success. Sales were up 33% after Ramsay's visit, but ultimately, that couldn't keep the doors open. 
Down City's downfall
We have to chalk this one up as a loss for Gordon Ramsay. Down City closed for good in 2014. Owners Abby and Rico cited an economic downturn as the reason for the closure. In a message on their website (via GoLocalProv), Abby wrote, "I want to thank everyone and anyone that has ever walked through the doors of DOWNCITY. What owning DOWNCITY has meant to me — words cannot describe."
However, Yelp reviews of Down City were mixed to negative. After discovering its closure, a few reviewers opted to lambast the restaurant's memory, with one writing, "Everything about this place was great AFTER Ramsay, and little by little, it degraded back into the dictatorship [it] always had been before." Another wrote, "Easily the worst food I've had in Providence, which is embarrassing in a city filled top to bottom with stellar food services and a college dedicated to hospitality and culinary arts. Thank you for closing your doors."
After Down City closed, Abby and Rico moved on to different professions. Since then, Abby has worked as a personal trainer. Meanwhile, Rico became a senior loan officer.