The Huge Company That Provides Chicken To So Many Fast Food Chains
Gmvozd/Getty Images
Most fast food chains have something about the chicken that makes it unique. For instance, KFC has its secret signature spice blend, and McDonald's uses celery salt to give McNuggets its signature taste. But regardless of how different the end products taste from one another, most of these restaurant chains are actually using the same chicken, provided by the same company.
As it turns out, the very same Tyson Foods that manufactures our favorite dinosaur nuggets also manufactures chicken products for chains like Taco Bell, KFC, McDonald's, Burger King, Popeyes, and Chick-fil-A. So, you're really kind of eating the same chicken no matter which fast food restaurant you choose to visit for dinner.
The conglomerate makes about $50 billion in sales each year, and owns popular brands like Hillshire Farms, Ballpark Franks, and Sara Lee. Of course, this just means that if one company under the Tyson umbrella finds a problem, it's highly likely that others are also bound to have trouble.
Tyson Foods is no stranger to a large-scale scandal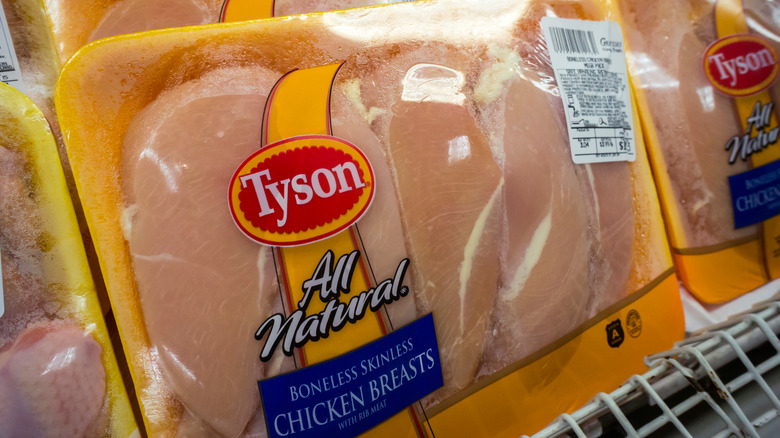 rblfmr/Shutterstock
While we can't get into every recall or lawsuit relating to Tyson Foods, we can touch on a couple of the more recent ones. In 2021, for example, a massive Tyson chicken recall affected more than 8.5 million pounds of product, including chicken products used by Jet's Pizza and Little Caesars.
The same year, Tyson Foods was also forced to pay out a $221.5 million settlement after being accused of illegally fixing chicken prices over the better part of a decade. This particular lawsuit alleged that Tyson Foods worked with other chicken conglomerates to raise prices across the board, therefore increasing profits. Plaintiffs included major chains like McDonald's, Chick-fil-A, White Castle, Golden Corral, Longhorn Steakhouse, and Olive Garden, among many others. Ultimately, at least 10 executives from Tyson Foods and other chicken conglomerates faced charges.
To this day, however, groups like the Union of Concerned Scientists maintain that Tyson Foods has a "near-monopolistic" grasp on the chicken industry, giving the conglomerate far too much power. Hard to argue with that once you realize that Tyson does indeed stock almost all of our favorite restaurants.