Costco's Pumpkin Streusel Muffins Are Once Again Back For Fall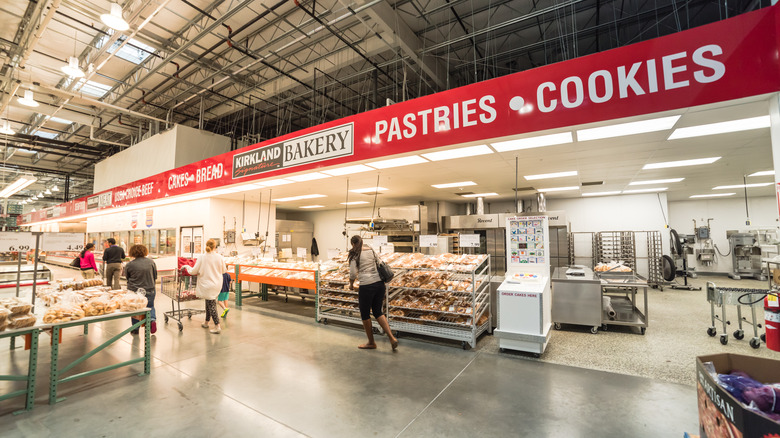 Trong Nguyen/Shutterstock
When it comes to food, few things are worse than falling in love with a delectable treat just for it to be discontinued. While we don't want to diminish anybody's pain, we have to admit that we feel exceptionally bad for those who find out that the seasonal snack they've been anxiously awaiting to see again becomes a thing of the past, because that means they probably didn't get the chance to stock up on it before it got the boot.
Fortunately, we're not here today to deliver any bad news about your beloved munchies; actually, quite the opposite. Fans of fall and all things pumpkin may want to brace themselves because it seems that Costco has brought back its pumpkin streusel muffins for leaf-peeping season 2023. A card member fave for several years now, the six-packs of autumnal baked goods were spotted in stores earlier this month by Instagram user @costcohotfinds.
"I've been waiting for this one," the Instagrammer said in her post about the seasonal Costco find on September 2. "They're FANTASTIC," she added in the caption. With over 8,500 likes on the upload as of this writing, it's safe to say that several other shoppers agree.
How to snack on Costco's pumpkin streusel muffins all year long
Costco shoppers are jumping for joy over the news of the chain's returning pumpkin streusel muffins. "OHMYLANTA. I NEED THESE," one Instagram user commented on @costcohotfind's post. "Yummm I wait for these all year! So good!" another wrote, while a third Instagrammer declared that it was "time for a Costco run."
For those who are unfamiliar with this seasonal Costco bakery find, the retailer's ⅓ pound pumpkin streusel muffins feature a spiced pumpkin muffin topped with a crumbly streusel topping and an icing drizzle, which appears to have replaced the dusting of powdered sugar the treats have come with in previous years. They are offered in packs of six that are sold strictly in sets of two, meaning that you can walk out of the big box retailer with 12 of the fall-themed treats for as low as $8.99, though prices can vary by location.
In her post, @costcohotfinds said she heats the muffins up in the microwave for 30 seconds and slathers them in butter. However, they're also great as-is and can be air-fried or toasted. You could even go all-out and top your muffin with a scoop of ice cream. If you want to enjoy this autumnal treat after all the leaves have fallen, try wrapping each muffin in plastic wrap or foil and storing them in an air-tight container in the freezer so that you can indulge all year long.