The Bottle War Trend Is Wastefulness At Its Finest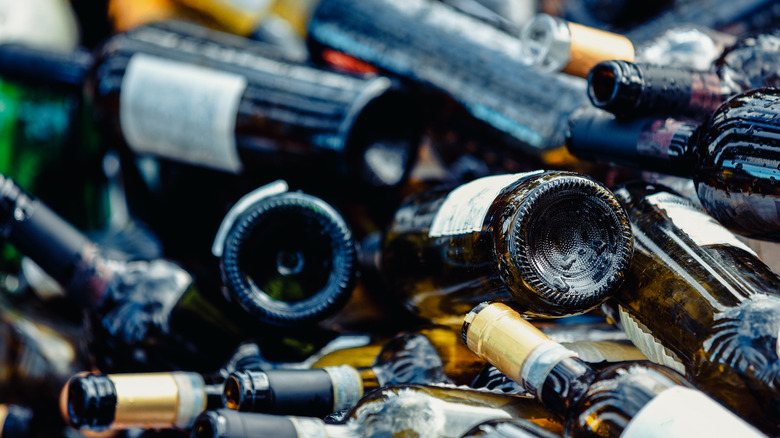 Laimdota/Getty Images
While much of TikTok is dancing and puppy videos, the platform unfortunately also sometimes makes crazy food waste trendy, with fads like the viral Food Waste Meme. One of the latest trends, dubbed the "bottle wars," involves flaunting wealth by buying the most expensive bottle of liquor at a club and pouring it on the floor. One TikTok video shows club patrons dumping liquor bottles, with some grabbing additional bottles when they run out. Obviously, this creates a huge mess, but it's also incredibly wasteful. In an interview with Business Insider, one DJ said he's seen patrons dump as much as $10k in liquor in a single night's "bottle war." He mentions that "Bottle wars are different everywhere," and explains that the trend is not new, but that it's become much more popular recently
Sure, businesses might not mind the mess as much when they're raking in thousands of dollars in alcohol sales, but that doesn't change the fact that these kinds of trends encourage wasteful behaviors. Reaction to the videos from TikTok commenters was far from admiring. One user said, "Our generation is so dumb," and another added, "This is foolishness."
Even when it comes to regular, at-home alcohol consumption, Americans throw out about 624 bottles of wine alone each year. That's a glass-worth here, a glass-worth there. Now, imagine how much greater those numbers are when people are dumping out alcohol not because it won't last after they open the bottle, but because they think it's fun.
TikTok can be a force for positive change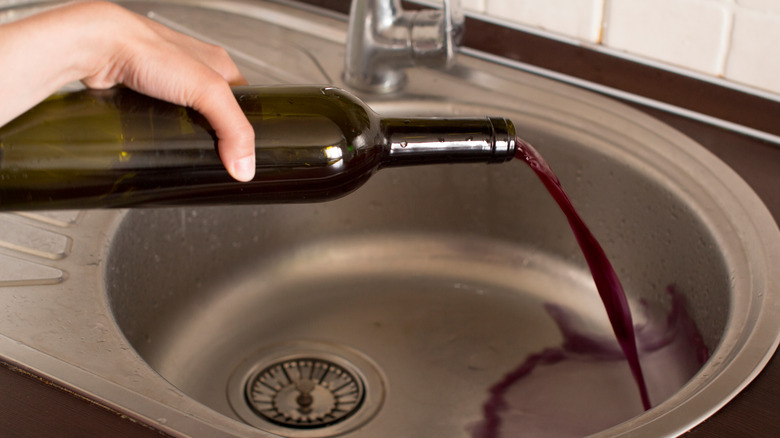 Masha Botina/Shutterstock
Though the alcohol that's dumped on the floor isn't going to feed anyone, the bigger problem lies in the behavior "bottle wars" encourage. According to the FDA, more than $161 billion in food is thrown out by producers and consumers alike each year, while nearly 38 million Americans are starving (via Feeding America). Trends like Food Waste Memes and "bottle wars" rack up millions of views, unfortunately providing positive reinforcement to those participating. Of course, all this just goes to say that the simplest course of action is to not encourage further waste. Instead, spread awareness of food waste and inspire others to donate to a food bank.
And there's no reason the power of TikTok can't be harnessed to bring about positive change. Employees at fast-food restaurants post videos of the amount of food they throw out at the end of the night, as a way to shine a light on a systemic problem, and commenters are quick to chime in that the food could be used to feed hungry people. Food apps that fight food waste by sharing expired food or leftover meals from stores and restaurants use TikTok to spread the word about their service. And there are plenty of TikTok trends designed to help you eliminate food waste.