Aldi's Premium Wine Selection Turns Shoppers Into Globetrotters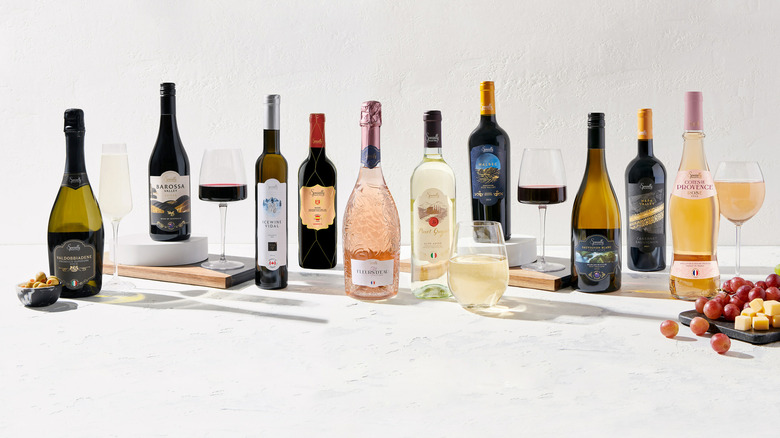 Aldi/PRNewswire
Most wine lovers know that they can not only score an award-winning wine at Aldi but also purchase it for an unusually reasonable price. Most recently, the company announced in a press release that it's releasing a new wine collection with all ten bottles costing less than $15. The premium varieties will be labeled Specially Selected and are meant to be paired with Aldi's seven new cheeses, which also fall under the Specially Selected label.
The new label hopes to turn shoppers into world-class wine connoisseurs, thanks to Aldi's habit of sourcing wines from all over the world. "Whether it's the perfect expression of what Napa Valley has to offer, or an ancestral vineyard nestled in the south of France, the Specially Selected Wine Collection gives consumers a premium tasting experience without the added costs," explained director of national buying, Arlin Zajmi, adding that Aldi is offering people "a global getaway from the comfort of home." 
All but one of the five year-round offerings are from regions outside the U.S. Three of those year-round Specially Selected wines are longtime award-winning Aldi favorites — Argentina's Uco Valley Malbec, France's Côtes de Provence Rosé, and New Zealand's Marlborough Sauvignon Blanc. Of the five seasonal varieties, the countries of France and Italy are the only two that make a return appearance, with the remaining three options consisting of a Spanish Rioja Reserva, a Canadian Icewine, and a Shiraz from the Barossa Valley of Australia.
Aldi is known for high-quality wine
The Specially Selected wines and cheeses will be rolled out in stores beginning September 8, with delivery and pick-up available where permitted. Farmhouse blue cheese, burrata, and mobay are among the new premium cheeses being offered; each of the new varieties is less than $5.
Over the years Aldi wine sales have grown exponentially, due in part to the high quality of the wines in relation to the low price. Many of Aldi's wines have received praise from consumers and wine experts, with seven named Best Buys by Wine Enthusiast, and Aldi's Peaks and Tides Chardonnay scoring a Silver rating of 89 points by the judges in 2023's USA Wine Ratings. The new label will join Aldi's already impressive selection of more than 110 different wines. 
Aldi plans to rotate its Specially Selected seasonal wines every season to encourage customers to try new varieties from one of its many global partners. While some of the wines will be familiar to customers, Aldi is also partnering with new vineyards to increase its offerings. Currently, Aldi partners with more than 150 wineries worldwide.