Expert Tips For Making Your Veggie Sandwich Shine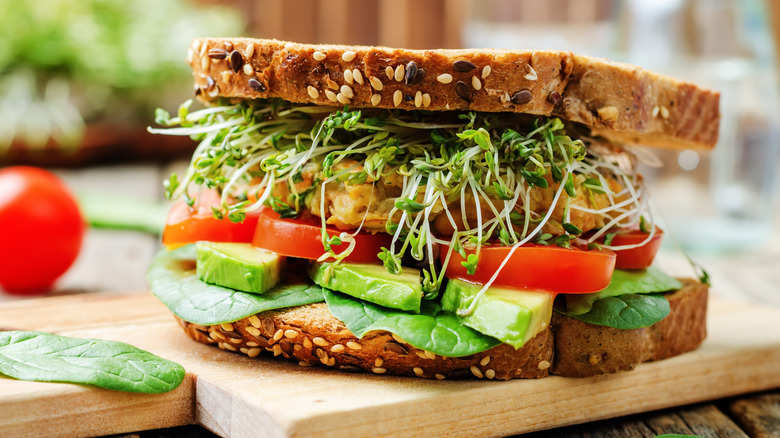 Nata_vkusidey/Getty Images
Whether you're someone who doesn't eat meat or you're just sick and tired of the same old sandwich ingredients, a fresh and delicious veggie sandwich is the perfect lunch for you. When most of us think of a sandwich, our minds go right to things like ham and cheese or turkey. In fact, among the 15 most popular sandwiches in the U.S., there's the classic grilled cheese, grilled chicken, and PB&J, but there isn't a veggie sandwich in sight (per YouGov). Still, we all know just how important it is to eat enough veggies and, as a result, we're all trying our best to incorporate more greens into our diet. So, what better way to eat more vegetables than by revamping our sandwich game? Unfortunately, that doesn't mean that most of us know how to whip up a delicious veggie sandwich as easily as we can put together a PB&J.
We decided to consult an expert to get to the bottom of what makes a veggie sandwich top tier. Rodger Bowser is the head chef and manager partner of Zingerman's Deli, and he knows a thing or two about crafting the perfect sandwich. So, what's the key to making veggies the star of a sandwich? According to Bowser, there are three key ingredients: seasonal veggies, perfect preparation, and a killer sauce. 
The three simple rules to the perfect vegetable sandwich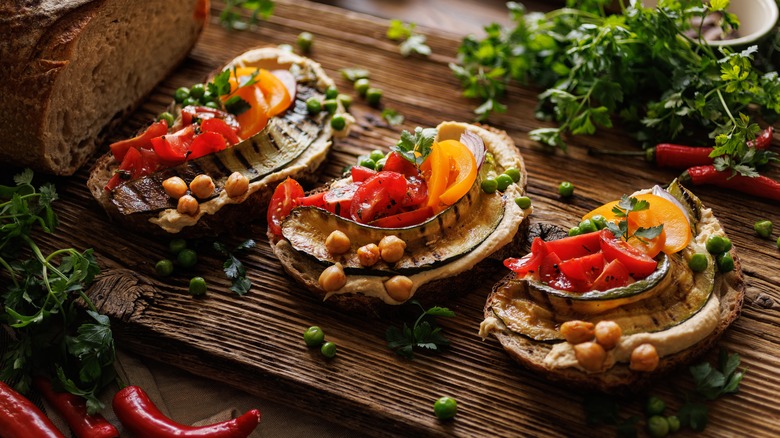 zi3000/Shutterstock
Rodger Bowser's first trick to a tasty and satisfying veggie sandwich is letting the vegetables choose you, rather than vice versa. "Be inspired by veggies that are in season," Rodger says. "Anything you find at your local farmers market will make a great sandwich filling." The next step is preparing the vegetables for the ideal taste and texture. His recommendation? "Roasting or grilling veggies like asparagus and peppers [can] add a lot of extra flavor and also make them easier to bite into."
Finding fresh, in-season veggies and preparing them well gives you a great foundation for a vegetable sandwich, but there's one final step to making your sandwich into the perfect meal. "Don't forget about the sauce!" Bowser advises. "A tasty vinaigrette or some good quality mustard packs a lot of extra flavor into your sandwich. Greens, like arugula or baby kale, are great additions." He continues, "[My] personal favorites are baby beet greens and mushrooms." So, the next time you're in the mood for a sandwich, head to the store and pick up whichever vegetables are in season, as well as your favorite dressing. Your go-to sandwich is about to get a delicious and nutritious makeover.