Van Leeuwen's 2023 Fall Ice Cream Flavors, Ranked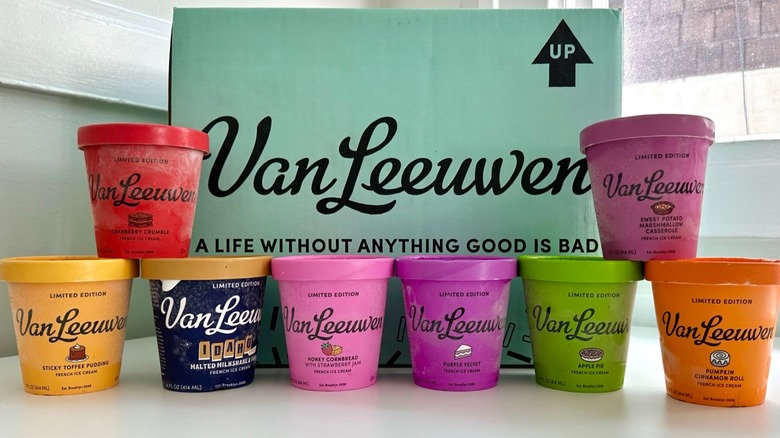 Kirstie Renae/Mashed
Seasonal foods are hitting grocery store shelves, which means fall fanatics can get their fill of all things autumnal via festive-flavored treats like Van Leeuwen's 2023 fall collection of ice cream. The company, which began in New York City in 2008, makes a diverse line of French ice cream and vegan ice cream with unique and trendy flavors ranging from Peanut Butter Brownie Honeycomb to Earl Grey Tea to Marionberry Cheesecake. Van Leeuwen sells its frozen desserts at grocery stores across the country, online, and in its scoop shops. 
The company specializes in French ice cream, which means its dairy-based varieties are made with twice as many egg yolks as standard ice cream. This makes the ice cream thicker and more custard-like compared with American varieties. For vegans, Van Leeuwen produces ice cream made with dairy-free alternatives like coconut, cashew, and oat milk and no eggs. As far as Van Leeuwen is concerned, it is the company's dedication to crafting its French ice cream and vegan ice cream with high-quality ingredients that has helped it cultivate a reputation of creating "the best ice cream on Earth."
The company's latest release is a collection of fall-centric French ice cream varieties that will delight and surprise fans of one-of-a-kind flavors. All of these limited edition flavors are available exclusively at Walmart. We've tasted them all and ranked them from worst to best to help you decide which ones from the new autumn line-up are worth a try.
8. Idaho Potato Malted Milkshake & Fries ice cream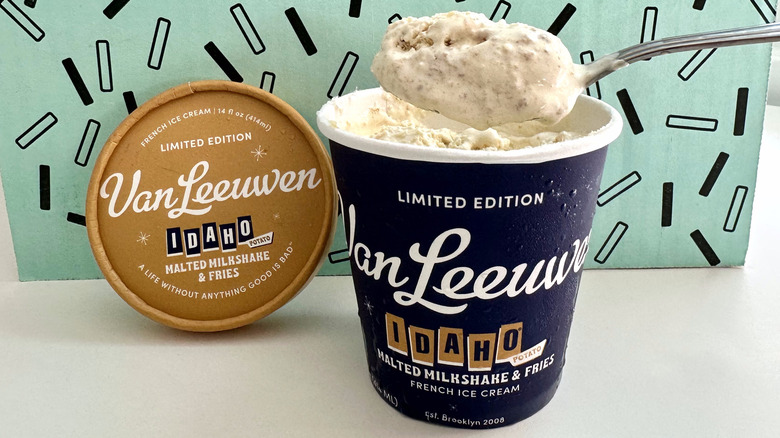 Kirstie Renae/Mashed
If you enjoy dipping your hot french fries into ice cream or a Wendy's Frosty, Van Leeuwen has come up with a bizarre flavor, dubbed Idaho Potato Malted Milkshake & Fries, that might be for you. The eye-opening flavor combo is a blend of Idaho potato french fries and malted ice cream. A diner lover's dream? Not so much, in our opinion.
When you open the top of this pint, you immediately get a whiff of french fries. As it turns out, starch and salt are not smells we like for ice cream. The texture of the Malted Milkshake & Fries ice cream is the densest of all the flavors we tried. Instead of being creamy, smooth, and custard-like, it is hard to dig into and has to be stirred to get somewhat creamy. Even then, the real Idaho potato french fries that are included in the ice cream are so finely minced that it is not even close to the experience of dipping crispy fries into creamy ice cream. It's more like if you asked that your fries be blended into your ice cream. As for the malted ice cream base, we don't get much malt flavor, which would be a good addition for this combo. We taste mostly savory (but cold and mushy) blended up fries with a hint of salt.
We couldn't take more than a couple of bites, so this one lands at the bottom of our list.
7. Purple Velvet ice cream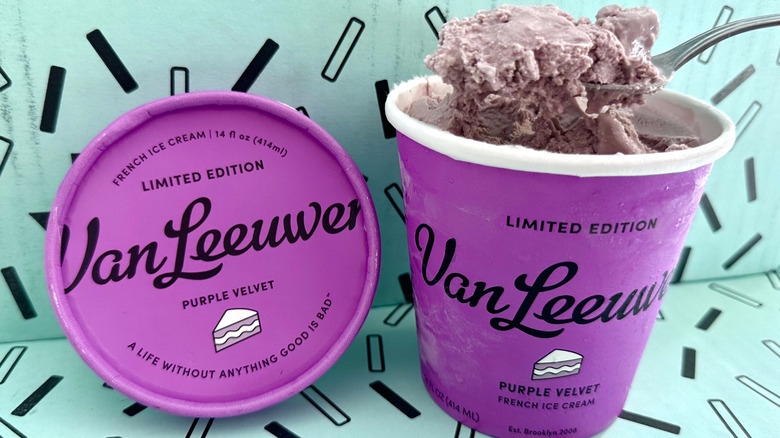 Kirstie Renae/Mashed
According to Van Leeuwen, red velvet is out, and Purple Velvet is the new "it" flavor of ice cream. We have to disagree. The flavor lands this low on our ranking not due to it tasting bad or being a strange flavor combination, but because, in our opinion, it tastes like basic chocolate ice cream. Although its pale purple color makes it somewhat unique visually, we wouldn't pay Van Leeuwen prices (around $5 or more per pint, depending on where you purchase it) for a chocolate ice cream this standard.
The company says its Purple Velvet flavor is a purple chocolate ice cream with a cream cheese frosting swirl. However, in our pint there is very little cream cheese swirl to be found. Generally, the cream cheese frosting is what really sets most red velvet-style desserts apart from plain chocolate. We have to hunt for the cream cheese swirl in ours, and when we do find it, we can't really taste it. Purple Velvet's lackluster flavor paired with the fact that it isn't as festive or autumnal as many other flavors in this collection leads us to relegate it to near the very bottom of our list.
6. Cranberry Crumble ice cream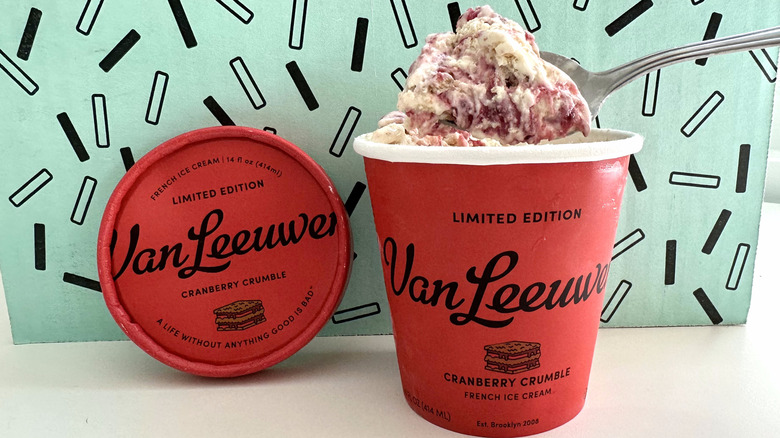 Kirstie Renae/Mashed
The hype is high for Van Leeuwen's Cranberry Crumble ice cream. On the surface, this fall-inspired flavor has all the elements we look for in a unique, seasonal ice cream flavor. The ice cream base is cream cheese flavored, and mixed in are bits of oat crumble and swirls of cranberry. In theory, this has all the makings of an ice cream worthy of following a Thanksgiving dinner. However, the reality doesn't live up to our expectations.
The cream cheese ice cream base doesn't taste enough like cream cheese. The result is more like a basic vanilla ice cream. We do enjoy the oat crumble because it not only evokes a similar feeling of eating a homemade fruit crumble, but it also adds a great texture and earthy flavor that isn't found too frequently in ice cream. As for the cranberry swirl, it has a great, jammy consistency with bits of cranberry pieces; however, the flavor is just off. Perhaps we wanted more cranberry swirl or hoped that the cranberries would be sweeter, but either way Cranberry Crumble is a bit of a letdown. Something is missing, and although we can't say exactly what, we know this flavor could be leveled up a bit. For those reasons, Cranberry Crumble is at the low end of our list.
5. Apple Pie ice cream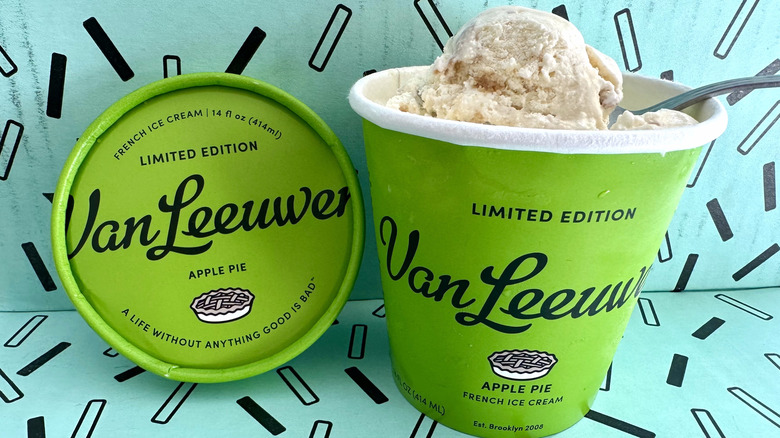 Kirstie Renae/Mashed
What says fall is here more than a spicy and sweet apple pie? Van Leeuwen swings for the fences with its Apple Pie flavored ice cream, and it nearly hits a home run. This ice cream variety is made with a sweet cream ice cream base, a swirl of caramelized apple, and pieces of brown sugar crust.
We are pleasantly surprised at how the usually under-utilized fall spices like clove and allspice are so present in this flavor. It makes the ice cream stand out from other typical apple pie-flavored desserts, which usually prioritize cinnamon. By putting the focus on some of the more unique spices of fall, this ice cream feels like a more elevated take on apple pie. The base is perfectly sweet and creamy, offset quite nicely by the bits of sweet graham cracker-tasting crust. The crust pieces are the right size, have good texture, and definitely help add to the apple pie vibes we are looking for. 
What holds this flavor back is, in our opinion, a lack of actual apples in the caramelized apple swirl. Although the apple flavor is present and tastes good, it doesn't pack as much of a realistic apple punch as we would like. In fact, the ingredients list includes only apple puree concentrate instead of whole apples. We wish there were real spiced apples in the caramel swirl, but as it stands, Van Leeuwen's apple pie is a solid, surprisingly spicy fall treat.

4. Sticky Toffee Pudding ice cream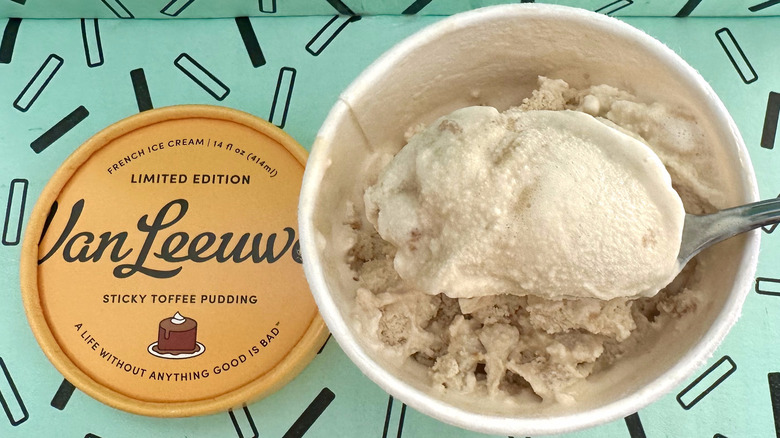 Kirstie Renae/Mashed
If you're American, it's unlikely that you've eaten much sticky toffee pudding at holiday gatherings. However, we're not sure why this classic British dessert hasn't taken off in the states yet because it contains all of the quintessential flavors we love during the fall and winter, including moist sponge cake, fruity dates, delectable toffee sauce, and vanilla ice cream. Van Leeuwen's take on sticky toffee pudding is a great adaptation of the flavor into an ice cream. 
The base is a brown sugar and date flavored ice cream that is blended with yellow cake pieces and swirls of caramel. The taste of brown sugar hits you immediately, offering a great sweetness and autumnal warmth that we crave this time of year. The yellow cake pieces are small enough to seem well distributed but not so small that we feel like a blender has been taken to them. Although we do get a hint of date flavor, there aren't any date pieces. Not only are we a bit disappointed in the lack of dates, but we also think there is not enough of the caramel swirl. After all, something called Sticky Toffee Pudding should be sticky and filled with toffee, no?
Overall, this is a great festive flavor that stands out for its uniqueness and sense of nostalgia. It hits all the right notes, but it could use just a bit of oomph to be called truly perfect.
3. Honey Cornbread With Strawberry Jam ice cream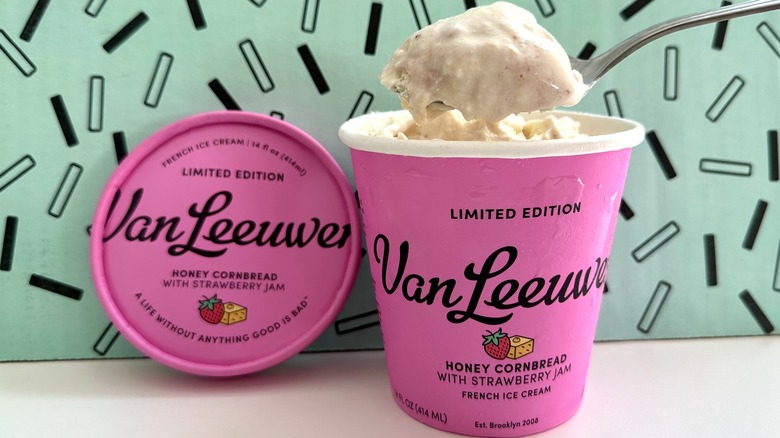 Kirstie Renae/Mashed
After one taste of Van Leeuwen's Honey Cornbread with Strawberry Jam ice cream, we know why this limited edition flavor is being rereleased this year (it was also among the company's summer 2022 limited edition flavors). This vanilla ice cream is packed with chunks of honeyed cornbread and swirled with strawberry jam. 
Don't let the idea of cornbread in your ice cream scare you because this tastes just like a homemade strawberry shortcake but elevated and with a tad more texture. The honey cornbread adds a hint more flavor than the standard pound cake you might expect in a strawberry shortcake, which we appreciate. The cornbread is dry and crumbly, but that works in this dessert because the vanilla ice cream base provides all the moisture you need. The strawberry swirl tastes very much like a true strawberry jam and isn't frozen solid in the pint. It is perfectly textured and adds great fruit flavor. In fact, it is so good we think the pint could use even more.
This flavor is near perfect and only lands in third place on our ranking because it doesn't exactly strike us as an autumnal flavor profile. It's definitely more reminiscent of spring and summer. If only we could enjoy it all year long. Van Leeuwen, we're begging you to make this a permanent flavor!
2. Sweet Potato Marshmallow Casserole ice cream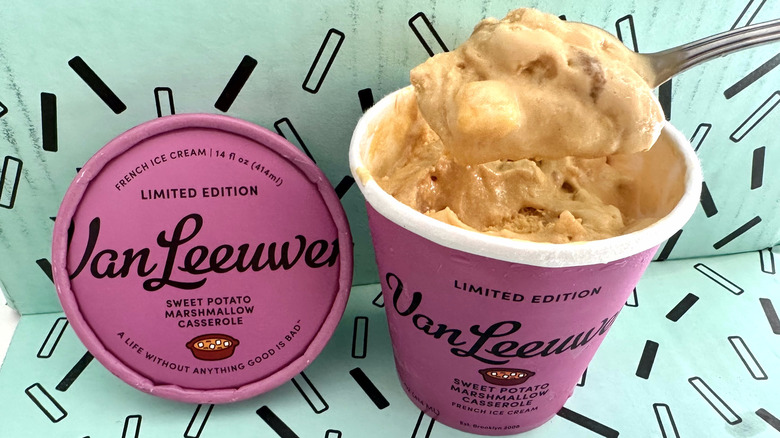 Kirstie Renae/Mashed
Another rerelease from Van Leeuwen is its Sweet Potato Marshmallow Casserole ice cream, and we can see why the company (and fans) would want it back, especially during this time of year. The ice cream base is sweet potato flavored. Added in are whole marshmallows — just like mom used to put on top of the holiday casserole — and a swirl of caramel because what ice cream is complete without a good swirl!
The sweet potato ice cream base comes off more as pumpkin than true sweet potato, but we don't mind that because it pairs perfectly with the flavors of fall spices that we want this time of year. There is just enough caramel swirled throughout. If Van Leeuwen had included much more caramel, the ice cream wouldn't feel as close to a sweet potato casserole flavor as it does. Last, but certainly not least, are the marshmallows. We are surprised at how well-textured the marshmallows are, especially given that they are served whole in a frozen dessert. They are perfectly soft and squishy just like they should be, and we absolutely love the depth of texture and taste they give this flavor.
Even if you're wary of the sweet potato casserole name, we highly recommend trying this flavor for a truly autumnal, Thanksgiving-inspired dessert that will have you feeling like fall.
1. Pumpkin Cinnamon Roll ice cream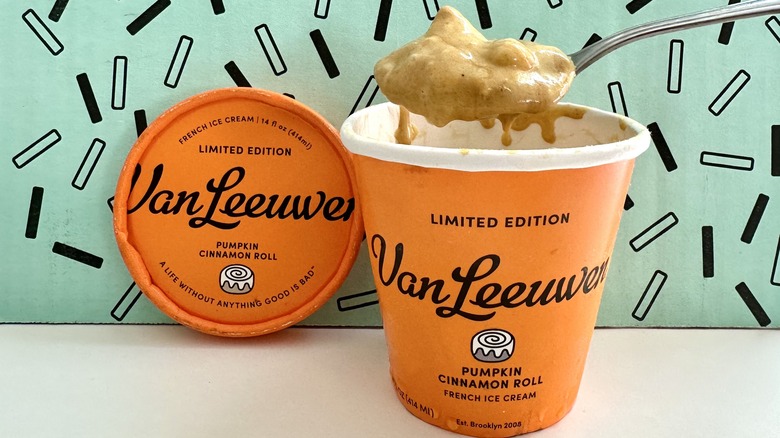 Kirstie Renae/Mashed
Van Leeuwen's Pumpkin Cinnamon Roll ice cream is another rereleased variety that we can absolutely see why the company has brought back. This flavor is fall in a pint! The base is a pumpkin ice cream surrounded by cinnamon caramel and bits of cinnamon roll pieces. The star of the show with this Pumpkin Cinnamon Roll is the cinnamon caramel. Straight out of the freezer, the cinnamon caramel is stretchy and gooey, just as a caramel sauce should be. If you believe that most swirled ice creams don't have enough of the swirl, this flavor is for you. The ice cream itself definitely has pumpkin flavor, complimented by flavors of nutmeg and cinnamon, but it can be overshadowed by the caramel. We could have gone for more pumpkin, but the ice cream is definitely autumnal as is.
The only criticism we have for this flavor is the texture of the cinnamon roll bits. They are slightly too dry and don't really add much to the eating experience. Although we do love having something to chew in ice cream, we want the cinnamon roll bits to either be very soft like the inside of a cinnamon roll or extra crispy like the sugar-burnt edges of a cinnamon roll. The reality is in between.
Overall, there's not much we would change about this flavor. We hope Pumpkin Cinnamon Roll will be an annual release for Van Leeuwen because it is truly the perfect fall bite.