Dark Meat McDonald's Chicken Nuggets Used To Be A Thing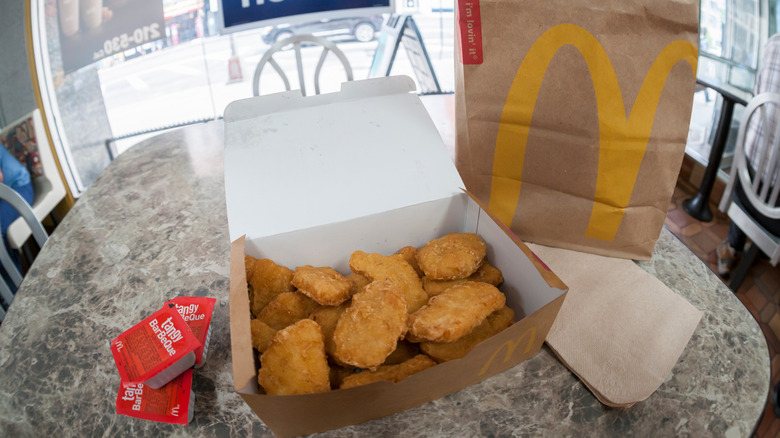 rblfmr/Shutterstock
Since McDonald's first introduced their world-famous chicken McNuggets back in 1983, the battered and fried poultry bites have been a massive hit. Much to the shock and awe of McDonald's fans across the globe, a recent TikTok video exposed the long-forgotten secret of the original McNuggets recipe. The video, shared by former McDonald's chef Mike Haracz, explains that the beloved chicken nuggets once contained dark meat.
TikTok users took to the comment section to reminisce about the classic dark meat nuggets, with comments such as "Yes! The old nuggets were way, way better" and "I remember the switch. After they dropped beef tallow and then the 'all white meat,' I gave up. Rarely go now." Haracz explains in the video that he has even experimented with 100% dark meat McChicken and McNugget recipes, stating, "They are far superior in flavor, in moisture, in texture, and all the things that make your McNuggets delicious."
What prompted McDonald's to change their chicken nuggets?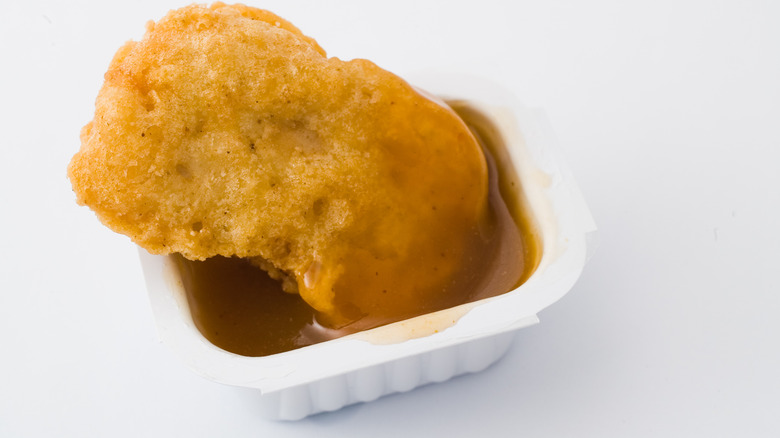 Johny Keny/Shutterstock
While many people may not recall a time when dark meat McNuggets existed, people who grew up in the 1980s and early 1990s have long taken to the internet to demand a return of the original dark meat blend. A now-debunked study popularized in the early 2000s cited white meat as healthier than dark meat, citing fewer calories and lower fat content. Though there is no firm confirmation that this study prompted the chain to change its recipe, this is often seen as the main culprit due to the period and public scrutiny.
The fast food chain officially removed all traces of dark meat from their McNuggets in 2003, with no official statements indicating a return of the fan-favorite. In the TikTok, Mike Haracz chalks the recipe change up to a simple fad, stating, "Many, many moons ago white meat became trendy and video it switched."