Bacon Pancakes Ensure A Perfect Meat-To-Flapjack Ratio In Every Bite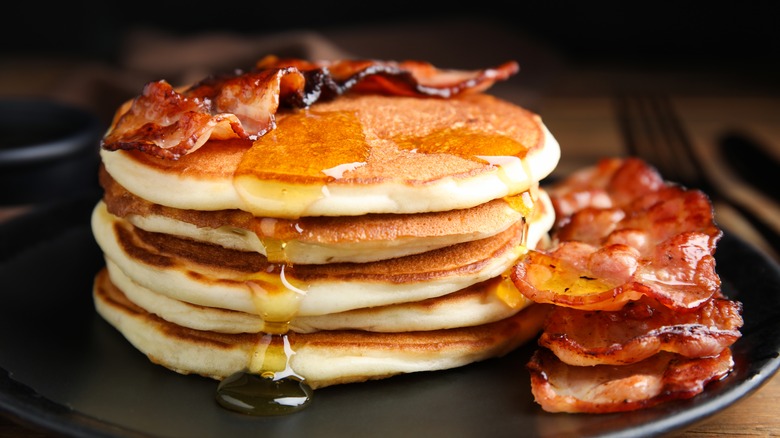 New Africa/Shutterstock
Bacon lovers claim that enjoying a crispy piece of pork can heal heartbreak, mend friendships, and save a bland meal. Okay, maybe a couple are exaggerations, but bacon can elevate tired recipes. For years, bacon has been added to everything from cheeseburgers to mac and cheese and even ice cream. Enter the pancake-covered bacon hack, an emerging food trend that has stunned social media.
First, fry or bake bacon strips to your preferred level of crispiness. Then, whisk together a quick pancake mix and dip each bacon strip in the batter until completely covered. Place the pancake-coated bacon strips into a pan with hot oil. Fry on both sides until golden brown, and enjoy the magical creation of bacon-infused pancakes... or pancake-coated bacon strips, whichever way sounds better. This deliciously sweet and savory treat offers the right amount of crunchy meat to fluffy pancake in each bite. Top them with syrup, butter, or jam, or eat this breakfast fusion hot off the griddle. 
If you miss flipping a perfectly round pancake on your skillet but still want to experience the deliciously sweet and savory combo of bacon pancakes, consider adding bacon crumbles to your pancake batter before frying. The ratio might not be precisely 1-to-1 when you dig in, but like traditional chocolate chip or blueberry pancakes, bacon bits in the batter will bring a flavor burst to each bite.
Other ways to experiment with pancakes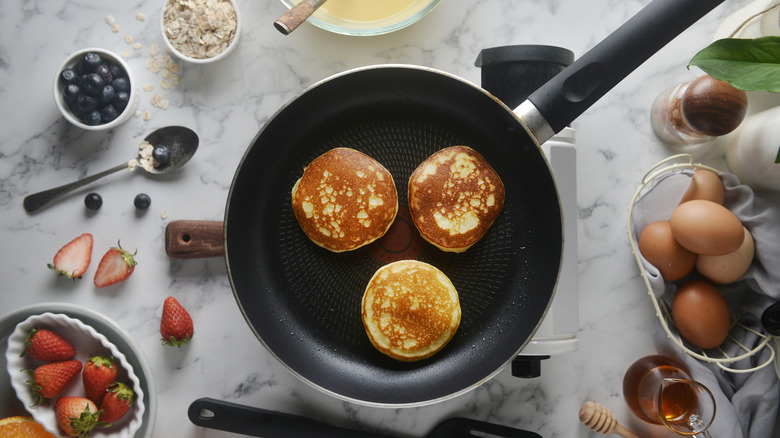 Ossphotostock/Getty Images
Those inspired by this hack may be pleased to know there are ample ways to experiment with pancakes. For example, create a riff on a McDonald's McGriddle by swapping the bread in your breakfast sandwich for pancakes, or trade out tortillas for a sweeter play on breakfast tacos. You can even take breakfast further by combining all your favorite items inside a pancake. Why go through the hassle of plating scrambled eggs, bacon, potatoes, and pancakes when you can make them into one loaded pancake? 
Before you stuff your breakfast foods of choice into a pancake, cook each item individually. After preparing your ingredients, pour your pancake batter onto a hot skillet and place everything on top. After a few minutes, cover with another coat of batter, flip, and prepare for a combination of breakfast foods all in one bite.
Pancakes aren't just a breakfast-time food, either. You can throw together a dessert pancake with crumbled Oreos and Nutella or even experiment with savory pancakes using practically anything in your fridge. Pull inspiration from the pancake and bacon combination by adding bacon strips, cheese, and green onions for a tasty flapjack that practically begs to be dipped in sour cream. With a bowl of pancake batter and a wild imagination, the possibilities for a delicious meal are endless.