Día De Los Muertos Hot Cocoa Bombs Bring The Festivities To Your Drink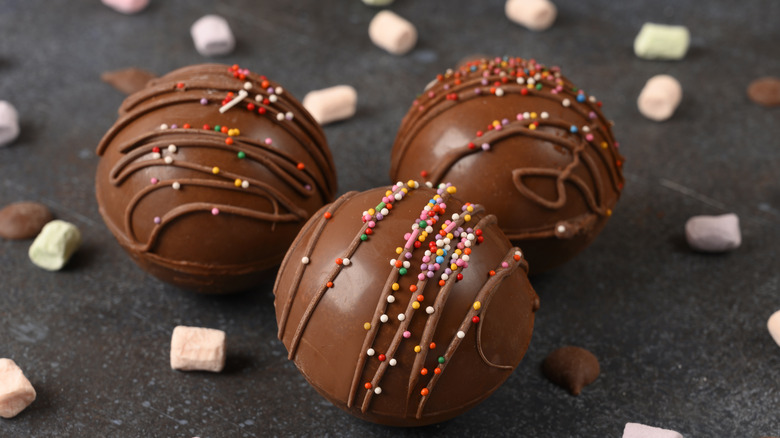 Mariia Krasenkova/Getty Images
Chocolate plays an important symbolic role for those who celebrate Día de los Muertos (also called Day of the Dead). Held in early November, the Mexican holiday sees families paying tribute to their deceased family members. Traditionally, family members place chocolate on altars to remember their loved ones. For the living, many celebrate with a cup of Mexican hot chocolate, often sprinkled with cinnamon. 
With that in mind, celebrate Día de los Muertos no matter where you are with these creative hot chocolate bombs. While you could brew hot chocolate the traditional way, these hot chocolate bombs are convenient and easy to transport. They can also be more visually stimulating, allowing you to incorporate the various colors of the holiday. While Día de los Muertos honors the dead, it's treated as a joyous occasion and features many festive colors like blue, yellow, purple, orange, and red in the mix. They will probably taste better as well since you're using real chocolate in addition to cocoa mix. Free to toss aside those packets of instant cocoa — your party guests will thank you. 
How to make a hot cocoa bomb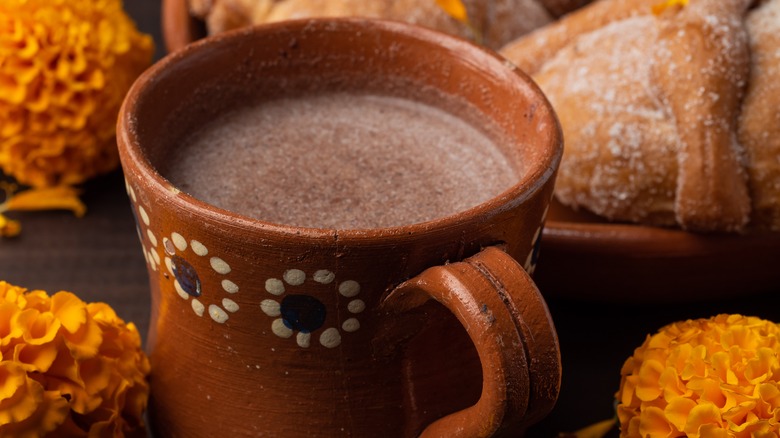 Roberto Cabrera Castro/Shutterstock
While you can always buy a Día de los Muertos hot chocolate bomb, it may be better to make your own. Fortunately, making a homemade hot chocolate bomb is fairly easy to do. However, you will need to purchase a chocolate sphere mold to form the bombs. To create the outer shell, melt your chocolate in a medium-sized bowl. From there, gingerly coat the sphere mold with the melted chocolate and allow it to harden in the fridge. 
As for the types of chocolate you can use, either milk chocolate or white chocolate works well, but in particular, white chocolate may make your colors pop more. The choice is up to you. For the inside of your bomb, you can add an assortment of colored candy melts as well as sprinkles. The idea is once the bomb dissolves, these sprinkles and melts will look like confetti in your cup. 
Additionally, you may want to incorporate marshmallows into the mix. The most important thing to remember is to include your hot chocolate mix inside of the bomb. Using low heat from the stovetop, melt the two halves of your chocolate bomb together. Then, decorate the outside of your chocolate bombs.