Costco's New Electric S'mores Maker Replaces The Summertime Campfire
Due to the overwhelming sense of community Costco has garnered in recent years, a number of unofficial social media accounts dedicated to the store's latest and greatest finds have blown up online, often to the tune of tens of thousands of followers. One such account, @costcofinds75, has shared with the public a number of hot deals, including the latest in indoor s'mores-making technology. 
The Sharper Image brand electric s'mores maker is available at the wholesale retailer for only $19.99, as seen in the video, and threatens to replace the summertime campfire as a year-round method for crafting delightfully melty s'mores in the comfort of your home. The item clocks in at over $60 on The Sharper Image's official website, proving just how effective a Costco membership can be for those looking to save money. While the video highlighting the s'mores maker also featured a number of other hot finds including a 4-bottle collection of Grand Vins Bordeaux and an electric wine set, the comments from TikTok users seemed to focus on the smokeless s'mores machine, with many pointing out the item's exceptional application as a gift this upcoming holiday season.
Is this electric s'mores maker worth buying?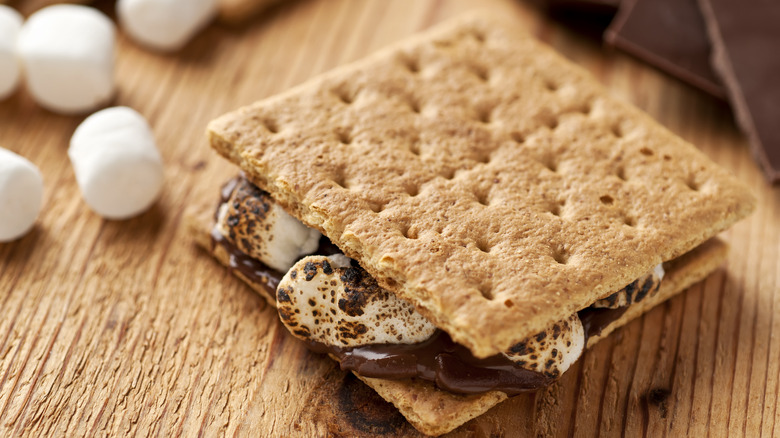 Mphillips007/Getty Images
While many comments expressed interest in purchasing the s'mores maker as a gift, others wondered if the device would be worth their time. While the item does seem like a fun novelty, one commenter states "S'mores? Great. A gadget we'd use twice and have occupy space forever. Hard pass." Some commenters found themselves sharing creative DIY methods for roasting s'mores at home without an open flame or a dedicated device to do so. One TikToker offered "I toast marshmallows over my toaster..." while another wondered "[Is] there a reason why your stove top burners can't do the same thing?"
Of course, whether this gadget is right for you depends on a number of factors, including how often you'd like to be eating s'mores at home, and if you can utilize it for other means. One commenter pointed out that the electric cooker could be used as a makeshift Korean barbecue cooker, allowing families to crisp their food over an open heat source indoors without the danger of an open flame. For all intents and purposes, the s'mores cooker is basically a hot plate with an added tray and grill plate, meaning the device can be used for a myriad of cooking and warming needs.