Cheese (Of Course) Is The Biggest Taco Topping Trend Of 2023
Brent Hofacker/Shutterstock
If there's one thing we can all be grateful for, it's the fact that there's no shortage of options for beloved taco toppings in this world. While there are plenty of unusual choices for your favorite taco topping, it's no surprise which one is trending the most this year. According to Yelp's list of the Top 100 U.S. Taco Spots of 2023, the trendiest taco topping of the year is a classic: cheese. Of course, every day should be taco day, but in honor of National Taco Day, October 4, Yelp's number crunchers have been analyzing the data to bring us the top searches and trends for all things taco in the U.S., and cheese is a recurring theme.
A hefty helping of melted cheese was a staple offering among folks' favorite taco joints this year. Interestingly, people also love pairing cheese with the favorite taco trend of 2021, birria. Birria tacos feature a mixture of stewed meat, spices, and chiles, and this previous top trend is still going strong — with a cheesy twist. Of the top ten taco spots in the U.S. this year, nearly half sell this delicious birria and cheese combo, proving that it's a definite fan-favorite among taco lovers nationwide.
How to embrace the top taco trend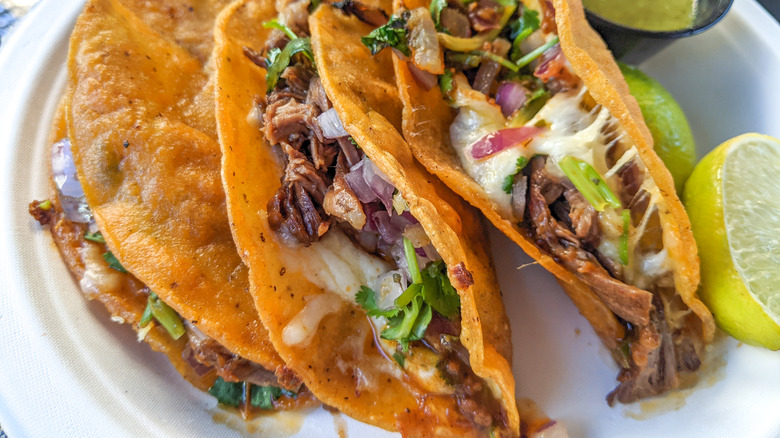 eddie-hernandez.com/Shutterstock
Although everyone loves a big slathering of melted cheddar or pepper jack to add a comforting layer of cheese to your taco, there are also a few traditional go-to cheeses that you should have on hand for your next taco night, including soft, salty Queso fresco or hard, aged Queso añejo. Across the country, chefs are exploring plenty of mouth-watering ways to add cheesiness to your taco. Still, if you're a believer that you should never add cheese to an authentic taco, you'll be happy to hear that tacos aren't the only way cheese prevailed at this year's top taco joints. 
The quesabirria proved to be another popular way to consume the beloved cheese and birria mixture: In this case, it's in hybrid taco-quesadilla form. Prefer to end your meal with a bit of cheese? Well, the top taco joints are doing that, too. Aroma Latin American Cocina in Nevada snagged the title of this year's top taco spot. The fan-favorite dessert at the restaurant is Pastel de Queso, which is a deconstructed cheesecake served in scoops with various condiments and toppings. Overall, it seems that there's no limit to this year's cheesiness, and boy are we here for it.