The October Aldi Finds You Need For A Scary Good Halloween Party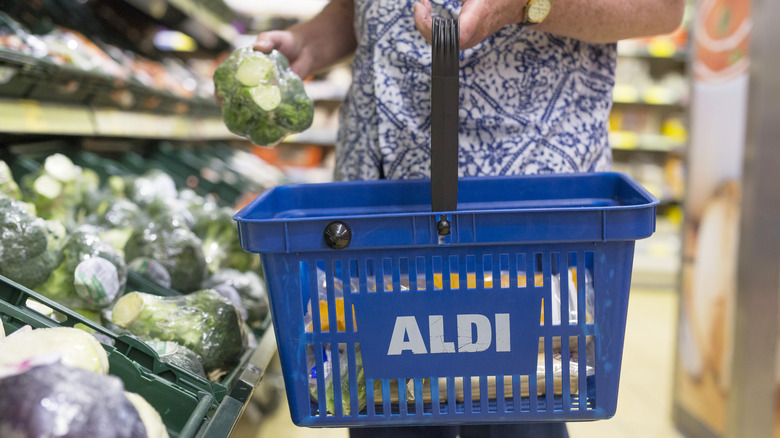 Bloomberg/Getty Images
It's almost October, which means spooky season is officially upon us. In the next couple of weeks, Aldi will be rolling out a vast selection of Halloween treats, decorations, accessories, and general fall goodies. Though these will be the newest items, other holiday finds flooded TikTok throughout the month of September. In one clip, a shopper showcased a 4-foot black cat inflatable. Another person posted a video of numerous fall products, including several signs to decorate the house with.
A quick search of Aldi's website produced plenty more seasonal findings. Among the most interesting are a 5-foot posable skeleton, a black and orange metal Jack-O'-Lantern, and floating witch hats illuminated with LED lights. Each of these items are produced by Huntington Home, which is an Aldi-specific brand.
Now, even more products are dropping for those who can't get enough of Halloween. This list was sent directly from Aldi to Mashed to spill the beans and build anticipation for this frightfully festive season.
Benton's Spooky Chocolate Sandwich Cremes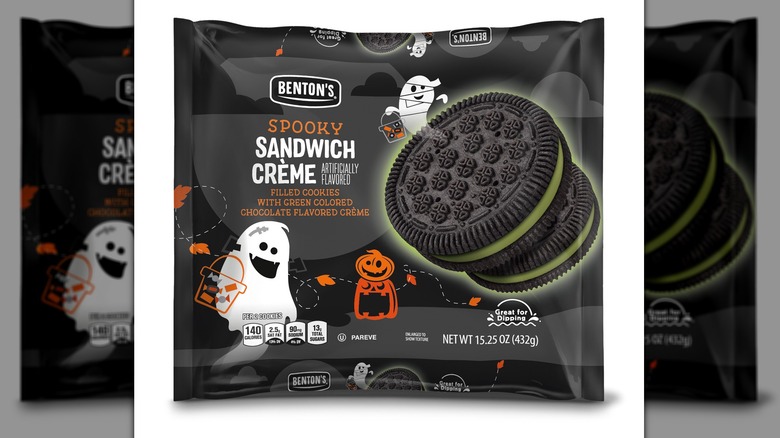 Aldi
Dropping on October 4 for $2.65 a pack, Benton's Spooky Chocolate Sandwich Cremes will likely remind you of Oreos. From the cookie exterior to the chocolate-flavored creme in the middle, this treat is made for chocolate lovers. To add a layer of spookiness, the creme is green like that of slime or Frankenstein's Monster. The package is also adorned with a friendly ghost and a smiling pumpkin.
Wicked Grove Spiced Plum Hard Cider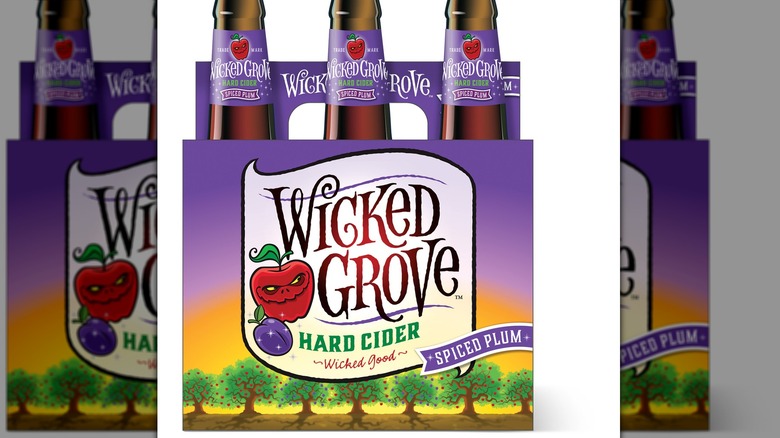 Aldi
Wicked Grove is launching a new hard cider at Aldi. This spiced-plum-flavored beverage sells for $7.99 per pack and will be available on October 4. A popular fall flavor, spiced plum often includes hints of cinnamon, nutmeg, and other spices. Wicked Grove products tend to be a hit; in August, two new flavors became the new hard cider from Aldi everyone was talking about.
Halloween Onesie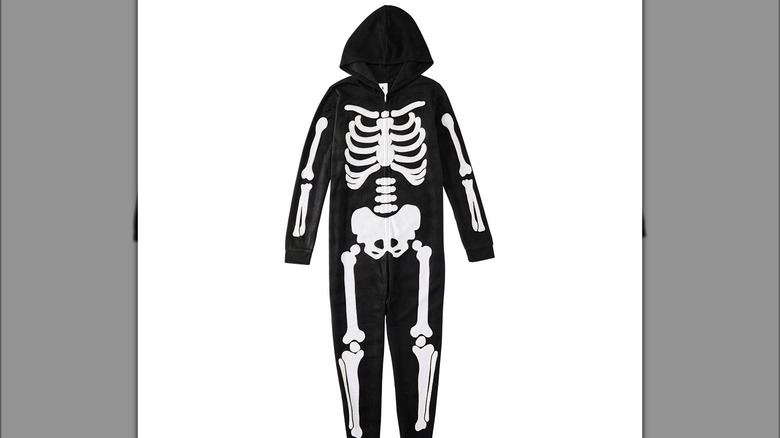 Aldi
Available in adult sizes, these new Halloween onesies can serve as a costume for your upcoming holiday party. This item will hit stores on October 4 for $14.99 apiece. They are made of polyester and come in four styles: bear, dinosaur, pineapple, and skeleton. Sizes will vary from small to extra-large.
Specially Selected Artisan Crisp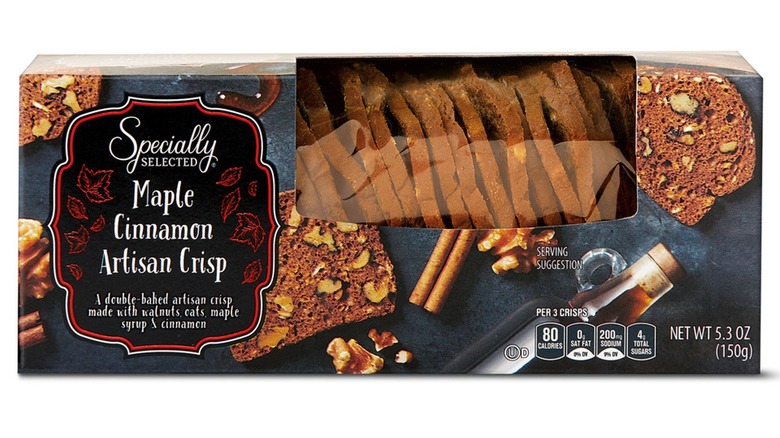 Aldi
Beginning on October 4, you can pick up these artisan crisps from Aldi for $3.95. These double-baked crisps come in maple cinnamon and pumpkin cranberry. The maple cinnamon variety features walnuts, oats, and of course, maple syrup and cinnamon, while the pumpkin cranberry is made with cranberries, pumpkin, flax seeds, oats, nutmeg, and cinnamon. 
Winterliebe Mulled Wine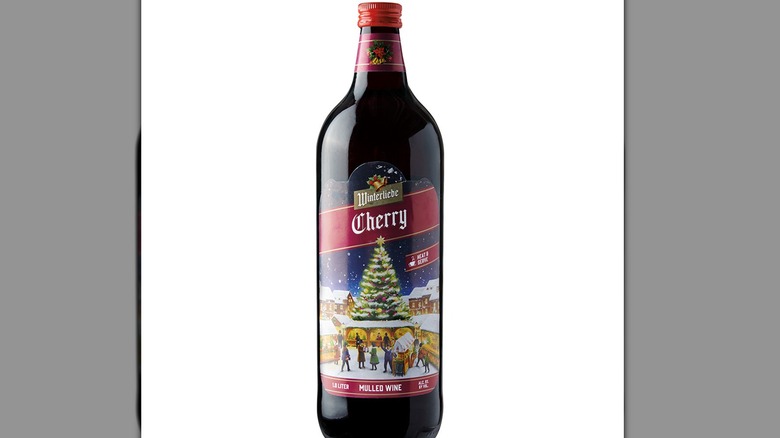 Aldi
To intrigue your party guests, Winterliebe Mulled Wine comes in apple and cherry. Each bottle will sell for $5.99 and both varieties will be available starting on Friday, October 13. Typically, mulled wine incorporates holiday-esque flavors such as allspice, nutmeg, and cinnamon. It's designed to be enjoyed warm, so it's best to heat it up before serving.
Bake Shop Muffins
Aldi
Unless you live in the state that just can't stand pumpkin spice, it wouldn't be fall without this particular seasoning blend. This four-pack of autumnal muffins will hit shelves on October 18 for $3.89. And if you're tired of pumpkin spice by then, Bake Shop Bakery will also be debuting apple cinnamon muffins in the same quantity and price.
Children's Halloween Onesie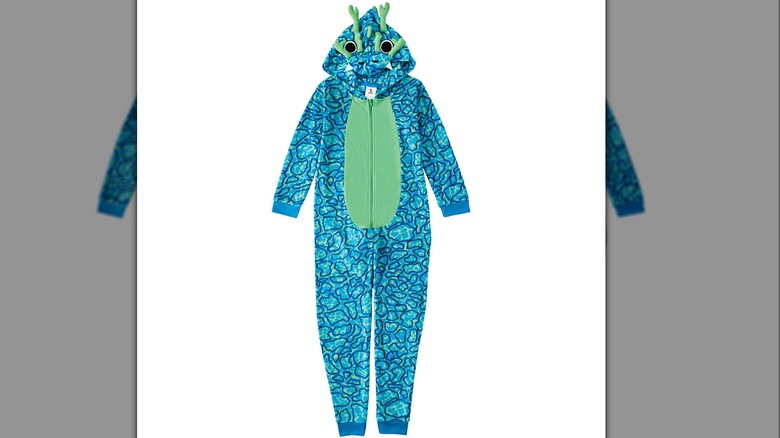 Aldi
With both children's and adults' Halloween onesies available, the whole family can be cozy when October 31 comes around. Just like the adult variety, the children's onesies come in bear, dinosaur, pineapple, and skeleton. They unzip in the front for convenience, and they'll be stocked starting on October 4 for $7.99.
Reggano Halloween Shaped Pasta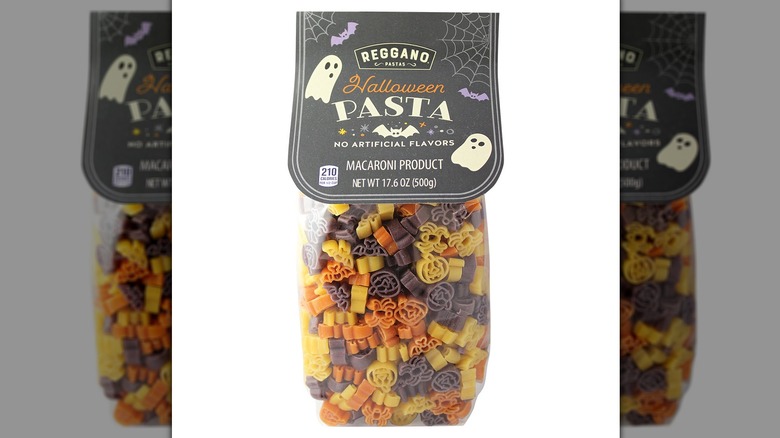 Aldi
This unique macaroni pasta will be sold at Aldi for $2.69 starting on October 4. Some of the fun shapes resemble bats, pumpkins, and spiders, and they even come in purple, orange, and yellow colors. Aldi fans became obsessed with this Halloween-themed pasta when it was sold in 2021. That year, the pasta came in orange, yellow, and black.
Pacific Fruit Vineyards Sweet Apple Wine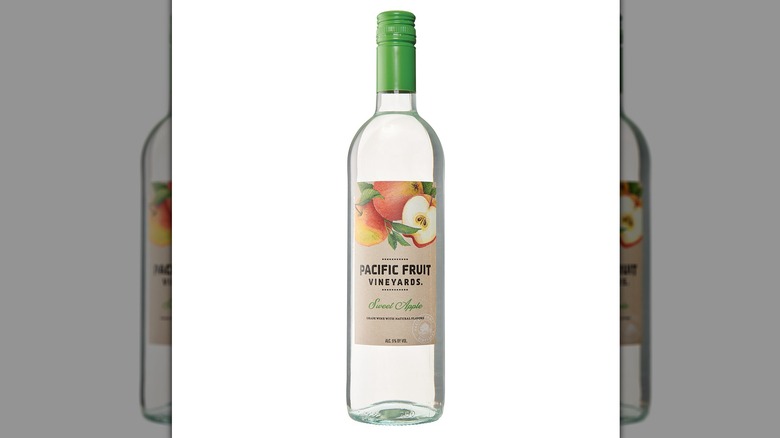 Aldi
This new product is already available at Aldi, and it sells for $3.99. Produced by Pacific Fruit Vineyards using natural flavors, this grape wine boasts a sweet apple flavor. It has an alcohol content of 9% and tastes better when chilled. This brand has a great reputation. When another flavor debuted in 2020, it became the new Aldi wine everyone was talking about.
Heart to Tail Pet Halloween Hoodie Costume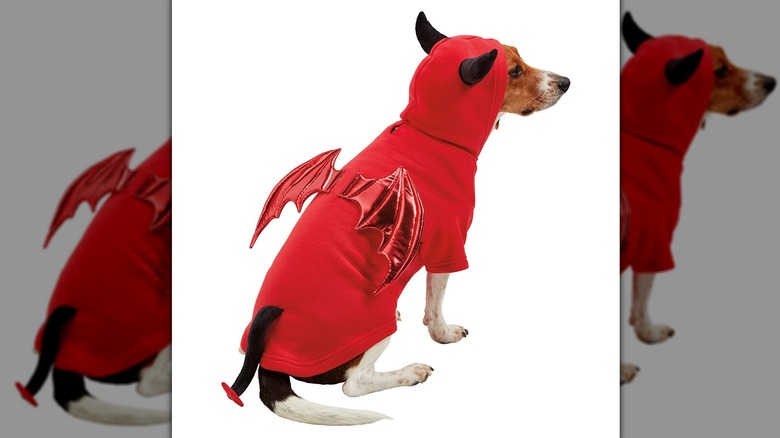 Aldi
Animal lovers rejoice — Aldi didn't forget to include your canine friend in the costume department. Beginning on October 4, you can choose to dress up your pet as a devil, bee, fox, or spider. These playful outfits are made with velcro and a collar opening to make putting it on a simple process, and will be available for $5.99 in small, medium, large, and extra-large sizes.
Emporium Selection Halloween Cheese Assortment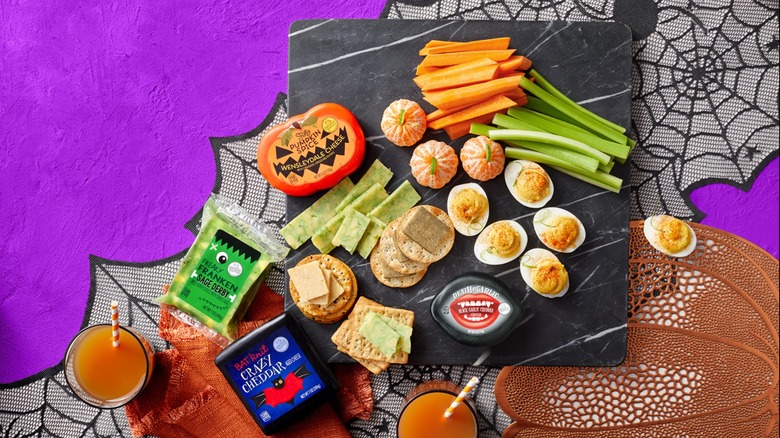 Aldi
Aldi's fan-favorite Halloween cheese assortment is making an appearance once again. This cheese comes in various forms and flavors, including Bat Knit Crazy Cheddar Aged Cheese, Death By Garlic Cheddar Cheese, Freaky Franken Sage Derby Mild Derby Cheese With Dried Sage, and Scary Pumpkin Spice Wensleydale Cheese With Cinnamon, Ginger, and Nutmeg. Each pack will be available on October 4 for $4.29. 
Specially Selected Cheese Pairing Spreads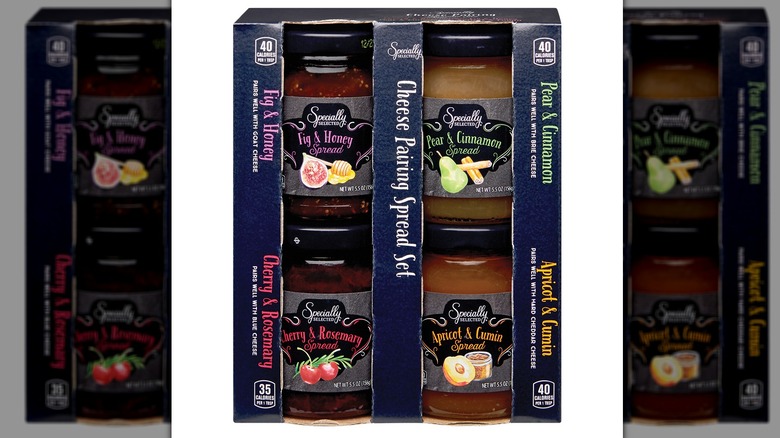 Aldi
Currently on sale for $5.99, these sweet, herb-y spreads are designed to enhance the flavor of cheese. The four-pack includes pear and cinnamon, which would be a good accompaniment for brie; apricot and cumin, which can be paired with hard cheddars; fig and honey, which would blend well with goat cheese; and cherry and rosemary, a great choice for blue cheese.
Toro Loco Reserva Barrel Aged Red Blend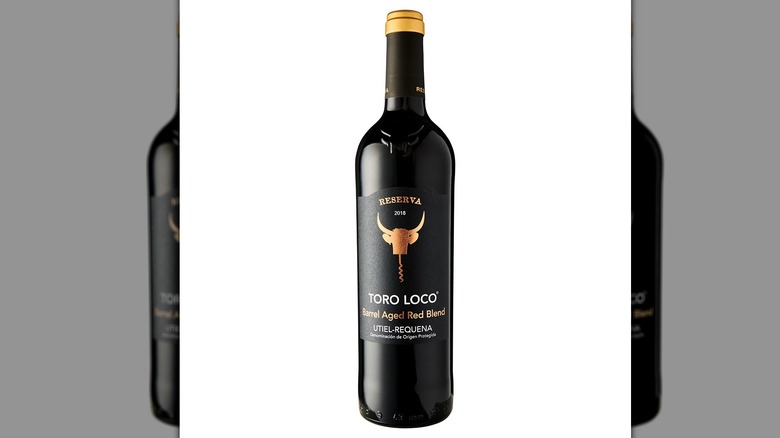 Aldi
On October 18, you'll be able to pick up this barrel-aged red blend for $6.99. This 2018 variety comes from the Utiel-Requena territory of Spain. In general, red wines that have been aged in oak barrels contain notes of chocolate and smoke, as well as aromas of vanilla, caramel, and other spices.
Huntington Home Bowl Fillers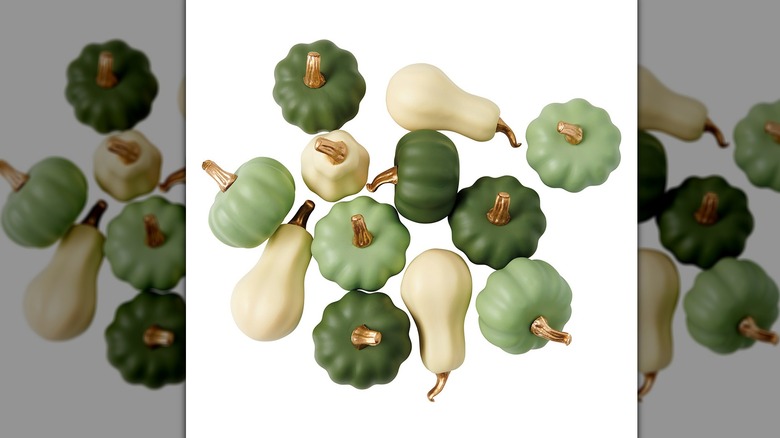 Aldi
Using these bowl fillers, you can give your kitchen an autumnal makeover. They come in orange ivory and ivory green, and will be released on Aldi's shelves on October 11. These non-perishable pieces resemble popular seasonal vegetables like pumpkin and squash, and they will cost $3.99 each.
Mama Cozzi's Pizza Kitchen Halloween Pizza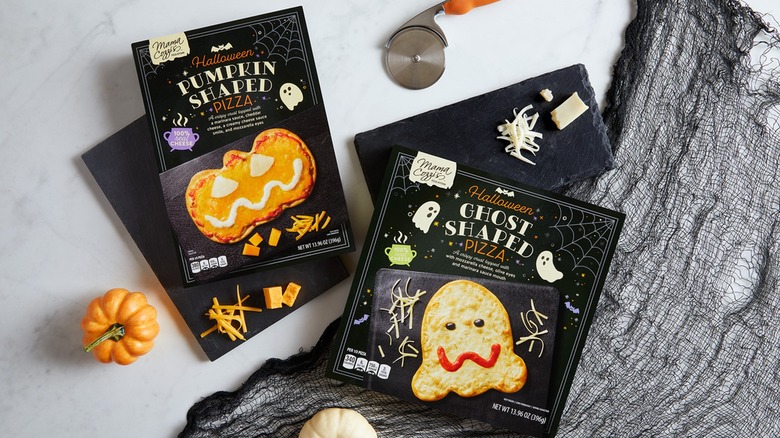 Aldi
Great for family get-togethers and children's sleepovers, these playful pies are shaped like ghosts and pumpkins. The ghost pizza is topped with mozzarella cheese, while its mouth is made of marinara and its eyes of olives. The pumpkin option includes cheese sauce, cheddar cheese, marinara sauce, and mozzarella cheese eyes. These fun pizzas will sell for $4.99 starting on October 4.
Specially Selected Sparkling Brut Rosé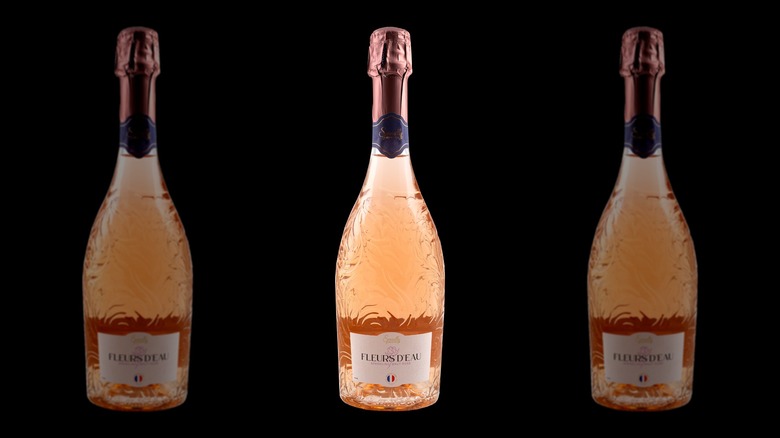 Aldi
This bubbly product is another one that's already hit shelves. It contains 11.5% alcohol and sells for $10.99 a bottle. Hailing from France, it has a fruity taste, candy-like notes, and a delicate scent. After trying it, it may end up on your list of rosé wines to sip on in 2023.
Huntington Home Glass Pumpkins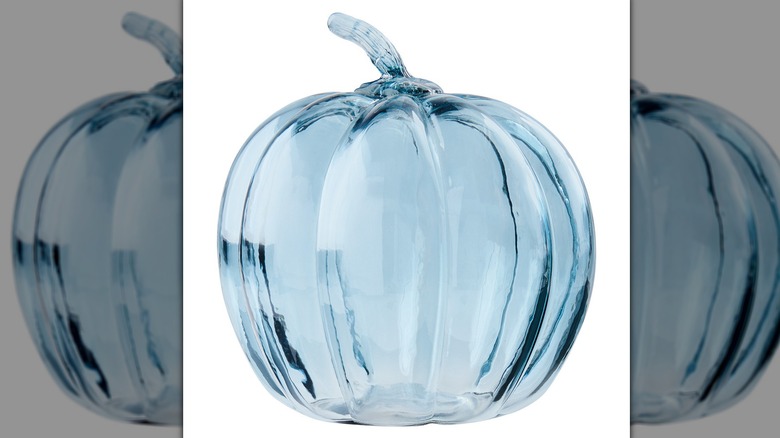 Aldi
Yet another fall-inspired decoration, Huntington Home's Glass Pumpkins are available in numerous styles and sizes, including amber short, blue medium, clear short, and orange tall. The trinkets can be purchased for $14.99 beginning on October 11. Aldi had shoppers freaking out about ceramic pumpkins in 2021, so it's no surprise the store is releasing more this year.