Aldi Fans Are Obsessed With This Halloween-Themed Pasta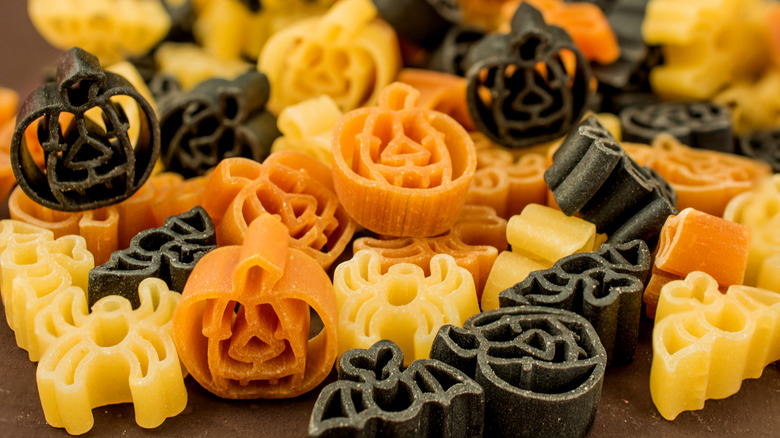 Golden Shark 2/Shutterstock
When it comes to fun holiday offerings, the grocery chain Aldi has proven yet again that they know how to satisfy their most celebratory-minded customers. In addition to the brand's lineup of fall-friendly pumpkin spice products, Aldi has also released an array of spooky seasonal offerings, from haunted gingerbread house kits to decorative pumpkins to Halloween-themed cheeses, and everything in between. Recently, the chain unveiled another festive Halloween-themed product that is getting carb lovers excited.
In a post shared to the Subreddit r/aldi, user @banana_plague shared an image of a package of fun, tri-colored Halloween-themed macaroni pasta with the caption, "The halloween pasta is SOOOO cute I'm gonna cry." The dried noodles, which are manufactured by Reggano Pastas, come in three colors (purple, orange, and yellow) and a trio of spooky shapes like spiders, bats, and grinning jack-o-lanterns. Aldi fans quickly took to the comments on the Reddit post to share their excitement for the retailer's latest Halloween product, as well as offer their suggestions for dishing up the ghoulishly delightful carbohydrates.
Aldi shoppers are buzzing over these spooky pasta shapes
Some commenters on the Reddit post shared their anticipation for purchasing the pasta, such as user @pawsitive_vibes99 who wrote, "That's so cute! I'm going to Aldi this evening, I'll be on the lookout." Others already managed to snag the pasta, like user @FluxEntertainment who commented, "It got me in line at the checkout!" 
Aldi fans shared their suggestions for how to serve the returning seasonal product. Redditor @Amyliabedylia wrote, "I made it for my kiddos last Halloween! They loved it and it makes a great pasta salad (Italian dressing style)." Meanwhile, @Knittykitty26 contemplated using the pasta for "a butternut squash mac and cheese or an alfredo of some sort. Or maybe arugula pesto!"
While one commenter mused that the pasta is great for kids, the original poster retorted with, "It's also fun for me, a childless 24-year-old adult to make for dinner and have lots of serotonin." There you have it! Perfect for kids and kids-at-heart alike, this Halloween-themed pasta retails for $1.99 per 17.6-ounce bag, according to the Aldi website, and is available at participating Aldi stores nationwide for a limited time only.