Aldi Shoppers Are Freaking Out Over These Ceramic Pumpkins
The cult-favorite discount retailer Aldi knows how to do fall right, offering tons of autumnal finds from a bevy of pumpkin spice snacks to a lineup of seasonal creamers for your morning cup of joe. Now, the store is getting into the fall decor game with a Halloween-friendly item that has customers buzzing.
In an Instagram post, user @AldiFavoriteFinds — who posts about all of the latest Aldi offerings to their 225,000+ followers — shared a slideshow of images of some fall-friendly decorations with the caption "Beautiful ceramic pumpkin for $8.99 each." The pumpkins, which are made by the brand Huntington Home, measure from 6.7 to 7.87 inches and come in a variety of patterns including Glazed Cream, Glazed Blue, Orange Pattern, Blue Pattern, Blue Velvet, and White or Orange Rubber.
The designs shown in the post include orange and blue gridded pumpkins with a golden stem, monochromatic blue and grey pumpkins, a matte orange pumpkin with a metallic stem, and a velvety turquoise pumpkin with a soft fabric exterior.
Customers are flocking to the retailer for the limited-time decorations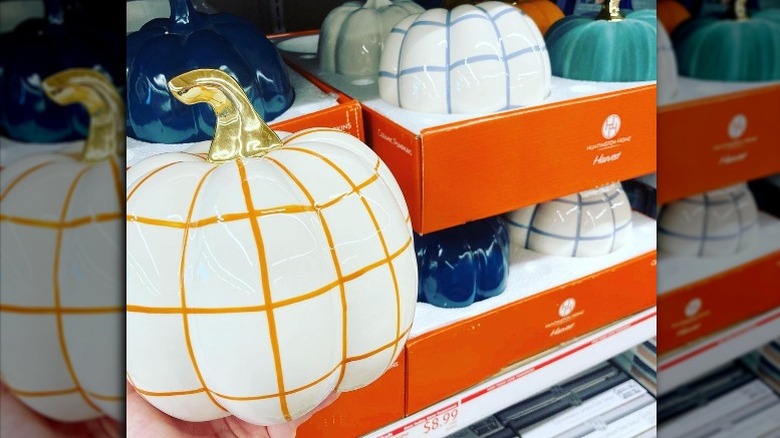 In just a few hours, the Instagram post about decorative pumpkins received nearly 5,000 likes and dozens of comments from Aldi shoppers coveting the festive and affordable decor. Some shared their excitement with comments like "Love the colors and designs!", "I want them allllllll!", and "I need all of these!" 
A few lucky shoppers shared that they had already managed to snag a pumpkin or two for their own home. "Bought these and they look so great on my dining room table," one wrote. "I got two of these last night just as the store was closing! Love them!! They will, without a doubt be gone today," another said. According to some comments, that prediction was correct, as one frustrated customer shared that they were unable to snag one of the decorative gourds: "My store said they already had them. I missed it."
The Huntington Home pumpkins, which are featured in this week's Aldi Finds, are currently for sale at participating Aldi stores for a limited time only — and if some shoppers are to be believed, pumpkin lovers better act fast.