Celebrity Chefs We Wish Owned Restaurants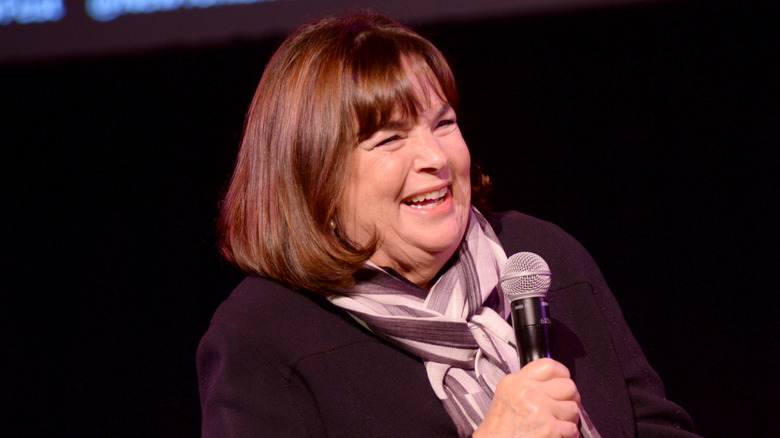 Brad Barket/Getty Images
If you haven't been seeing your favorite celebrity chefs on TV lately, it's probably because they're super busy running a restaurant. For decades, the hottest eateries in major cities had months-long waitlists because of the person running the kitchen. Haughty food critics slinked into esteemed fine dining spots, commencing a bout of psychological combat between writer and chef, while the restaurant's reputation dangled in the balance. These practices have dwindled as attitudes toward haute cuisine shift and kitchen culture reckons with a less than savory past. Popular restaurants are increasingly eager to celebrate ingredients and heartfelt cooking, rather than the famous person who designed the menu.
There will always be Food Network stars, but now we root for passionate chefs battling it out in a reality cooking competition or a home chef charming us through a TikTok tutorial. Some of our new favorite celebrity chefs come from unlikely backgrounds; they are writers, holistic food experts, athletes, and former fast-food workers — one is a Hollywood actor. We won't forget the TV chefs who invited us into their kitchens and inspired us, but a lot of them already have restaurants we can visit. Here are the celebrity chefs we wished owned restaurants, and here's to hoping we can eat their food someday soon.
Melissa King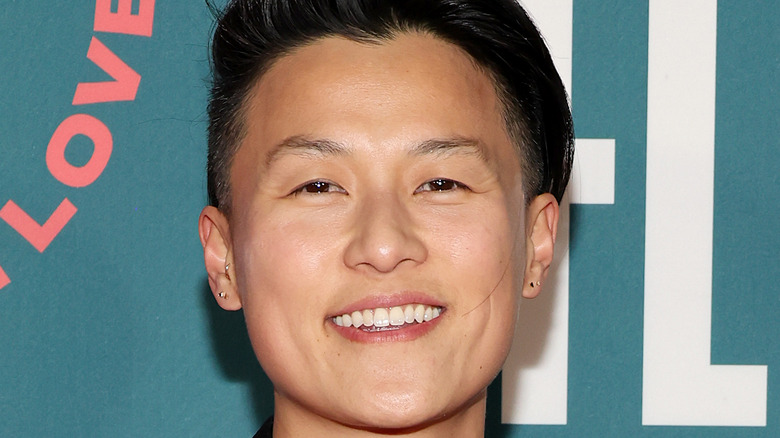 Cindy Ord/Getty Images
We adored her on "Top Chef" and we adore her now, yet Melissa King has never opened her own restaurant. King was a finalist on Season 12 of "Top Chef: Boston" in 2014 and took home the top prize in Season 17 of "Top Chef All-Stars: Los Angeles" in 2020 (she was voted fan favorite that year too). She's even cooked for Oprah Winfrey and worked in Michelin-starred restaurants.
The Chinese-American and California native is active in the private chef arena and offers a series of webinars on her website. She also owns a line of small-batch sauces and spices. In addition to her culinary talents (she's a true master of fusion), King uses her media prominence to be the face of causes that are important to her, including Stop AAPI Hate, Levi's Pride, and the GAP Individuals campaign. 
When she's not raising money for marginalized communities, King serves as a frequent guest judge on "Top Chef" and hosts Hulu's travel and food docuseries "Tasting Wild." If you had any doubt whether King's restaurant would be a hit, consider that when Padma Lakshmi was asked what food celebrity she would want to be trapped on a desert island with by Radio Cherry Bombe, she answered, "Melissa King, I think she makes anything taste good."
Nigella Lawson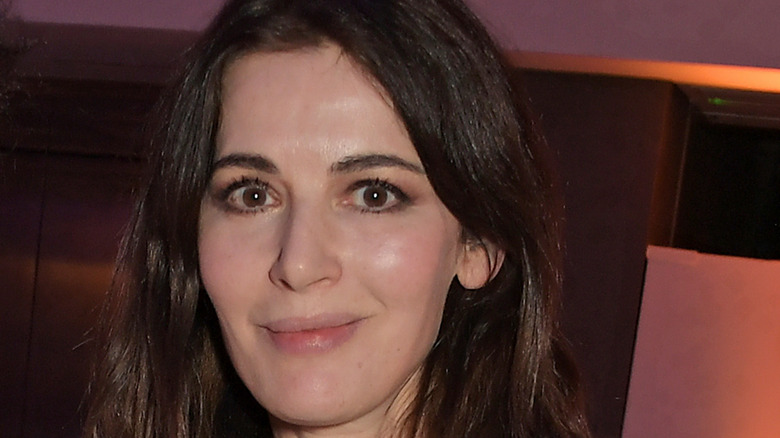 Dave Benett/Getty Images
Though she has often shunned the "celebrity chef" label, Nigella Lawson's contribution to modern-day cookery is that of a first-rate home entertainer who is the perfect mix of unpretentious and classy. Between her stacks of authored cookbooks and regular appearances on British television, Lawson has done almost everything except open a restaurant. In recent years, Lawson admitted to embracing the quieter side of life, even commenting on an indefinite end to hosting her legendary formal dinner parties that were once a regular feature of her cooking shows. As she told The Times, "I'm very happy for a friend to come over in their pajamas to have supper."
We must remind ourselves that Lawson has been a fixture of the celebrity chef world since the late 1990s and was an early champion of using "real life" shortcuts in her recipes; how else would we have learned about her affinity for the "microwa-vey"? Sure, these hacks hint at her lack of formal training but if Lawson possessed the desire to open a namesake restaurant (in London perhaps), it would have the makings of a success story. We like to picture the elegant lunch we'd have, of roast quail and Crepes Suzette on the terrasse of a comely restaurant owned by one of the truly great domestic goddesses of our time.
Tini Younger
She's only 22 years old, but Tineke Younger (she prefers "Tini") is a force in the new guard of the celeb chef world — not bad for someone whose culinary career began at McDonald's. Younger is best known as a TikTok home chef, but competing on Season 2 of "Next Level Chef" won her a greater audience. When Gordon Ramsay, Richard Blais, and Nyesha Arrington were scouting up-and-coming contestants for the show's second season, chef Blais (also a former McDonald's employee) picked then-21-year-old Younger, who had recently published the recipe book "Cooking for My Boyfriend", based on the premise of her TikTok channel. 
Under Blais' tutelage, Younger consistently demonstrated fearlessness when cooking out of her comfort zone (her winning dish was beef tongue) and pushed herself episode after episode. She may not have found victory on "Next Level Chef," but the show's mentors clearly believe in the young chef's potential. In 2023, Ramsay hand-selected Younger for her own cooking segment on YouTube's Bite Originals under the name "Made From Scratch." Younger's turns on Bite regularly go viral because her skillful execution and off-beat charisma resonate with tens of millions. If Younger were to open a Made From Scratch restaurant, you better believe we'd be heading right over for chicken sandwiches, lobster mac and cheese, and whatever else she's willing to serve us.
Gabriel Rodriguez
Any fan of "Top Chef" knows each season has loveable characters, and this was especially true of Season 20 of "Top Chef: World All-Stars." Aired in 2023, the season gave American viewers a chance to meet Gabriel Rodriguez from Mexico, better known as Chef Gabri. Rodriguez won Season 2 of "Top Chef Mexico" but was competing on an international stage for the first time. His run was exciting, marked by a whiplash string of highs and lows that led to his fellow competitors referring to Rodriguez as "El Gato" — Spanish for "cat." The nickname not only referenced his mystical nine lives at Judges Table but also winked at his hyper-speed running around the kitchen.
Just when he was on the verge of being out, Rodriguez would wow the judges with a seemingly off-the-cuff sauce or intuitive selection of ingredients. The Mexican chef clawed his way to the final three, cementing himself as someone who would boldly and artfully deliver the utmost creative menu components to the judges — including grasshopper tostadas and chocolate tamales in the finale. All the while, Rodriguez exuded a lighthearted, home-grown charm that makes us think that no matter how much success comes his way, he'll never change. For now, Rodriguez's focus lies on the private chef life, though there is zero doubt that a restaurant of his design would be something special.
Stanley Tucci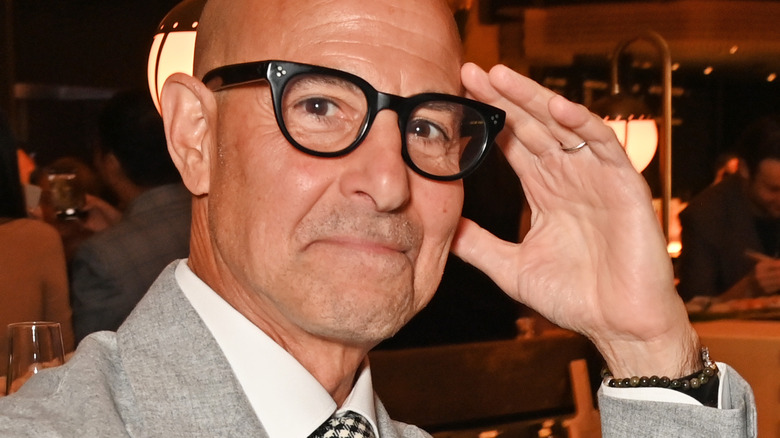 Dave Benett/Getty Images
This man probably looks familiar to you, because he happens to be an A-list Hollywood actor. And yet, the multi-talented Stanley Tucci has become equally known as a serious foodie. In 2014, Tucci and his wife Felicity Blunt released "The Tucci Table," a cookbook honoring the couple's respective Italian and British heritages with a modern American flair. He also hosted the Emmy-winning "Searching for Italy" for two seasons, a CNN travel show where Tucci explores the cities and villages of the Mediterranean nation, basking in the diverse regional food and culture. An oral cancer diagnosis in 2018 temporarily robbed him of his taste and smell, but he beat the odds and is cancer-free today. He discusses his health battle in his best-selling 2021 memoir "Taste," but above all the book celebrates Tucci's lifelong passion for food and the powerful way it brings people together.
For a Renaissance man like Stanley Tucci, opening a contemporary, rustic Italian restaurant with a pared-down, high-quality menu seems totally plausible; actually, we love the idea and so does Tucci. While in conversation with "Top Chef Masters" alum and restaurateur Missy Robbins on Radio Cherry Bombe, the question was officially raised: Would Tucci ever open his own restaurant? The actor replied, "Yeah, I would like to," but emphasized that it would need to be "something really small, intimate [...] Like an osteria," with daily menu changes and a small selection of wines. 
Eric Kim
Celebrity chefs can come from unlikely places, including the Ivy League. Such is the story of Eric Kim, the Atlanta native who went from graduate fellow of literature at Columbia University to the studio kitchen of The New York Times. Kim was pursuing a PhD at Columbia when it dawned on him that his destined career path might lie beyond academia. Speaking with Salon, Kim recalled, "I failed an exam and dropped out and went straight into this Food Network job. It was like this entry level position that really taught me so much. [...] I just kind of found food writing and everything happens for a reason."
Kim's dabblings in poetry, pop songwriting, and personal essays inform his recipes. He tells Salon, "Sometimes, when I'm writing recipe head notes, it feels like I'm writing a lyric because you have to be really concise." Artistry and intellect aren't the only principles guiding Kim's relationship to food, there's also heritage. As a columnist for The New York Times food section, Kim is known for his videos highlighting Asian staples like karaage chicken and bibimbap. His easygoing, informative approach, whether it be a twist on instant ramen or an unexpected treat like gochujang caramel cookies, helped his fusion cookbook "Korean American" become a bestseller in 2022. If the NYC transplant were to create an original restaurant based on his close-to-the-heart, multinational concept, we can assure you there would be quite a waitlist.
Pyet Despain
Storytelling through food is one of the greatest gifts a chef can bring to the table, and this is Pyet DeSpain's goal every time she cooks. Her Mexican and Native American heritage come together symbiotically in her food, making for a truly unique and multi-faceted culinary experience. DeSpain was raised on an Osage Native American Reservation in Oklahoma and later worked alongside her family members at taquerias in Kansas City. 
The rich cultural layers of her cooking — further developed at culinary school — allowed her talent and individuality to blossom. This was especially evident on Season 1 of "Next Level Chef," where DeSpain served up delicious, elegant dishes that were unlike anything mentors Gordon Ramsay, Richard Blais, and Nyesha Arrington had ever seen or tasted. DeSpain, who was living out of her car during the Covid-19 pandemic, won the competition.
DeSpain works as a private chef in Los Angeles and is a fixture at pop-up events across the state, where she and other Native American chefs are bringing visibility to indigenous cuisine like never before. We admire DeSpain for proudly celebrating indigenous traditions with a focus on natural ingredients. If she were to open her own restaurant, it would surely send lines around the block.
Aarti Sequeira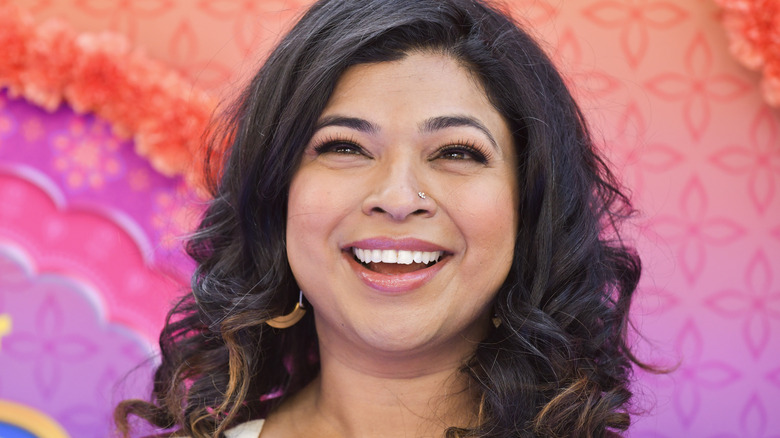 Rodin Eckenroth/Getty Images
Warm, vibrant, and armed with some commendable kitchen skills, Aarti Sequeira is everything you could want in a Food Network celebrity — which is why she took home the title of "The Next Food Network Star" Season 6. Born in India, Sequeira is an expert at showcasing the country's flavors in a manner that feels accessible to American viewers who may not be familiar with the cuisine. After winning "The Next Food Network Star," Sequeria's YouTube cooking show "Aarti Paarti" was picked up by the network in 2010 as a limited series (renamed "Aarti Party"). A cookbook of the same name, as well as appearances on "Guy's Grocery Games," "Cutthroat Kitchen," "Chopped All-Stars," and more, have kept Sequeira busy, but we think she has the makings of a successful restaurant owner.
Sequeira was one of the first Indian chefs on Food Network and her cheerful tutorials of Indian-inspired dishes were exactly the kind of authenticity the channel needed. The peachy-orange florals of the kitchen where "Aarti Party" was filmed, coupled with Sequeira's infectious laughter would be the perfect atmosphere for her restaurant. We can imagine people coming together for a meal of kheema or curry leaf carbonara served with a heaping side of good vibes.
Brooke Baevsky (Chef Bae)
The baptism-by-fire kitchen rituals that many of the 20th-century's legendary chefs went through in order to rise to greatness have become a passé notion for the new generation of celebrity chefs. Take Brooke Baevsky (known on social media as Chef Bae) for example. Baevsky's culinary career path is a masterclass in hard work, big-picture thinking, and self-promotion. She came of age in the '90s when gluten-free grocery aisles and a revolving door of non-dairy milk trends were years away. Her family followed a kosher diet and her siblings had food allergies, which inspired her to turn the home kitchen into a makeshift food laboratory.
Baevsky went on to study food science at Syracuse University and started her career in the holistic food industry. She began moonlighting as a private chef in New York City and quickly developed a prestigious reputation as someone with extensive nutritional knowledge and the ability to make healthy food taste good. Now, Chef Bae spends her days in the homes of celebrities, where she tailors daily menus to their dietary wants and needs and shares the results on social media. She's crafted gourmet salads at Coachella and mastered vegan desserts. If Chef Bae opened a restaurant it would likely be a top lunch destination for her massive amount of followers, and perhaps more than a few celebrities would visit too.
Dawn Burrell
When former track and field Olympian Dawn Burrell was sidelined by injuries in 2008, the long-jumper quite literally saw a fork in the road and decided to train as a fine-dining chef. As the sous chef at Uchi in Austin and later, executive chef at Kulture in Houston, Burrell became a James Beard semifinalist for Best Chef: Texas in 2020. Months later, she competed on Season 18 of "Top Chef: Portland." Burrell was a sleeper hit on the show due to a recurring issue of getting all her components on the plate in time — but her powerful flavors stood out and she was a favorite among the panel.
Burrell's bold, soulful dishes propelled her to the top three, where struggles with timely plating cost her the win. Still, it was exciting when Burrell announced she'd be opening her own Houston restaurant called Late August in the summer of 2023. But in June 2023, Lucille's Hospitality Group, the company Burrell was working with to launch Late August, released a statement that Burrell was no longer involved in the project and the restaurant would proceed without her. As of October 2023, Late August has yet to open. It is unclear what went wrong between Burrell and Late August, a project she showed so much passion toward in earlier interviews, but we hope she opens her own restaurant when the time is right.
Rick Martínez
The year 2020 wasn't good for anyone, but it really wasn't good for Bon Appétit Magazine, after numerous employees detailed accounts of systemic racism in the workplace. Despite Bon Appétit's YouTube test kitchen videos garnering hundreds of thousands of views, 10 of the 13 on-camera culinarians walked out. One of them was Rick Martínez, but let's just say that move hasn't hurt his career. 
In 2022, Martínez released "Mi Cocina: Recipes and Rapture from My Kitchen in Mexico," a cookbook with beautiful images that came to life. Mexico was Martínez's muse for the project, and he traversed 20,000 miles of the country connecting with people, tasting the food, and forging experiences. All of the recipes in the book are based on his soul connection with the country. The results are astonishing, and it's no surprise the book won a James Beard Award in 2023.
Martínez continues to film cooking classes, and when he launched a string of pop-up restaurants in Manhattan to celebrate the one-year anniversary of his cookbook, the food was truly world-class. There were pork cutlet sandwiches at S&P Lunch, a mole tasting at The Platform by JBF, and a spread of recipes straight from "Mi Cocina" at Zou Zou's. As if we needed any convincing, these buzzy events that centered around Martínez's stunning food reminded us just how amazing a restaurant from this passionate chef would truly be.
Ina Garten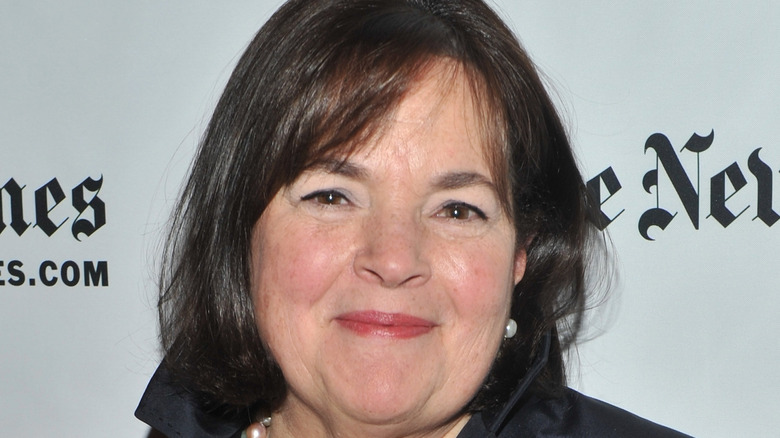 Stephen Lovekin/Getty Images
Kitchen maven and hostess with the mostess Ina Garten is one of Food Network's most prominent celebrity chefs. Garten filmed her cooking show "Barefoot Contessa" from a refurbished barn on her Hamptons property for almost two decades. The name of Garten's show comes from the gourmet grocery store she owned from 1978 to 1996 — which was named after the 1954 film starring Ava Gardner and Humphrey Bogart. Garten clued in curious fans that her interpretation of the term "Barefoot Contessa" is "being both elegant and earthy." Garten's legacy on Food Network is so vast that building a restaurant around the concept is a no-brainer — but unfortunately, it will probably never happen.
Garten has expressed that she has zero desire to ever reopen the store that started it all, so we are not expecting her opinion on owning a restaurant to be much different. We are still dreaming of it though because it would give us a reason to frolic in The Hamptons for the afternoon, sipping frozen palomas and nibbling on herbed ricotta bruschetta. Mostly though, we just want to pretend that Ina Garten invited us over for lunch.