Hunt Brothers Pizza: 10 Facts About The Gas Station Chain
There are few foods Americans find as irresistible as the classic pizza. Our fellow citizens devour enough of the junk-y favorite for it to be measured not just by the slice or circular pies but by units of mass. Nothing illuminates the pull of this popular snack more than the National Association for Pizza Operators' findings that foodies, on record, inhale enough 'za on the regular to span 100 acres (the equivalent of 80 football fields) with plenty of places more than eager to fill the demand. 
Major takeout titans could be the ones delivering numbers that big, but if we were forced to make any bets, there's also a convenience chain capable of generating that kind of hunger. Hunt Brothers Pizza is not the sort of pizzeria where you can phone it for delivery. It's a carryout concept, and since 1991, it's been primarily located within gas stations and convenience stores in remote corners of the South and Midwest. 
No bones about it, the Tennessee-based brand makes "cheap" pizza. What else is there to know? A lot, actually. Those who've eaten their fair share of Hunk-a-Pizzas might be in the dark in knowing how the founders, whose childhood included loads of time running their family's drive-in in Austin, rose to the ranks. Still, we can only consider ourselves experts when the facts are on hand, so let's bite into the gas station chain's sizzling story. 
1. Hunt Brothers Pizza started out as a wholesaling business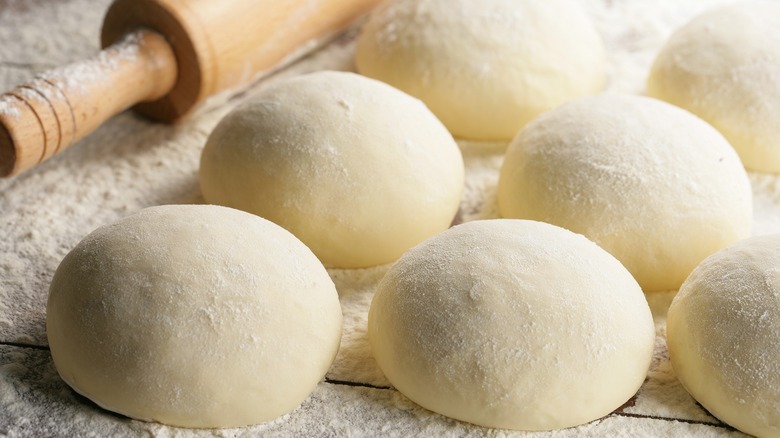 xiaoxiao9119/Shutterstock
Prior to unleashing its own brand of pizza, the actual Hunt Brothers first made their name as wholesalers. Under the name Pepe's Pizza, the quartet of brothers — Don, Charlie, Lonnie, and Jim — made a profit selling par-baked pies to businesses all over town.  Don Hunt conceived of the distribution concept, and he was inspired to get into wholesaling after noticing that Nashville (and the South, more broadly) lacked anything like the Italian-style cuisine bubbling its way out of kitchens elsewhere. 
As you can imagine, the sort of places Pepe's Pizza served were generally entertainment hubs and venues where people gathered to enjoy themselves. Movie theaters and bowling alleys were some of the distributor's notable clients. In addition, local taverns that didn't yet offer food partnered with Pepe's. In terms of reaching consumers as an official entity, the Pepe's Pizza era was extremely important for Hunt Brothers because it essentially paved the way for the brand's turnkey model. Pepe's furnished stores with the necessary wares to get up and running. Descendant Erin Hunt Ferguson, a wholesaler herself for the family business, told Pizza Hall of Fame, "The distribution systems that started in the '60s became the foundation for what we have today." 
2. It's one of America's largest pizza chains
To the takeout-eating public outside the Southeast, Hunt Brothers Pizza is definitely more obscure in comparison to its peers. Whereas no one can drive very far without running into a 7-Eleven, Hunt Brothers attracts mini-marts in more rural areas. The chain is among America's largest pizza chains and comfortably so. Breaking down the numbers given by Scrape Hero, the convenience concept has 9,588 kiosks as of October 2023, a vaster location count than industry icons like Domino's and Pizza Hut. While it's in fewer states (just 36) than similarly ubiquitous spots — consider Little Caesars' presence in 52 jurisdictions, for instance — Hunt Brothers swamps many competitors in the number of cities covered at 4,188. 
Hunt Brothers reigns supreme in pizza distribution, that much is certain. According to World of Statistics, the company's footprint can also be ranked among the big cheeses of the drive-thru industry. Hunt Brothers Pizza currently takes fifth place for total locations, trouncing Burger King and Taco Bell and only lagging behind Dunkin', McDonald's, Starbucks, and Subway. That's not bad company to keep, and the strategies keeping its expansion in motion have served it well. 
3. The company targets rural areas for new locations
A solid number of Hunt Brothers kiosks crop up in more remote regions around the U.S. Britt Hunt, a descendant and distributor for the gas station giant told The Tennessean that "our niche is rural areas where people don't have access to the big pizza chains." Smaller towns, as you can guess, don't always have as many opportunities for dining out, but they do have places that serve people on a regular basis — filling stations and the like — that make excellent venues to serve food in. 
As a result of this approach, the company has managed to expand takeout options in areas with fewer choices. A convenience store in Texas started selling pizza following a nearby supermarket shutting down, and the decision was a smart one given the circumstances. Not only were steaming-hot slices a welcome addition to the town's limited offerings, but the fare was convenient enough for residents, particularly older ones, to access without much difficulty. For another quick mart in Tennessee, the sparser conditions around them that drew fishing hobbyists also helped its pizza counter flourish. 
4. The pizzas are incredibly easy to make
An attendant assigned to the Hunt Brothers counter might feel a bit intimidated at first but the reality is that the pizzas are quite easy to make. Let's get one thing out of the way — no one is crafting anything from scratch. That's because stores are sent pies that are already prepared and ready to bake. The crusts arrive with the sauce and cheese on top and this essentially gives employees a blank canvas for adding on any garnishes. Then, the pizzas are broiled in the oven at high heat for around 5 minutes. The process isn't much different from most take-and-bake styles, and it's on account of Hunt Brothers taking care of a bulk of the labor before workers even get to the kitchen. 
When quick marts have enough to deal with while serving the public, balancing pizza-baking might seem like a tough ask. But, Hunt Brothers' business is built on making tasks simple and reasonable for the establishments selling its items. Its inventory is a step away from hitting the heating tray and reduces the toil on staff as a result. 
5. Hunt Brothers Pizza boasts over 1,000 potential combinations
What distinguishes Hunt Brothers Pizza from other gas station food? The average rest stop can swing plain cheese slices but Hunt Brothers goes above and beyond with the toppings. Assuming one of the pre-sliced Hunk-a-Pizzas won't satisfy your appetite, employees at the counter can build a 12-inch pie not already on the menu with a variety of fixings. In fact, the sheer abundance of customizations you can wring out of under a dozen choices is a promise the company is poised to keep at all times. The chain proudly touts 1,024 combinations of toppings. Those over 1,000 ways to dress your pie up or down are nothing to sniff at for luring customers in every week for a delicious new style. 
Banana peppers, Italian sausage, and olives are among the tasty possibilities awaiting a Hunt Brothers creation. Variety isn't the only appealing part of making it to order, though. The company also makes toppings complimentary. If craving everything but the kitchen sink on a pie (u7what's known as the menu's "Loaded Pizza"), the price will remain the same as any other 12-inch regardless of the amount of garnishes sprinkled on. 
6. Hunt Brothers kiosks rely on minimal space
Unlike the standard grocery store, the convenience stores populated by Hunt Brothers counters are bound to be short on extra space. To shove an entire pizza kitchen next to the scratch-off tickets and energy drinks sounds primed for disaster, yet the chain is basically arranged for this purpose. The "Pizza Shoppes" are constructed with minimal space in mind. The booth sizes span from 42 square feet to over 100 square feet. To give one a sense of its footprint, just know that a typical dine-in restaurant can reach around 4,000 square feet.
Hunt Brothers Pizza markets itself as a turnkey business, a sort of retail set-up where every component is already bundled together for immediate use. Not only is this approach very simple when dealing with the chain's smaller dimensions, but proprietors will have no issue adjusting counters to fit wherever they need to. An entire booth can fit the necessary equipment and tools for daily tasks, such as storage units and grab-and-go racks, never mind a fully functional oven to crank out pizzas by the batch. 
7. Hunt Brothers helped pioneer self-rising crust
"Self-rising" crust is seen on plenty of frozen pizza boxes today, but you would be wrong to credit the supermarket for this trend. This sort of prepared pizza that automatically puff up in the oven was more likely than not pioneered by Hunt Brothers Pizza. The story goes that the brothers tested an assortment of doughs sourced from production plants. One version sent to them (by accident) contained an abnormal amount of yeast, causing the crust to inflate to a fuller finish when it was baked. 
Fluffier, "doughy" styles were not in the cards for store-bought pizzas at the time. Distribution plants had to cook and then freeze the crusts prior to shipping them out to restaurants. It was an obligatory step to ensure that eateries didn't receive spoiled products. Although the industry norm was useful in extending the shelf life, it also blunted the rise of any bubbly qualities desirable with a well-crafted slice — "tough as shoe leather" is how Don Hunt described the texture of a typical pie made in this fashion (from Evansville Living). Unsurprisingly, embracing leavened dough grants a much fresher taste than one would suspect a convenience chain capable of delivering, and the 12-inch bases — original and thin crust, respectively — have stuck by ever since. 
8. There's no franchising fee at Hunt Brothers Pizza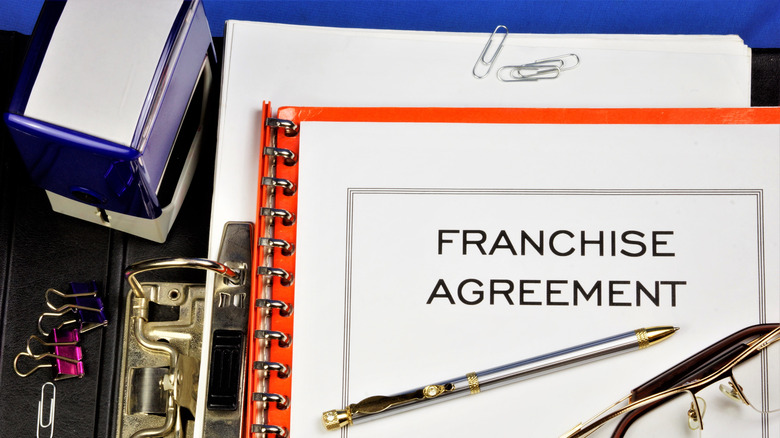 nik93737/Shutterstock
Franchising is often a great jumping-off point for those wanting to begin their own business, but even with that prospect comes some risks. Beholden to legal obligations, franchisors are expected to agree to certain expenses as part of the condition, which includes annual royalties, marketing materials, and even a franchising fee. That won't be the case with a Hunt Brothers Pizza pop-up. Hunt Brothers does not impose any of these expenses onto proprietors wanting to secure their own pizza parlor. Compared to typical dining venues that demand $20,000 just for licensing purposes (at minimum), getting a Hunt Brothers counter up and running isn't nearly the financial burden it would presumably be. 
Of course, shop owners aren't getting the whole enterprise for free just because they don't have to compensate the company. Obtaining the proper furnishings and cooking equipment for the pizzerias remains on the table, but even then, the startup costs are atypically cheap. Investments into a regular eatery can potentially reach six figures, but for installing an ordinary Hunt Brothers outpost, business owners can expect to spend around $10,000 for these (primarily) one-time necessities. Extraneous supplies, like promotional ads, are supplied by the parent company.
9. Hunt Brothers are a major sponsor for NASCAR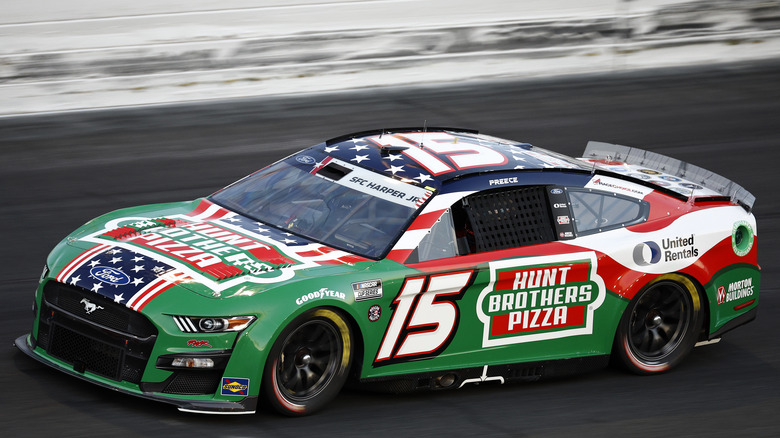 Jared C. Tilton/Getty Images
There's something serendipitous about merging the high-speed thrill of race cars with greasy gas station pizza. Hunt Brothers Pizza hasn't spared an opportunity to support drivers in the fast lane, either. Hunt Brothers has been an avid supporter of NASCAR since 2008. Sponsorships have cropped up over the years over featuring the track's biggest stars, who've all donned the green and red colors of the convenience store giant in style. The company first debuted with champion Kevin Harvick and has continued the pattern by promoting drivers like Ryan Preece and Elliott Sadler.
In addition to boosting the profiles of the player and company in question, sports sponsorships also communicate that there's common ground. In a press release via Speedway Digest, Harvick cites Hunt Brothers Pizza's  "family-oriented values" that have driven the long-time collaboration: "Those relationships you build through the years with brands that recognize and reflect what you believe in are few and far between," he said, adding, "We've grown with the Hunt Brothers Pizza brand."
Alabama is home to the iconic Talladega Superspeedway as well as 10% of Hunt Brothers locations. Clearly, this sort of coalition was bound to take off in any case. 
10. The chain is still family-owned
Over 9,000 kiosks later, it's easy to reach the conclusion that Hunt Brothers Pizza would have already been sold to the highest bidder — it happens to most fast-food empires. The familial bond is undeniably crucial to Hunt Brothers' legacy and explains how corporate leadership remains close to the heart to this day.
The original founders have passed away in recent years, but their children and grandchildren have taken the reigns carrying on the brand's mission since the quartet went into retirement. Much like how the original Hunt brothers took on their father's drive-in, younger descendants have either nabbed employment at the chain's headquarters in Nashville or work in related fields to the convenience retailer, such as distribution centers that transport the signature pizza products to a number of businesses. 
Scott Hunt, the current CEO, as well as Hunt Brothers transporter Britt Hunt, are the sons of Don Hunt. They're both notable for actively committing to the values that drove their relatives decades ago. In a public statement on Don and Charlie Hunt's passing, Scott Hunt remembered his father and uncle as "true pioneers" embodying the principles they represented, saying, "We will continue to spread their positive message as we work towards growing the business" (From C-Store Dive).