Olive Garden, For Whatever Reason, Sells Its Cheese Graters
It's not uncommon for restaurants and chains to go beyond selling food and venture into merchandise or clothing. In-N-Out Burger will sell you a longboard, and Pizza Hut briefly sold Pie Tops II during March Madness in 2018, which allowed the wearer of the limited-edition shoes to order a pizza with a push of an on-shoe button. But you wouldn't expect to buy a pizza cutter from Pizza Hut, so it is fascinating to discover that Olive Garden will sell you one of their cheese graters.
TikTok user Bo (@bo-gjerness) posted a video saying that they went to Olive Garden on their birthday, and casually asked the waiter if they sold the graters. Bo held up a grater and said excitedly, "They do!!!" while also showing the big bowl of Romano cheese they received to go with it. When someone asked how much it cost, they shared that the waiter "said like $15 but he gave it to me for free as a bday present."
As Olive Garden's spokesperson Lauren Bowes told Mashed, the company does indeed sell its cheese graters. "The iconic Olive Garden cheese grater and our 'Say When' philosophy when grating fresh parmesan over our craveable Italian food is just one way we deliver on the never-ending abundance our guests love. The ability to purchase the cheese grater varies by restaurant and availability."
Olive Garden will sell you almost anything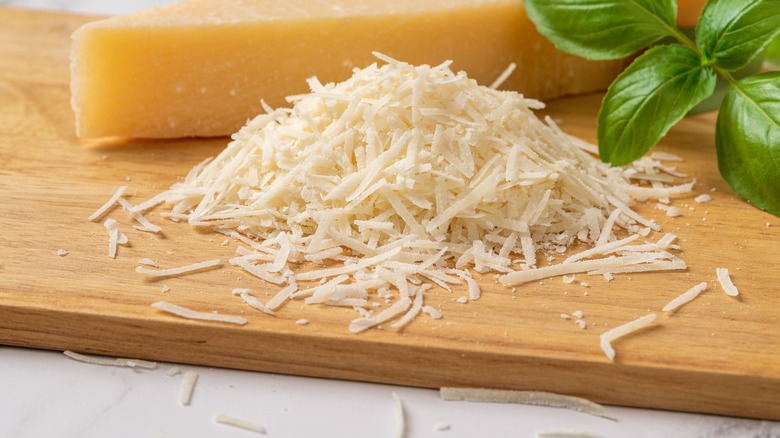 Maryia_K/Shutterstock
For those wondering why Olive Garden sells its cheese graters, the answer seems to be: why not? Two weeks after Bo posted their cheese grater story, social media influencer Jordan Howlett, aka @jordan_the_stallion8, stitched together a TikTok video showing that he went to Olive Garden and purchased a grater, and like Bo, received a lot of cheese to go with it. His post caused the story to blow up even further, with each video receiving over a million views. You can see the original video below.
In the comments section of Jordan's video, one former Olive Garden employee commented, "Everything there [has] a price. One of my managers sold a painting off the wall once." Another current worker also chimed in, "You can buy pretty much anything... You can buy the bellini syrup, glassware, dressing, you name it."
Before you rush out to Olive Garden to buy a cheese grater, you should know that there is really nothing special about it. It doesn't say "Olive Garden" on it, and you're not getting a deal. Ikea sells a similar cheese grater that you can purchase for $6.99, and one of Amazon's top ten cheese graters can be purchased for $9.96. But the reason so many people want Olive Garden's grater isn't because it's unique, it's because of the story that comes with it.