Well-Seasoned Bread-Dipping Oil Will Be The Talk Of Your Next Girl's Night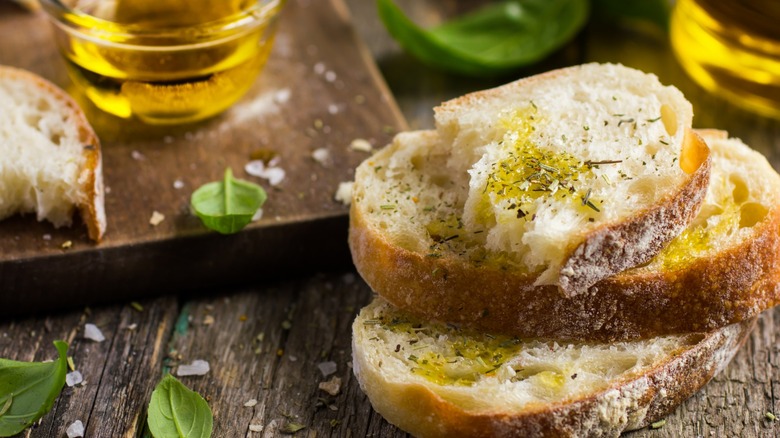 Anna_shepulova/Getty Images
There might be nothing better than hearing the words, "Would you like some bread for the table?" Usually, that bread also comes with dipping oil. The combination of warm bread and oil makes the perfect appetizer for any occasion. A significant amount of the right seasoning is the key to taking your oil to the next level and impressing your friends at your next girl's night.
Legallyplantbased on Instagram shared their recipe for bread-dipping oil and lemon zest is an ingredient you may not have been expecting to see on the list. The dip is olive oil-based. Besides lemon zest, the recipe also includes spices like oregano and basil, chili flakes, chopped parsley and thyme, finely diced olives, and balsamic vinegar. Clearly, this oil isn't short on seasoning. Once you've mixed all of the ingredients together, you're left with a dipping oil that's desperately waiting to have bread dunked in it. Users in the comments love the recipe, calling it "amazing," and "perfection."
What types of bread would pair best with seasoned oil?
Obviously, you can't bring just any bread to girl's night. The bread you choose has to be able to hold up when you dip it in oil. A store-bought, pre-cut loaf is not going to cut it in this case. If you've gotten bread and oil in a restaurant, you're probably used to seeing focaccia or ciabatta as the bread of choice. Both of these breads have a sturdy, crispy exterior with a soft and chewy interior. This means that the oil won't make the bread too soggy, making it perfect for dipping.
If you are into more niche bread and oil pairings, there are lots of other varieties of bread to try out. Olive bread— as its name may suggest — has olives incorporated right into the dough. Because of its composition, it would go great with olive oil-based dips. Pugliese is a ciabatta-adjacent loaf that also has a crunchy crust and would be another good option for pairing with dipping oil. Ultimately, the choice of bread is up to you, and you should probably also avoid cheap olive oil while you're at it if you're really looking to impress.