Stores You Should Shop At If You Like Aldi
To put it simply, Aldi can be a paradise. From staples like veggies, milk, and eggs, to gourmet chocolates, quality cheeses, dog food, decorations, and even the occasional pair of slippers, the popular supermarket chain is able to deliver. It's a wonder to behold just how many different things fit into each tiny location.
And yet, every once in a while, you aren't going to necessarily find what you're looking for. And that's okay. Even a store that covers their bases as well as Aldi does isn't going to always have everything you need at any given moment. Or even worse, you might not have an Aldi in your area (we're so sorry!). 
Not to worry. There are plenty of other stores that, while not always identical to what Aldi may offer, still manage to deliver excellent products, low prices, and occasionally even a similar vibe to everyone's favorite German supermarket chain. Here's our list of the top stores you should have in your rotation if you're already a fan of Aldi.
Trader Joe's
If you like the vibe of Aldi, you're going to want to visit Trader Joe's. And we're not just saying that because the two are siblings, either. The two stores are closely related, with Aldi making up the U.S. branch of Aldi Süd and Trader Joe's comprising the U.S. branch of Aldi Nord. The north and south separation took place way back in the 1960s over a disagreement regarding the sale of cigarettes, with brothers/owners Karl and Theo Albrecht deciding to spin off their own halves of the parent store.
Thus, much like a pair of siblings, Aldi and Trader Joe's both have their intense similarities and their wildly distinct differences. On the surface, Trader Joe's usually has a similarly small footprint, that restricted parking lot, private label brands, and an overall simple, straightforward atmosphere that tends to focus on quality over flashiness. However, while Aldi may be an excellent location to pick up the bulk of your groceries, Trader Joe's selection tends to boast some unique specialty items that are worth checking out.
Lidl
Keeping with the Teutonic theme for the moment, another store that has given Aldi, Trader Joe's and other grocery competitors a run for their money around the globe is the German supermarket chain Lidl. 
Lidl brings big competition to Aldi with its extremely affordable prices. According to The Atlanta Journal-Constitution, even Aldi is forced the lower their prices when Lidl comes to town. From free carts — at least in the U.S. — to fresh baked goods, and a store brands that are on point, Lidl has brought some pretty stiff competition to discount supermarket scene.
The only problem with this one is finding a U.S. location. In 2017 they announced plans to open a whopping 100 stores in the U.S. by the summer of the following year as a gutsy bid at entering the star-spangled grocery market. However, while the reputation of the company has remained solid, their U.S. launch hasn't been quite as spectacular as might have been desired thus far. Nevertheless, if you live near one, you're going to want to pay a visit. And make sure to bring a pad and paper or that iPad to make some notes and comparables against your Aldi favorites while your there. Here's hoping this one finds its footing stateside!
WinCo Foods
WinCo Foods, an employee-owned-and-named discount grocer, has been quietly yet expertly operating a chain of stores throughout the western United States for decades now. Each location has a wholesale club vibe, sporting a warehouse-esque feel of simplicity and minimalism that lines up neatly with many of Aldi's core, money-saving values. From a complete lack of flash and glamour to that same Aldi "bag your own groceries" experience, WinCo has managed to keep grocery shopping simplified... and cheap.
The absence of any and all complications in their business model has genuinely produced some of the lowest prices you can find for groceries in the U.S. The only problem? Once again, you're looking at geographical limitations. However, this one is nice, as it does at least cover a good chunk of the western half of the country. From the prices to the experience, this one falls right in line with an Aldi-lover's dream supermarket. If you live near one, you're going to want to stop in for a visit. If not, cross your fingers in the hopes that one comes to your town soon.
Whole Foods
While Aldi is famous for its low prices and its small and simplistic layout, at the end of the day no matter how many products it packs onto those shelves, you're probably going to need to supplement your shopping somewhere. That's why it's helpful to nail down a good "follow up" supermarket where you can fill in the gaps. Enter Whole Foods.
The company has a mixed reputation, particularly when it comes to the "Whole Paycheck" cost of its food — even if this infamous claim to fame has been somewhat over-hyped. However, it certainly has become known as a quality source for all things organic and health-food, and that is exactly how you can use it to your advantage. Aldi is the perfect way to take the edge off of the cost of your groceries. But you may want to consider combining your Aldi trip with a tag-along stop at Whole Foods, where you can get some of the best, carefully sourced items like pastured eggs, organic chicken broth, or organic milk. The duo can be the perfect one-two punch that allows you to get that higher Whole Foods quality for certain items while simultaneously keeping the overall cost of your trip to a minimum.
Wegmans
Another "follow-up grocery store" on the more elite level is Wegmans, a store that literally kept Alec Baldwin's mom from leaving upstate New York. The supermarket with close to 100 locations has designed each store to have the feel of a European open-air market, with "dazzling displays of fresh produce, artisan breads, international foods," and everything else you'd normally expect to purchase at a supermarket.
And the stores really do hold up to their rather lofty ideals, with each location typically stocked to the hilt with an over-abundance of different products and options that are located throughout each sprawling store. The quality of Wegman's products tend to be exceptional as well, while their prices are in the mid-range, comparatively speaking. Not so high as to break the bank, but certainly high enough to warrant a trip to Aldi beforehand. While Wegmans has dozens of stores, they are mostly located along the east coast — though the company has been in "expansion mode" for quite some time now, with many new locations planned out for the future. If you happen to live near one, you're going to want to stop in to do some price comparisons... and probably sample some of their tasty breads.
Wholesale clubs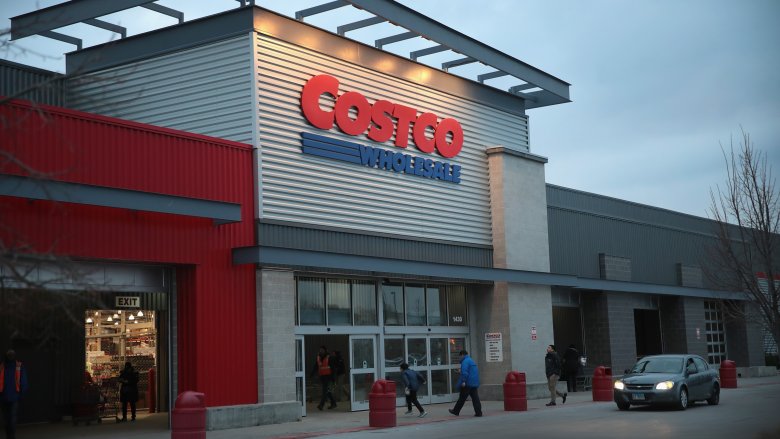 Getty Images
While Aldi is a great way to get quality products at low prices, sometimes you just need to purchase things in bulk. Particularly if you've got a family to shop for, or even just a bunch of roomies that use too much toilet paper, getting a membership at a wholesale club can be the perfect addition to your Aldi-centric shopping sprees. From the aforementioned toilet paper to tissues, bottled water to pretzels, diapers to toothpaste, even just a few items that you use in larger quantities — or that won't go bad quickly — can make a membership worth it. After all, it's true that those famously low wholesale club prices really can be hard to beat.
The question is, which wholesale club membership are you going to want to get? Depending on where you live, you may have access to more than one, with Costco, Sam's Club, and BJ's constituting the "big three" that generally dominate the wholesale market. The secret here is to avoid getting suckered into getting two memberships or, heaven forbid, the three club membership trifecta. While each club has its own unique products, deals, and incentives, if you're planning on using the wholesale club as part of your shopping strategy, your best bet is to pick the club that meets your specific shopping needs and stick to that. The good news is that you can often try a club out without purchasing a membership if you want to get a closer look at their product offerings and prices.
Walmart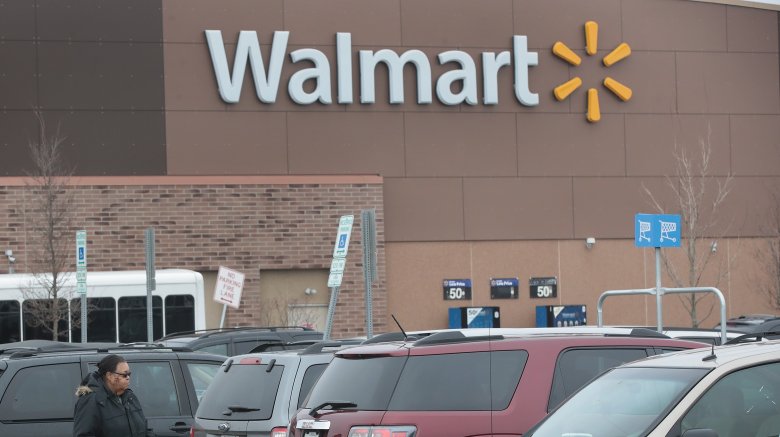 Getty Images
Over the years Sam Walton's company has had quite the PR ride as they've risen to become one of the top retailers in the world. But whether you're a fan or not, there's no denying that Walmart has found some pretty killer ways to roll back those prices, keeping them as competitive as possible. And the best part is that the company hasn't been immune to the changing market demands over the years. If you haven't been in a Walmart lately, you may want to stop in just to peek around a bit.
Many of their products, including their own Great Value brand groceries, have made significant improvements. From upgrades in their fresh produce to cheap non-perishable items, Walmart can be a great spot to help restock your pantry. Not to mention, each supercenter is a one-stop shop for pretty much anything you might need, from clothing and electronics to prescriptions, home decor, crafting, and even tires.
Target
Target is definitely a competitor for Walmart, but it may surprise you to know that they're also a big competitor for Aldi. As the other "one-stop shop" option on our list, Target has established itself as a household name for both quantity and quality, providing a huge variety of great products at impressively low prices. Add onto that the typically more enjoyable experience that most people have when shopping at Target, and it should come as no surprise that the retail company has created an avidly loyal fan base over the years.
While Target usually has at least some good food options available, it really is the fact that you can get practically everything you need there that helps this one make the list. In addition to topping off any grocery needs, you can easily find great clothing, electronics, household goods, and even seasonal products at any Target you stop by. They even have an area called "Bullseye's playground" (also known as The Dollar Spot) which is constantly filled with a wide selection of various, often-adorable, always affordable limited-time items. With solid pricing — albeit slightly higher than those at Walmart — and a generally better shopping experience than Sam Walton's company tends to provide, Target can be a great way to stock all of those non-grocery items you might need, as well as some of your food stock, all in a single trip.
Lowes and Home Depot
It may surprise you to find a home improvement retailer on this list, but the items they carry do sometimes take up the bulk of Aldi's famous Aldi Finds section. While the supermarkets and supercenters can keep your home stocked with all of the goodies you may require, sometimes it's the house itself that needs a little bit of TLC. If you often find yourself perusing this section of Aldi for home improvement goods, it might be a good idea to check out your local home improvement retailer. You'll find that they often offer savings that any frugal Aldi shopper can get behind.
The two biggest name brands that have been dueling over the home improvement market over the years include Lowes and Home Depot, both of which provide a vast array of tools and materials to fix everything from cracked floors and chipping paint to new walkways and sheds. They also can be a great location to scout out some of your more foundational decor, like area rugs, pictures, and lamps — all things you love to find in those center aisles at Aldi.
Amazon
While the big box stores like Walmart and Target continue to find ways to keep their brick-and-mortar locations alive and well, the writing on the wall is pretty clear at this point. Whether it happens in a year or in ten, the retail world is trending in the e-commerce direction more and more all the time. And where are all of those sales going? The bulk of them are going to Amazon. The online e-commerce giant reported a whopping 97 percent increase in sales year-over-year in 2015, and just three years later they had officially become one of the largest companies in the world.
And it's no wonder that Amazon is doing so well. Between that famous two-day Prime shipping and the access to virtually anything you could ever need at the push of a button (or a brief discussion with Alexa), Amazon can be the perfect way to get anything you need delivered right to your doorstep. And the benefits don't stop at the deals, variety, and convenience either. Prime Pantry, available to Prime members only, is a sweet way to stock up on any food you might not get during your normal Aldi run. It's a great way to restock on things like snacks, drinks, toiletries, and other household goods without having to make a second trip to a busy store.
Thrive Market. Yes, Amazon doesn't own the internet.
While Amazon can literally wrap your grocery and household needs into one quick virtual trip on your phone as you sit on the couch in your pj's and sip your coffee, it can often rub people the wrong way when they are entirely dependent on a single corporation that dominates the entire business landscape. If sticking it to the man is your schtick, but you still don't want to make that second trip out to the store, you may want to consider making a quick online stop to Thrive Market.
Thrive Market is a budget-, social-, and environmentally-friendly online store that focuses on providing healthy, uncomplicated foods at low prices. Much like an online variation on a wholesale club, Thrive Market charges an annual fee, but in this case, it gets you access to a large variety of organic and non-GMO products, typically provided with a healthy dose of some pretty darn good savings. Add onto that the free shipping on easily-qualifying orders, and Thrive Market tends to be a good online alternative to any health food shopping you might require.
Overstock options
If you're a fan of Aldi, there's a really good chance you're a fan of affordable deals. The constant turnover of specialty items that the Aldi Finds section is famous for also helps to keep any veteran Aldi shopper on their toes as if they were in an old-school bazaar. If an item is here today, it could be even cheaper tomorrow... or it could be totallygone. If the thrill of finding the best deals is your favorite part of the Aldi experience, you may want to try checking out a couple of these online steep discount options as well.
Wayfair sells everything from couches and love seats to area rugs, pillows, ceiling fans, refrigerators, changing tables, and even pet supplies. They regularly have sales as high as 70 percent off and offer free shipping. That's right, your couch can qualify for free shipping. Another popular option is Overstock, a cutting-edge online company that thrives on the thrill of a steep discount. Boasting a similar array of products as Wayfair, all discounted on some level or another, Overstock can be a great place to land a deal from household furnishings to jewelry, patio furniture, and even clothing. Basically, it's everything from that Aldi center aisle — and so much more.