Wendy's Spicy Chicken Nuggets Are Finally Making A Comeback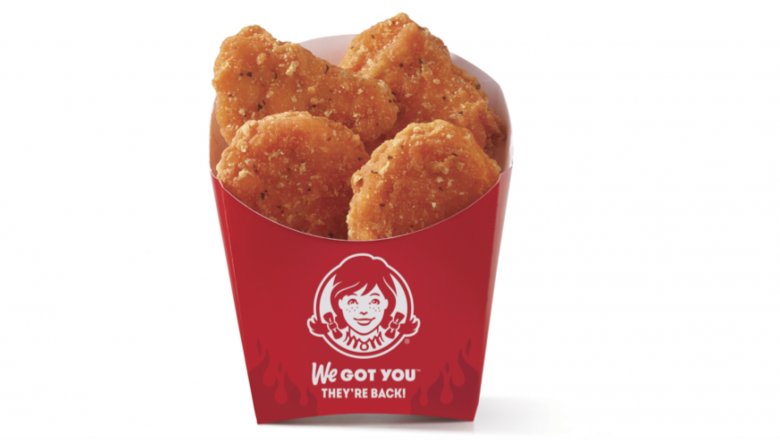 Wendy's
Thanks to a random tweet in May that quickly went viral and brought the whole of Twitter into nugget-induced solidarity, Wendy's promised to bring back its discontinued spicy chicken nuggets. And good news for those who have been waiting for their return since 2017: The fast food restaurant announced that they're coming back even sooner than expected — Monday, August 12.
It all started back on May 4, when Chance the Rapper outlined some goals for his upcoming day. He tweeted, "Positive Affirmations for today: I WILL have a good day, I Will succeed today, Wendy's WILL bring back spicy nuggets at some point please please Lord let it be today."
Wendy's, which is well known for its amazing Twitter game, noticed this tweet and decided that they'd bring the spicy nugs back, but only on one condition — they sent out a tweet and noted if that got over 2 million likes, they'd bring back this special fan favorite. 
It didn't take long — at all — for spicy chicken nuggets to trend worldwide, and within a day and a half the tweet had garnered enough likes to seal the deal. Wendy's tweeted, "THIS IS NOT A DRILL! Spicy Chicken Nuggets are coming back! Y'all are crazy! That took like a day and a half! WHAT?! We don't know when yet, gotta figure it out, but soon, and ok, LOSING IT RIGHT NOW THIS IS AMAZING!!"
And now, just a few months later, Chance the Rapper (and 2 million of his closest friends) have a dream coming true. Wendy's originally announced that the spicy nuggets were set to drop August 19 (via Today), but ultimately moved the date up a week, much to the delight of spicy nugget fans the country over. So get your dollars ready, and head out to your nearest location for some of that spicy goodness. And for those who live by the Wendy's 4 for $4 deal, the restaurant confirmed that you totally can include the spicy nuggets as one of your options.