The Reason The Pioneer Woman Almost Never Happened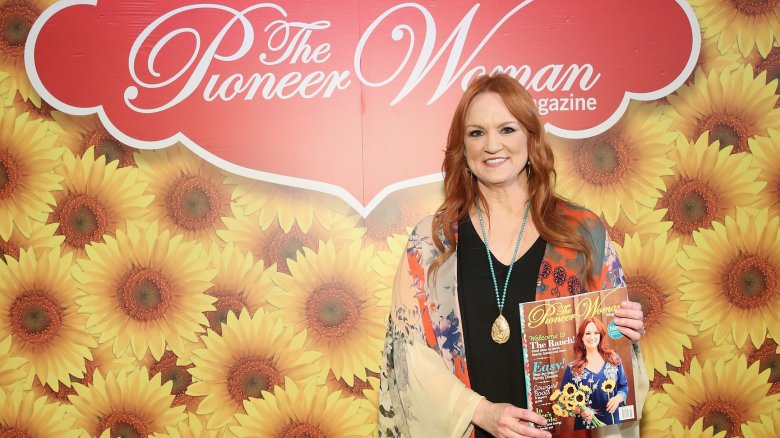 Monica Schipper/Getty Images
We may receive a commission on purchases made from links.
Ree Drummond didn't know that starting her food blog, The Pioneer Woman, back in 2006 would land her on television. Since 2011 Drummond has been a fan favorite as the face of The Pioneer Woman, one of Food Network's leading television shows. Every Saturday morning viewers can find Drummond mixing up recipes for the whole family in her kitchen, but the jump from blogger to showbiz wasn't an easy one for Drummond. In fact, the idea of being on television put her so far out of her comfort zone that she almost passed on the opportunity.
Back before The Pioneer Woman was a Food Network success, Drummond sat behind a computer screen. As a food blogger she caught the interest of a massive following. In just three years her website was getting 13 million views a month, growing eventually to 23.3 million two years later (via Pop Culture). Drummond's online fan base was much easier for her to handle. "I was a food blogger," she told Delish. "I was very much behind the camera. I'm definitely not someone who ever thought about being a TV personality..."
When Drummond was first approached by the Food Network about a TV show she says she balked at the idea. "I get stage fright," she said, "especially if I have a speaking engagement. I get panicky." Thankfully the Food Network didn't take no for an answer. They offered to come out to her Oklahoma ranch and that changed everything. "When I realized it wouldn't be me traveling and going to a studio somewhere," Drummond said, "I thought, I'm never more comfortable than I am at home in my home kitchen, so I'll give it a try." 
Even after years of being on camera Drummond admits there are still days where she isn't sure what she's doing, but says that's all part of the process. She loves that The Pioneer Woman allows her to not only share her life, but the lives of her husband and children, too.
Appearing on The Pioneer Woman has opened quite a few doors for Drummond. She has an exclusive cookware line at Walmart, and has released numerous cookbooks. She even stepped outside of cooking for a bit and published a children's picture book series.
It may seem as if Drummond has a lot on her plate, pun intended, but one thing she has learned in her journey is the art of saying no. "I have learned that if I say yes to everything, I will be more of a crazy person than I already am... It's okay to say no, and make choices, and preserve your resources." Although an important outlook, fans are probably happy that she didn't learn that concept until after she said "yes" to the Food Network.