The Truth About The Halal Guys Famous White Sauce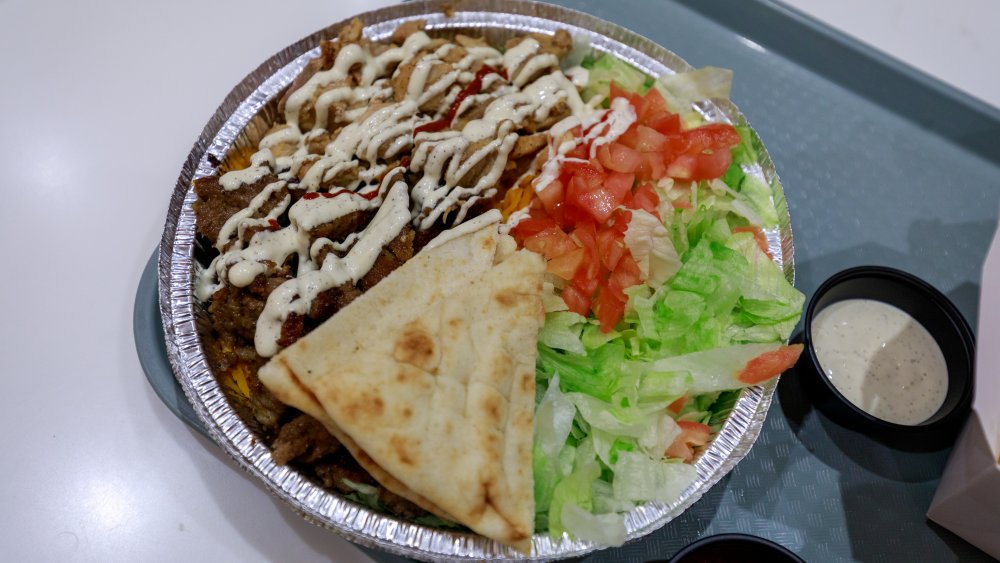 Shutterstock
The Halal Guys, a food cart that has served New York City for over 25 years, is famous for its secret white sauce used over platters of lamb, chicken, and rice. People have been trying to get the recipe for decades to no avail. However, you can now find the ingredients when you buy a meal at the cart, thanks to a change in packaging. They have replaced the old squeeze bottles and the sauce now comes in plastic packets that have the ingredients printed on them for all to see.
"Everyone had their own idea of how we make our sauces; now we are pointing you in the right direction without giving away the recipe," the manager of Halal Guys told the Daily News.
The packets list soybean and/or canola oil, egg yolk, vinegar, water, salt, sugar, natural flavors, black pepper, disodium EDTA, xanthan gum, and sodium benzoate (via DNAInfo). The first three ingredients make up mayonnaise and the last three ingredients are common food additives to maintain freshness. The Halal Guys have not revealed what the natural flavors are, and the recipe itself remains secret. 
Where to grab some Halal Guys
The Halal Guys have also printed the ingredients for their hot sauce, which comes in the same type of packets and lists ground red pepper, vinegar, salt, spices, and concentrated lemon juice.
The most common menu item is the combo platter, an entree of chicken and beef gyro, served over rice, with lettuce, tomato, a pita, and the famous white sauce and hot sauce (via Thrillist).
The Halal Guys are known for always being open. They have missed fewer than 20 days of business since they started in 1990 at 53rd Street and 6th Avenue. They even operated during Hurricane Sandy, providing emergency workers and first responders food for free (via Thrillist).
The food from The Halal Guys is also available at their brick and mortar location on the Upper West Side, at 95th Street and Amsterdam, as well as a location on E. 14th Street. They have also expanded to many locations across the U.S. and even to the Philipines and South Korea, and have plans to expand even further (via Thrillist).