The Huge Change Coming To Costco Food Courts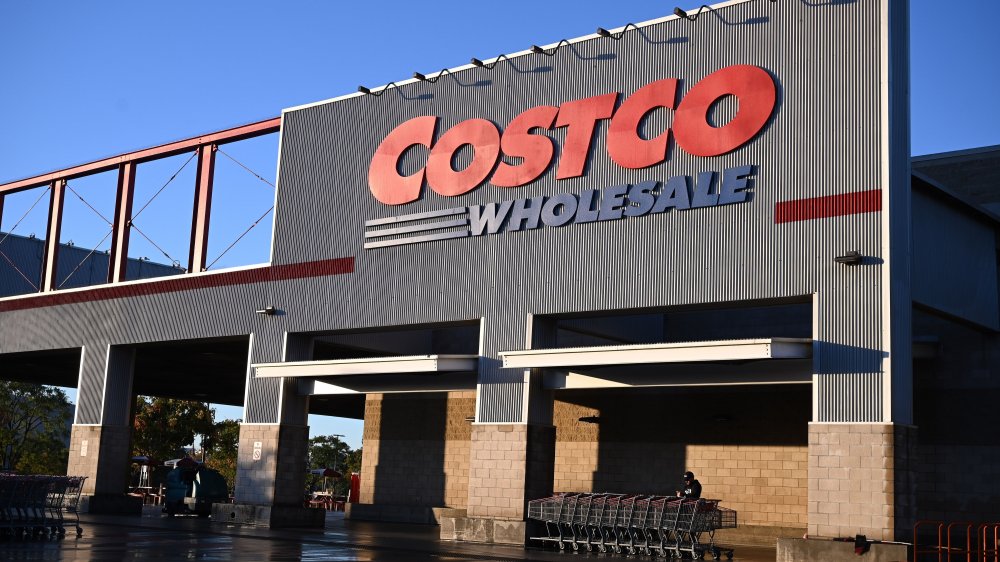 Robyn Beck/Getty Images
Costco has something of a cult following. Everyone from high schoolers, bartenders, and parents love the big box store and have been found to wax-poetic on Kirkland Signature products from time to time. But one major change is heading for one of the most beloved corners of the stores — the food court — and may have evangelists singing a different tune.
The food court is best known for its $1.50 hot dogs and huge pizzas, though the surprisingly beloved chicken bake and other menu items keep people coming back, even if it is just to take a break from shopping. Though some of the newer items on the menu like the açaí bowl gave the food counter a bad rep for a time, it's still the perfect place to appease kids being dragged along on a shop'n'stock spree (via Business Insider). Even for those who are not Costco members, the decent, filling, and most importantly cheap food is the perfect stop for curbing hanger either in-store or locations outside of the store. That's about to change, however.
You'll soon need a membership to hit the Costco food court
While there are plenty of secrets to uncover of the Costco food court like its delicious pizza and incredible hot dog deals, this new change isn't something people are exactly ecstatic about. According to Costco employees and customers, the store will soon require an active membership to dine at the food court, in-store or outside of the store (via The Kitchn). Membership will be required starting March 16, according to 10 News. However, Instagram account @CostcoDeals confirmed that this may vary by store, and rollout dates may vary from store to store.
A basic Gold Star Membership starts at $60, but there are tons of reasons to consider springing for the membership. Even if you are shopping for one, Costco provides some great products at even better prices that won't expire before you can use them (via PopSugar). With smart shopping tips like those from Taste of Home, you save even more money. Plus, there's that satisfaction guarantee that means you can refund your membership fee if you're not happy. It's hard to go wrong with a basic membership, so you might consider giving it a try — even if it is just to buy your way back into the food court.