What To Know Before Ordering Papa John's New Jalapeno Popper Rolls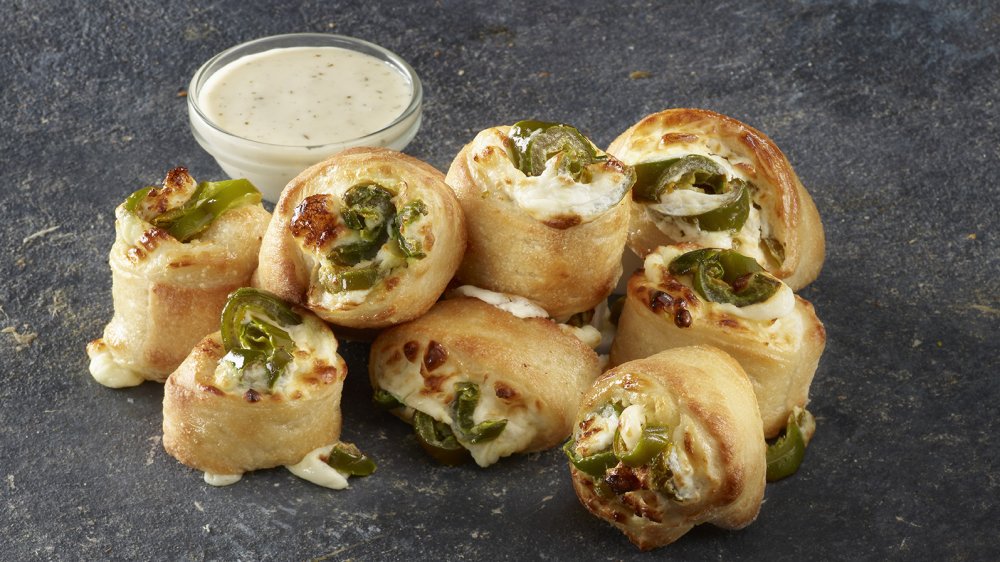 Papa John's
No doubt due to slumping sales and a spate of PR nightmares, Papa John's has been making some notable changes in recent months. In 2019, the No. 4 pizza chain brought on Shaquille O'Neal in a multimillion-dollar deal to revitalize its image (via Restaurant Business), then hired the former president of Arby's as its new CEO (via CNN). Since those key changes behind the scenes, the pizza giant has been rolling out new menu items with a vengeance. In November, the company unveiled its new Garlic Parmesan Crust, followed by this month's nationwide release of Papadias, four varieties of a pizza-sandwich hybrid designed to attract the lunch crowd. Now, enter Jalapeño Popper Rolls, launched this week as a "unique take on one of America's classic appetizers."
Inside the Papa John's Jalapeño Popper Rolls
Papa John's details that the rolls consist of the company's pizza dough, wrapped around Philadelphia Cream Cheese and spicy jalapeños, served eight to an order with ranch dipping sauce as a poppable side order or snack. The Papa John's website lists the order at $5.99, but prices vary nationwide — in some areas, you can snag them for a cool fiver. Each popper clocks in at 60 calories (though the entire cup of ranch dipping sauce adds another 100 calories to the tally). And the rolls appear to be a permanent addition to the menu versus a limited-time offer, giving heat-seekers plenty of time to sample the new side.
What are people saying about the Papa John's Jalapeño Popper Rolls?
Many online reviews of the new Jalapeño Popper Rolls have been positive. A writer at Delish called the menu addition "my newest food crush," reporting that the "creaminess of the Philadelphia perfectly cuts the heat of the jalapeños." But, for palates unaccustomed to fiery foods, beware: Several YouTube reviewers have cautioned that the spice level is legit. 
The Endorsement reviewer gave the rolls a score of 89 out of 100, explaining, "That does pack ... some heat," giving it a six of 10 on the spicy scale, but added, "If you like jalapeños, these hit on every level. I really do enjoy the flavor." And Ian from Peep This Out Reviews eyeballed the rolls as a "lovely situation," with the taste test prompting an immediate declaration of "lots of heat," plus "awesome" flavor and pizza dough "toastiness," but the ranch-cream cheese combo helped cool down the fire, leading to an overall 8.5 of 10 review. If these early kudos are any indication, perhaps the Jalapeño Popper Rolls will be able to help heat up the chain's flagging sales stats, too.