Why This Shamrock Shake Costs $90,000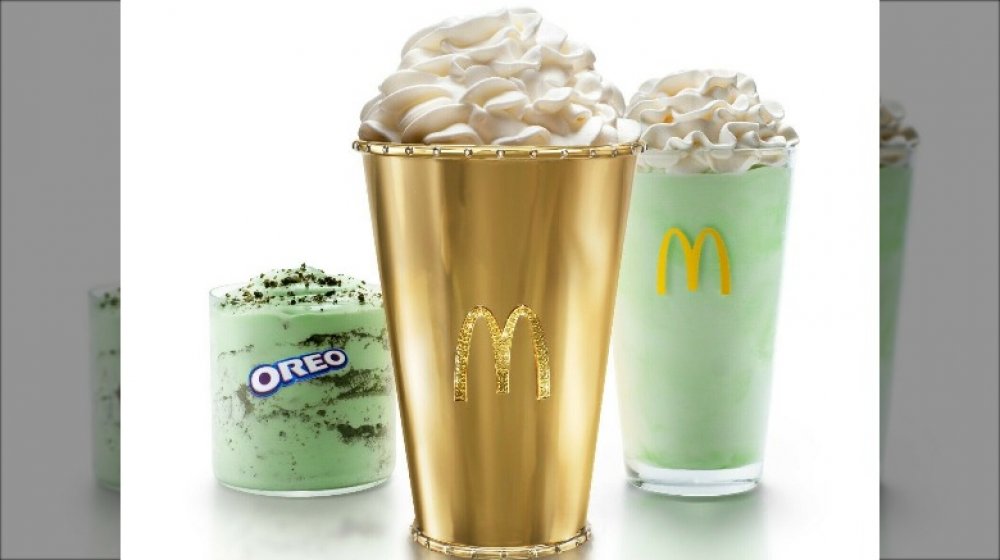 McDonald's
St. Patrick's Day is just around the corner, so we all know what that means... the Shamrock Shack is coming back! Things are going to be a little different this year, however, and one Shamrock Shake is going to cost $90,000. Hold up, don't start writing an angry letter to McDonald's just yet — there's a very good explanation for the shake's crazy high price. 
Believe it or not, but the Shamrock Shake is celebrating its 50th birthday — however, it's only been available nationally rather recently (Business Insider notes that its national debut was in 2012). McDonald's is marking the golden anniversary with an extravagant cup that's decked out in gold and jewels (via McDonald's). Obviously (and thankfully), not every Shamrock Shake is going to cost $90,000. 
Here's the lowdown on this very special Shamrock Shake and how you can get your hands on one. 
This Shamrock Shake is decked out in gold and jewels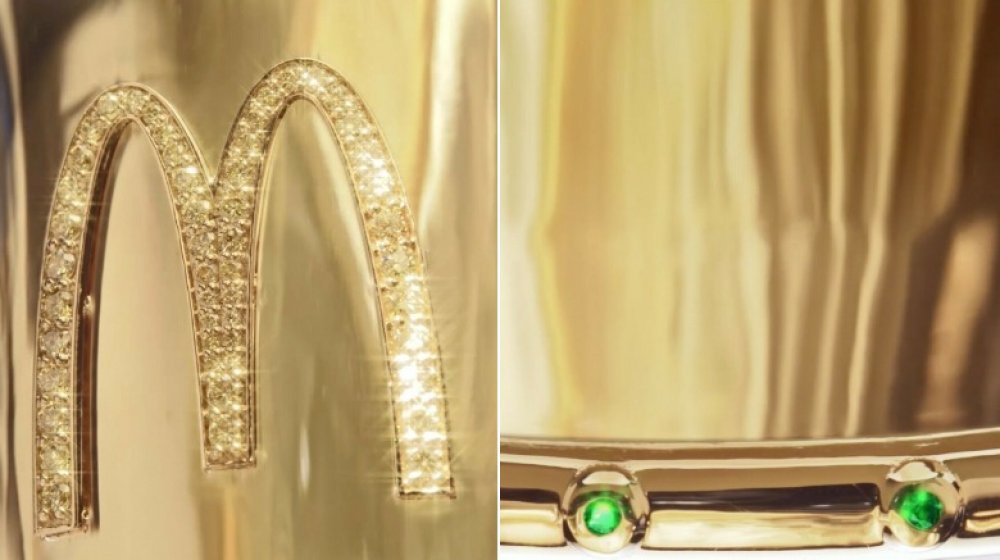 McDonald's
A Shamrock Shake that's estimated to be worth $90,000 had better be pretty impressive. Mickey D's thought so, too, so they brought the bling, as the shake comes in a cup made of 18k gold that's adorned with 50 emeralds and diamonds to mark the Shamrock Shake's big anniversary. In the middle of the cup is the McDonald's logo encrusted in 50 yellow diamonds. 
Scoring one won't be easy, as McDonald's is only making two of them available. If you've got the cash, you can head over to the shake's eBay listing and place a bid to win what is sure to be one of the priciest fast food collectibles ever. The lucky winner won't be just getting the gold shake cup, but will also be contributing to a great cause — all proceeds from the winning bid go towards the Ronald McDonald House charity. 
Don't have a pile of cash just sitting around? You still have a shot at this shake. 
There's more than one way to win this golden shake
As we said, McDonald's actually made two of these blinged-out Shamrock Shake cups, but only one of them is being auctioned off. The other will be given away to a random customer who orders the shake or an Oreo Shamrock McFlurry via the McDonald's mobile order app. If the app isn't already on your phone and you simply must toss your name in the bucket, you can download it on the contests' website. 
Act fast, though — the Shamrock Shake is sadly never available year-round and this contest actually ends on March 5, well before St. Patrick's Day.