Where Does Bobby Flay Live And How Big Is His Home?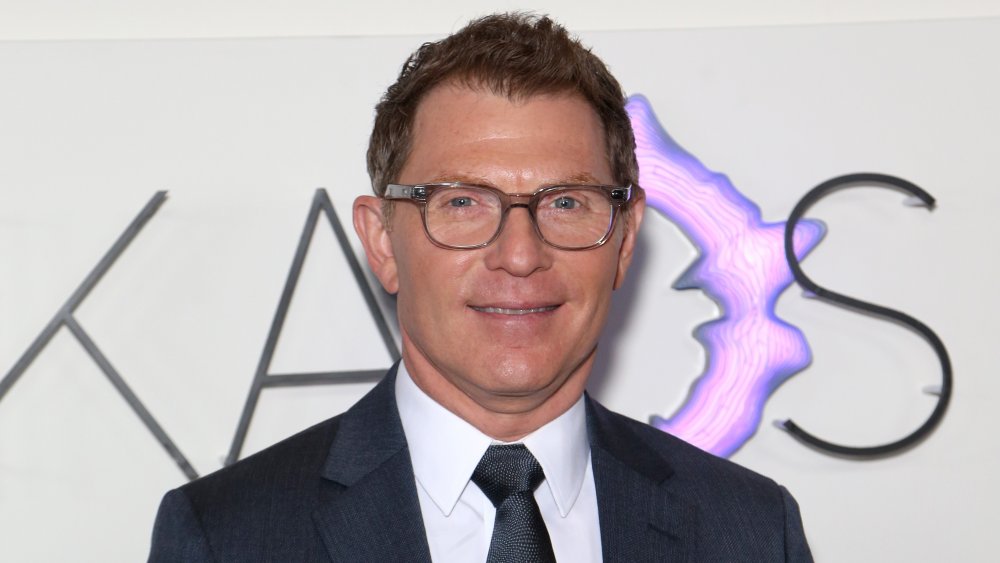 Gabe Ginsberg/Getty Images
Bobby Flay is one of the biggest names among celebrity chefs, and with good reason. The high school drop out turned culinary superstar has developed enough restaurants, television shows, and kitchen products to declare an empire. While Flay was born and raised in New York's Upper East Side, the chef that showed so much talent at such a young age is moving beyond New York City (via Biography).
Though his luxurious duplex condo has yet to sell, Flay has not held back on buying a new pad on the West Coast. His new digs are in Los Angeles, and the 3,820 square foot home cost him a cool $6.5 million. The four-bed, four and a half bath house in the Bird Streets neighborhood was actually quite a steal. In October of 2018, the house was first listed at nearly $9 million, but after several aggressive price cuts, Flay swooped in and bought the home for millions less (via Variety).
Bobby Flay's bachelor pad
Flay's new Los Angeles home is a stunning place that is perfect for entertaining. The luxuriously modern home is contemporary and minimalist, and is primarily black and white with grey marble accents. The home's open layout features a dining room, a comfortable living room with a fireplace, and a covered outdoor dining area next to the lap pool. The kitchen features a long island and tons of secret storage for a clean look, leading to a large window with a beautiful view outside.
Like most modern and contemporary homes, the house is filled with light and brings the outdoors in. The floor-to-ceiling windows create a seamless transition from the indoors to out, and carefully placed pools and landscaped accents incorporate the elements into everyday living. This sleek, chic home is certainly tranquil, and the large bathroom with a soaking tub and an expansive rain shower are perfect for relaxing too.
A new home for the Flays
It's no secret that Bobby Flay has been married several times over. While he is currently unattached, Flay does have one person in his life that could be pulling him out to Los Angeles. His daughter, Sophie Flay, graduated from the University of Southern California recently. Flay does not have any other ties to the city — or to the West Coast for that matter (via Variety).
Though the show is not currently taping, the chef is still creating seasons of Beat Bobby Flay, which is filmed in New York (via TV Taping). A temporary break between taping episodes and beginning a new season, however, could provide Flay with some time at his new home.