The Truth About Burger King's XL Burger
Burger King's XL burger that was introduced to the world last year is making a return. The fast food chain confirmed to Delish that the special burger would be officially reintroduced and on menus of participating locations on April 2. Some locations have already added it to their drive-thru menu for roughly $6, so keep an eye out — the burger could already be at a location near you.
The XL burger is, if you haven't noticed, very similar to the Big Mac, and is Burger King's way to up the competition. Burger King's XL burger is bigger than ever too, apparently. There's more of Burger King's signature "Stacker Sauce" and more than 1/2 pound of 100 percent grilled beef (via Burger King). According to Delish, the XL burger even packs 175 percent more beef than a Big Mac. They do note, however, that the XL burger has not been stacked up to McDonald's Double Big Mac.
Burger King XL burger nutrition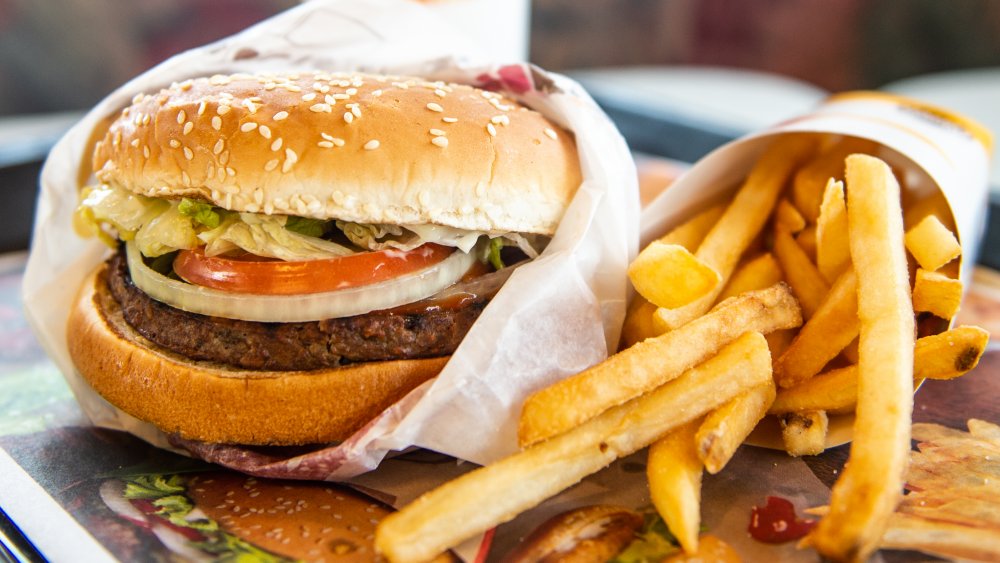 Michael Thomas/Getty Images
The beef patties inside the Burger King XL burger are topped off with cheese, onion, lettuce, pickles, Burger King "Stacker Sauce," and salt and pepper — all on a sesame seed bun. As for the double "Stacker Sauce," it is smeared onto both the top and bottom bun as the final layers of the extra big, juicy burger. With more than 50 grams (each) of carbs and protein, the burger adds up to nearly 1,000 calories before adding fries or a soda to the order. The XL burger also has about 1,900 milligrams of sodium (via Burger King).
While McDonald's Big Mac is comprised of generally the same ingredients — all-beef patties, pickles, onions, lettuce, cheese, and Big Mac sauce on a sesame seed bun — there are two major nutritional differences. Apart from having less beef than the Burger King XL burger, McDonald's Big Mac has nearly half the calories and protein, though the number of carbs is close to the same (via McDonald's). 
So, if you haven't tried the XL burger yet, this could be the year to get your hands on one and compare the two for yourself.