The Difference Between Taco Bell's Cheapest And Most Expensive Burrito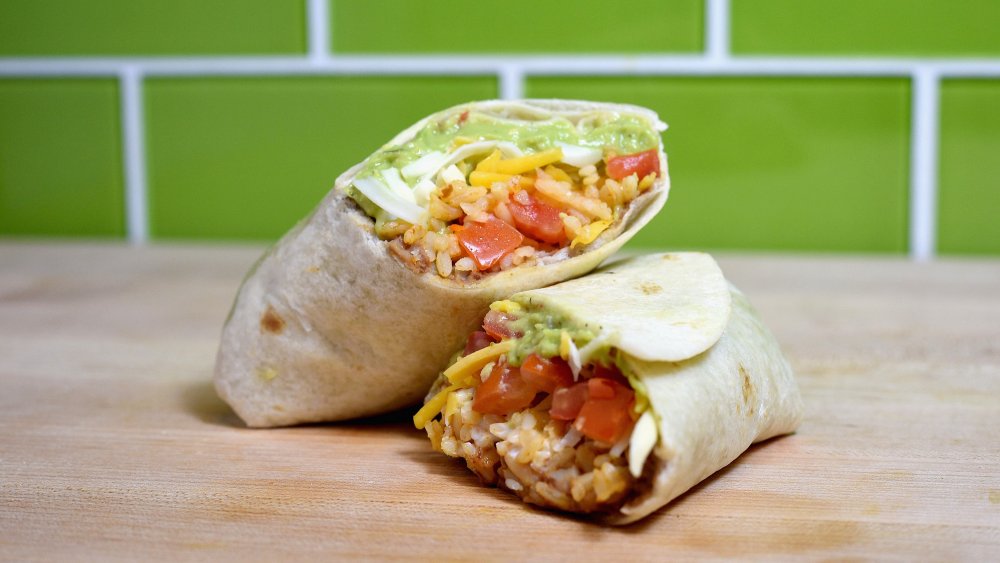 Joshua Blanchard/Getty Images
The first Taco Bell location was a tiny 20' by 20' spot in Downey California that opened up in 1962. The company has come a very long way since then (via Huffpost). People are totally crazy about the fast food chain, and for good reason. Taco Bell is widespread with nearly 7,000 locations in the states (via Taco Bell). The chain is also totally affordable, with burrito prices as low as $1 (via Taco Bell). At most, Taco Bell's top of the line burrito will set you back around $5. With other burrito chains like Chipotle offering their burritos at about $7 and up (via Chipotle), it's hard to ignore Taco Bell's crazy cheap prices. So what's the difference between the most expensive burrito at Taco Bell and their cheapest option?
Taco Bell's priciest burrito right now is their XXL Grilled Stuft Steak Burrito. It sets you back $4.79 without steak, and $5.79 with it. The burrito is filled with seasoned steak, a three-cheese blend, seasoned rice, refried beans, reduced-fat sour cream, guacamole, avocado ranch, and pico de gallo. It has 860 calories, 31 grams of protein, 96 grams of carbohydrates, and 39 grams of fat, along with 88 percent of your daily need for sodium, 80 percent of your daily need of vitamin A, 40 percent of your daily need of vitamin C and calcium, and 35 percent of your daily need of iron (via Taco Bell). 
Taco Bell has affordable burrito options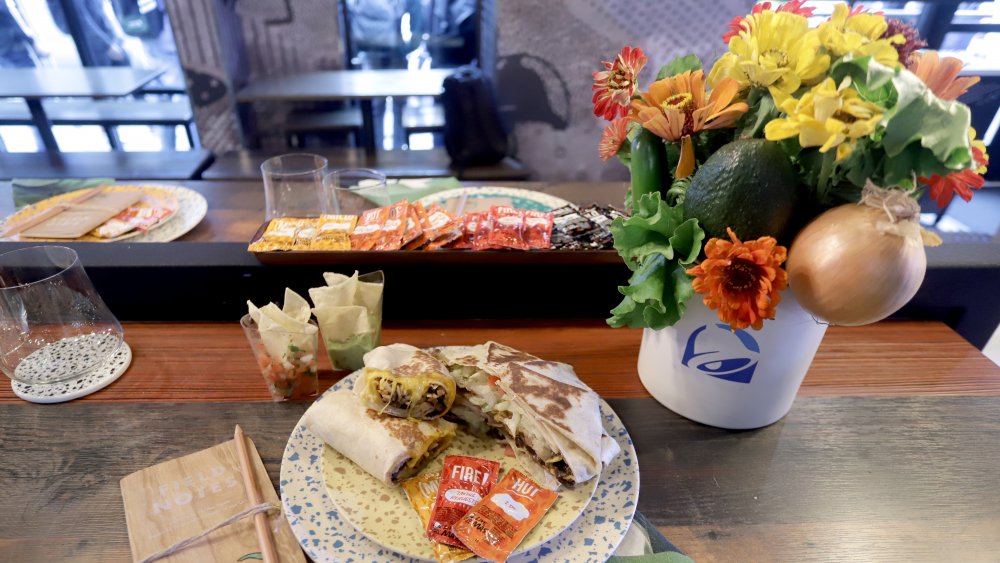 John Parra/Getty Images
Taco bell fans aren't all totally stoked on the burrito though. One review said the filling is poorly dispersed and there is too much of it for the tortilla to hold together. They also mentioned that the guacamole with the ranch sauce was a little off-putting (via The Drive Through Review).
One of their cheapest burrito options is the Cheesy Bean and Rice Burrito. The menu item is priced at just $1 and offers a combination of warm nacho cheese sauce, refried beans, creamy jalapeño sauce, and seasoned rice wrapped in a flour tortilla. The burrito certainly has fewer ingredients than the XXL burrito, so its nutritional info is a little less dense than the pricier option. The Cheesy Bean and Rice Burrito has 410 calories, 16 grams of fat, 20 percent of your daily need for sodium, 56 grams of carbs, 10 grams of protein, 15 percent of your daily need of calcium, and 20 percent of your daily need for iron (via Taco Bell). People seem to be more into this burrito. One review said that the rice added some texture to the bean and cheese mixture and that the cheese sauce had a little bit of heat to it. They added that this dollar burrito is enough food for a meal (via Fast Food Watch).
Whether you are wanting to eat something large and full of Taco Bell's finest ingredients, or you're looking for something cheap to satisfy your grumbling stomach, Taco Bell is serving up burrito deals.