The Difference Between IHOP's Cheapest And Most Expensive Pancakes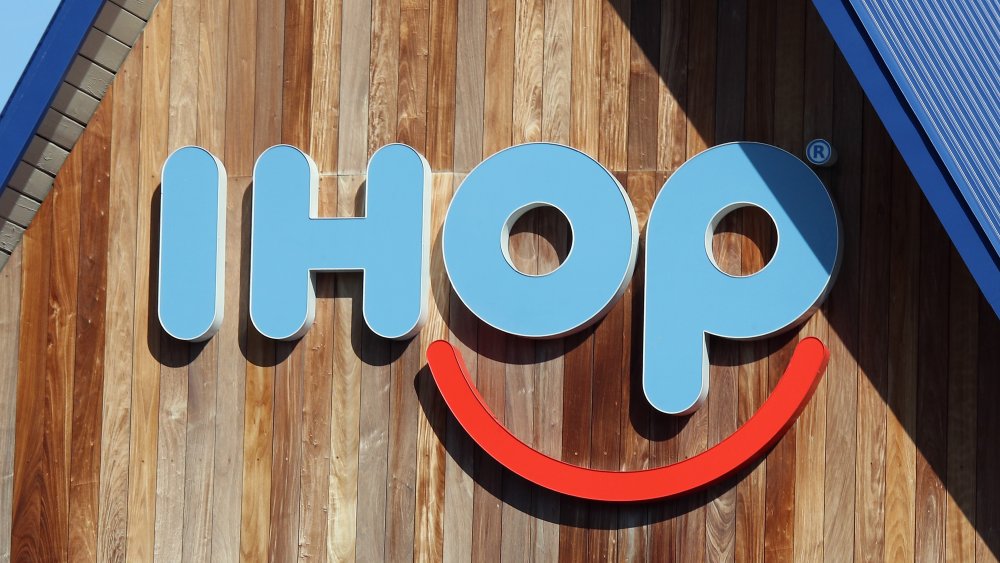 Bruce Bennett/Getty Images
We've all been there... it's 9:00 pm and a sudden pancake craving hits you like a truck. You don't want just any old flapjacks though — IHOP's cakes are specifically what you're after. IHOP has been perfecting their pancake formula since '58 so it's hard to blame enthusiasts who need their fix from the company for breakfast, lunch, and dinner. The diner offers wild and sometimes rotating varieties of hotcakes priced anywhere from $4.99 to $8.99 (via IHOP). With all that variety, you may be wondering — should you splurge and get their pricier johnny cakes or stick with the basics?
Well, $4.99 gets you arguably the perfect flapjack foundation (keep in mind that prices will vary by location). IHOP's original short-stack buttermilk pancakes are totally a fan favorite. All of the more elaborate cakes start with the buttermilk variety and then expand with various flavors. Consumers say that the buttermilk flavor is apparent with every forkful and the batter creators rule the ratio of sweet and cake-y, and these flapjacks pair well with nearly everything. Beyond that, the company mastered the texture elements in this pancake. It's firm while being pillowy and airy on the inside. If you've never had a pancake — somehow — this short stack is a good place to start (via Thrillist).
Their original cakes have about 410 calories per serving of three, along with 14 grams of fat, 58 percent of your sodium needs in a day, 60 grams of carbs, and 12 grams of protein. Let's be honest though — no one is going to IHOP for the health benefits of their pancakes (via Fat Secret).
IHOP has pancakes at different prices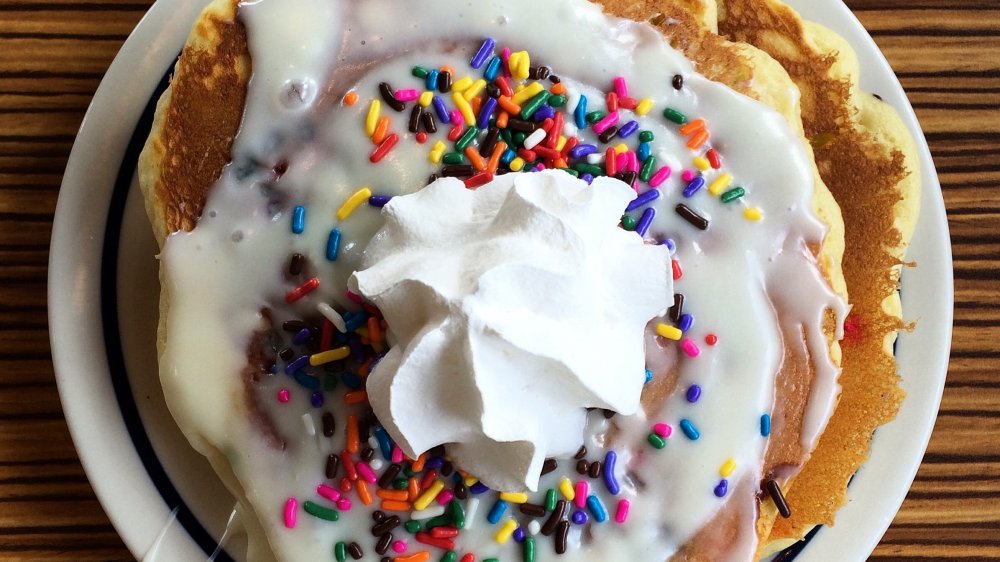 Shutterstock
As for the brand's pricier cakes, there are quite a few options priced at $8.99. They're running some cereal-themed stacks like Cinnamon Toast Crunch and ultra-colorful Fruity Lucky Charms which would be a good option if you're into novelty menu items. If you are the type who finds their favorite and then sticks with it, the New York Cheesecake Pancake stack could be for you (via IHOP). Fans of the indulgent hotcakes say that cheesecake is dispersed throughout the buttermilk batter and between the cakes. The whole pile of pancakes is then topped off with some tartness with fresh strawberries (via Sweety High).
The cheesecake pancakes definitely pack a lot of calories, but they're so darn delicious. They have 920 Calories, 37 grams of fat, 41 percent of your daily need of sodium, 124 grams of carbs, and 22 grams of protein — all adding up to perfect cheesecake pancakes (via Nutritionix).
IHOP is serving up all sorts of pancakes from for 10 bucks or less, so whether you are a fan of classics or always experimenting, the International House of Pancakes has just the thing for you.