The Untold Truth About Ming Tsai
Gustavo Caballero/Getty Images
Chinese-American Chef Ming Tsai is best known for his approach to East-West cooking. "It first begins with a respect of the culture's unique ingredients and techniques," he says (via Food Thinkers). "Fusion is a word mistakenly used in this area. To me, that sounds more like something that is unnaturally forced together (and often times, the resulting off-flavors suggest that they were). East-West cooking is about finding the right, harmonious way to combine two distinct culinary approaches."
Tsai spent his childhood in Dayton, Ohio, helping his father (who was a rocket scientist at Wright-Patterson Air Force Base) and mother at their family restaurant, Mandarin Kitchen. Ming Tsai says his family loved traveling, and that food was at the center of any travel itinerary (via Cooking Light). When it was time for Tsai to go to off to college, he went to Yale (after having graduated from Phillips Academy Andover), where he graduated with a degree in Mechanical Engineering (via Boston Chefs). 
But even as he was working toward his degree at Yale, being in the kitchen didn't appear to be too far from Tsai's mind. he spent the summer of his sophomore year at Le Cordon Bleu in Paris, and after he graduated from Yale, he took off to work in different kitchens around the world. When he returned to the U.S., Tsai returned to school and graduated with a Master's degree in Hotel Administration and Hospitality Marketing from Cornell.
Ming Tsai has won accolades for his restaurants and TV shows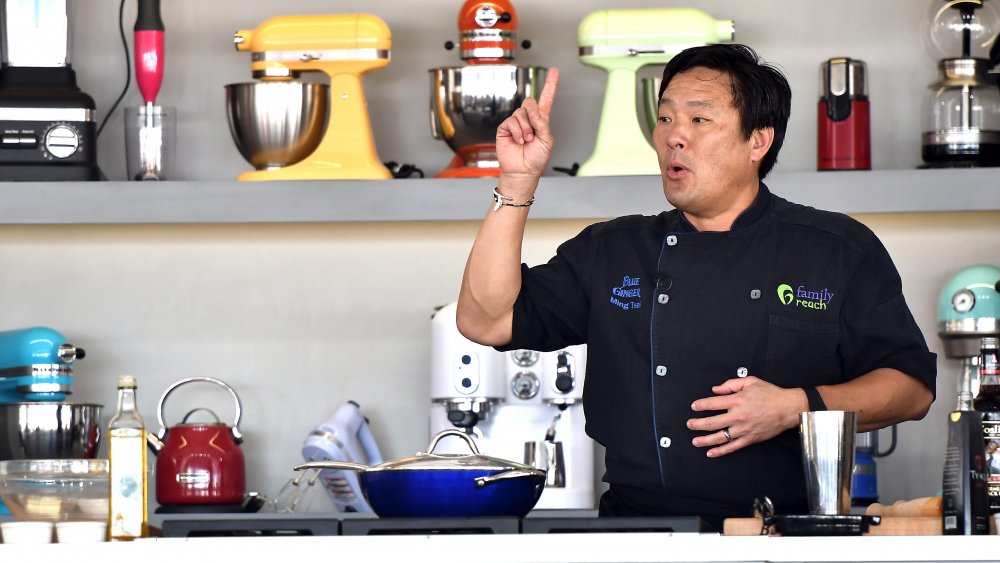 Gustavo Caballero/Getty Images
1998 was a big year for Tsai: that year, he opened his first restaurant, Blue Ginger, which received accolades from the Boston Globe and from the Zagat Restaurant Guide, and he launched his show East Meets West with Ming Tsai on the Food Network. That show aired from 1998 (he won an Emmy that year too!) to 2003 (via IMDb), and then Tsai moved to PBS to launch Simply Ming, which is now in its 17th season. In 2009, that show received two Emmy nominations: one for "Outstanding Culinary Program" and the other for "Outstanding Lifestyle/Culinary Host" (via Ming.com).
He's also written three cookbooks that feature his brand of East-meets-West cuisine. Tsai's first restaurant, Blue Ginger, was to stay open until 2017. By then he was at the helm of a second restaurant, Blue Dragon, which opened in 2013.
But Tsai is not just a chef and culinary personality. He is a spokesperson for the Food Allergy and Anaphylaxis Network, he developed a Food Allergy Reference Book, and is a founding member of Chefs for Humanity, among other charity ventures.