Rachael Ray Looks Completely Different In Isolation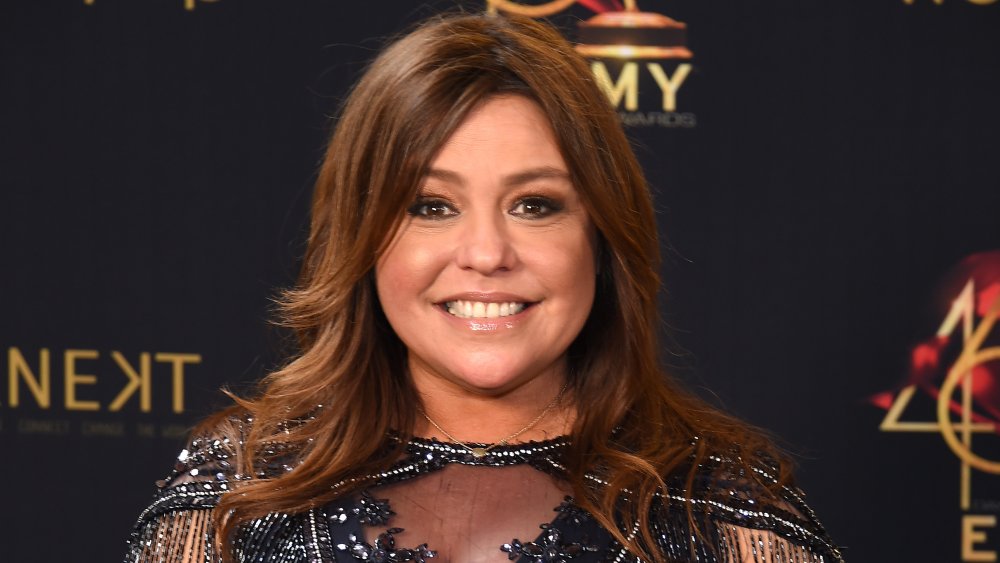 Gregg Deguire/Getty Images
Rachael Ray has made a tremendously successful career as a network food star. She currently hosts her own talkshow, Rachael Ray, which showcases her easy approach to cooking. The energetic television personality has also written a bestselling cookbook, and is an editor at her own lifestyle magazine Rachael Ray Every Day, which has 1.7 million subscribers according to The New York Times. However, Ray has had to scale back recently because of the coronavirus pandemic. In order to keep everyone safe, she's now filming her show at her home in upstate New York, which understandably looks a little different.
According to BuzzFeed News, her show #STAYHOME with Rachael Ray airs two days a week on Monday and Friday. Her husband and current cameraman, John Cusimano, is often featured on the show as a musical guest, or cocktail maker. Ray told The Associated Press she had a lot of big plans for this down time, but things are not going quite how she anticipated. "I was going to get more serious about my painting," she explained. "I had all these lofty goals ... and none of that's happening." Ray said most of her time is now dedicated to the show, adding, "We have never worked this hard in our entire lives."
Rachael Ray's new isolation look
The premise of her new show format is Ray demonstrating for fans how to create accessible meals with pantry staple items. Her beloved pitbull, Isaboo, often makes cute cameos on the show as well, giving fans a more intimate look into the star's life. Before the pandemic, Ray was decked out in full hair and makeup done by a professional glam team. However, like many of us are experiencing while in quarantine, Ray's at-home look is more relaxed. Her pared-down dress and makeup is completely relatable. She can often be seen in comfy sweatpants, or with her natural style hair. About the quarantine, Ray said, "This is a weird time. I can't say there's a silver lining... but there are found moments every day." Like maybe the time not spent in a hair and makeup chair!
Meanwhile, to help alleviate some of the issues the virus has caused, her organization recently announced it will be donating $4 million to several charities, like relief funds for laid-off restaurant workers, and food banks. "The more you earn in life, the more you owe in service and the more you owe to your community," she said. "It is our absolute responsibility to take care of each other."