The Real Reason Animal Cracker Boxes Look Different Now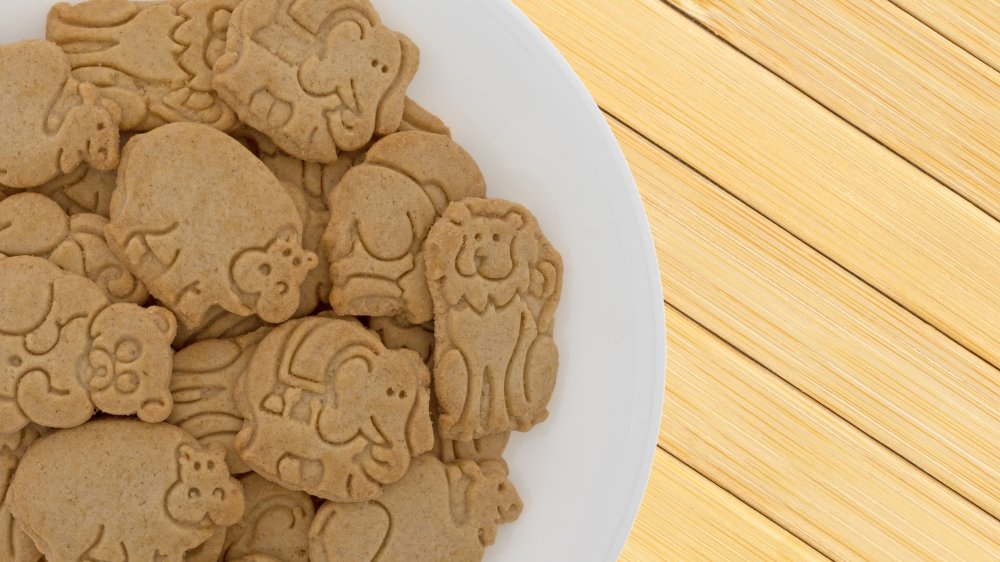 Shutterstock
Years before Tiger King had everyone talking about the ethical concerns surrounding the caging of wild animals, a quieter debate was taking place behind the scenes regarding a seemingly innocuous, old-timey product: Barnum's Animals Crackers. According to CBS News, the animal-rights organization PETA had already been speaking out against using animals in circuses for decades when, in 2016, it contacted Mondelez International, Nabisco's parent company, with a call to redesign the iconic packaging.
A writer for Vox notes that his great-granduncle had designed the packaging in 1923, more than two decades after Nabisco started making the circus-inspired version of animal crackers in 1902 (via CulinaryLore). But over the more than 100 years since the crackers' inception, times had changed.
By 2018, when Mondelez International rolled out its new packaging, PETA noted that Ringling Bros., organizers of the famed circus, had recently shuttered after 146 years in business, and the animal crackers' packaging was ready for a fresh look — surely more of a symbolic point, but one that the organization felt was necessary.
How and why did the Barnum's Animals Crackers packaging change?
PETA took issue with the fact that the old boxes showed wild animals, like lions and elephants, "caged in a circus boxcar," suggesting instead a new design "to show animals free in nature instead of held captive in cages for human entertainment." And the organization believed the packaging change showed that "our society no longer tolerates caging and chaining exotic animals for circus shows."
Now, the animals (a zebra, lion, giraffe, elephant, and gorilla) are shown sans cages, "roaming free" on grassy land (via CNN). It wasn't the first time the packaging showed free animals — in fact, a limited-edition design in 2010 actually reflected a collaboration between Nabisco, fashion design company Lilly Pulitzer, and the World Wildlife Fund, to raise money for tiger conservation.
For its part, Mondelez International did not seem bothered by the change. Spokesperson Kimberly Fontes said (via NPR), "To continue to make the brand relevant for years to come, we felt this was the right time for the next evolution in our design, now showing the animals in a natural habitat."
In more updates, The Washington Post points out that the new packaging also highlights nutritional facts more prominently than before, calling out details like serving size, sugar, sodium, and saturated fat content. But for PETA, the fight was all about animal rights, as the organization asserted, "Big victories can come in small packages."