The New Star Wars Pyrex Collection That Has The Internet Buzzing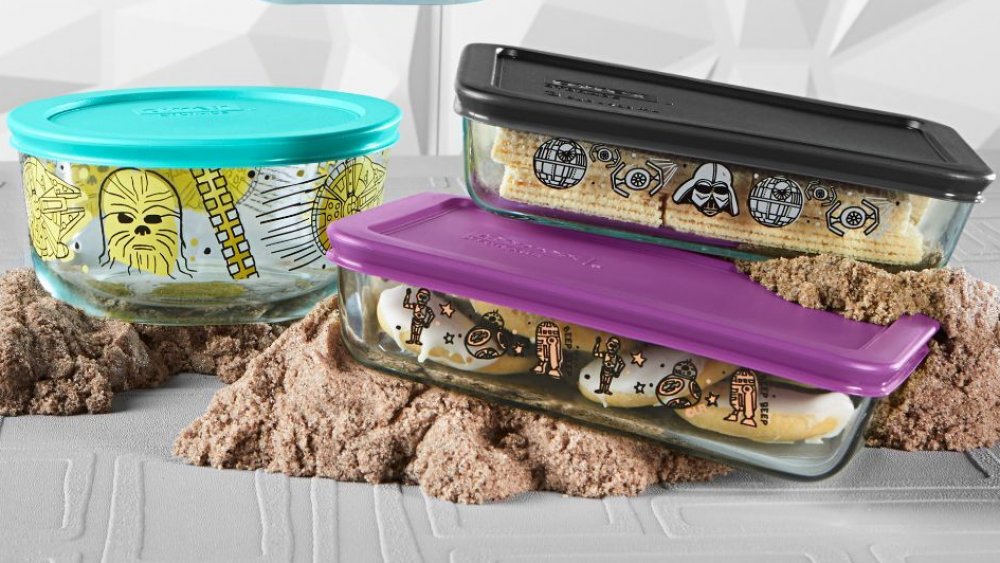 Pyrex
Food storage just got a lot more fun, especially if you're a Star Wars fan. Pyrex just released an eight-piece Star Wars food storage container set that debuted on the unofficial Star Wars Day, otherwise known as May 4th. 
The colorful containers decorated with your favorite Star Wars characters are durable and perfect for helping you "prep, bake, and store your food throughout the galaxy," according to Pyrex (via Insider). The complete eight-piece set is being sold for $36, but each of the four containers with their accompanying lids can be bought individually for $8 as well (via Inside the Magic).
There are two round food storage containers and two that are rectangular shaped. Each holds four cups and is made from tempered glass. One of our favorite perks (besides the fun designs) is that both the tempered glass and the BPA-free plastic lids are dishwasher, microwave, and freezer safe.
The Star Wars characters the new Pyrex collection includes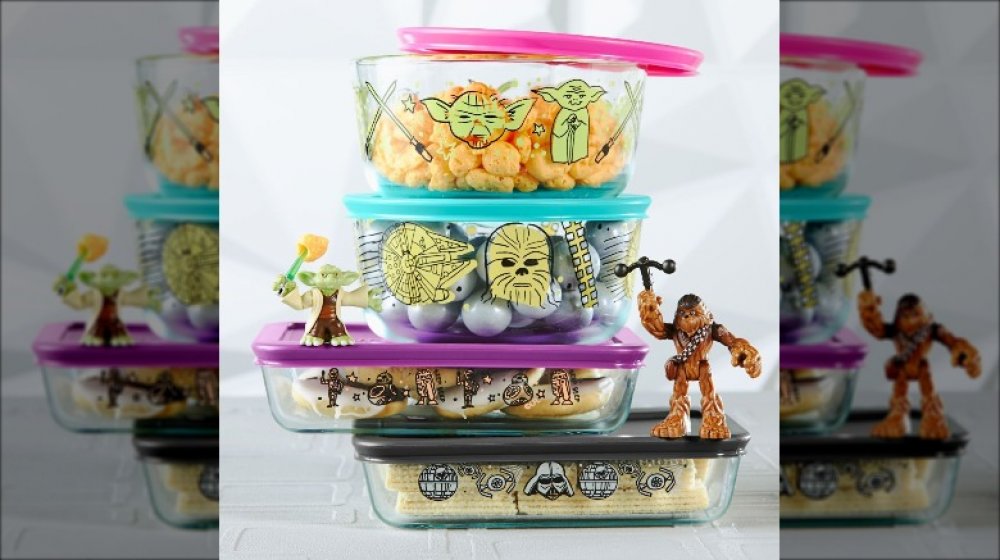 Pyrex
Of course, all of these new Star Wars Pyrex containers in the collection include some of your favorite and most iconic characters from the movie series. The designs are somewhat stylized and come in soft colors, though the lids are bright and bold.
The first round container features Yoda, lightsabers, and stars around the sides of the 4-cup container. The second round storage container is decorated with Chewbacca, the Millenium Falcon, and Chewie's bandolier.
Next, the first rectangular container has the Death Star, TIE fighters, and Darth Vader printed around the sides. Finally, the last rectangular container includes stars, R2-D2, C-3P0, and BB-8.
The containers are stain-resistant, include a two-year warranty, and are made in the United States. The containers are a fun way to show your love for the movies on a daily basis — especially if you have some of the other awesome Star Wars products that are out there in the galaxy, such as BB-8 instant pots, Death Star toasters, character cake pans, and more. 
Pyrex's new storage containers are the perfect way to keep your food fresh in Star Wars fashion.