The Truth About The Popular TikTok Breakfast Sandwich Hack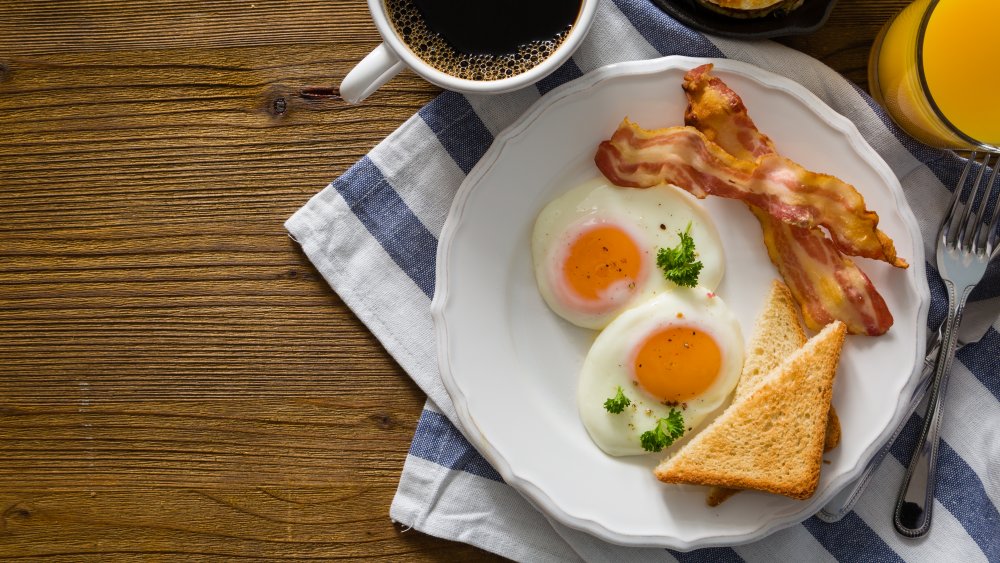 Shutterstock
A TikTok breakfast sandwich video has recently gone viral, and for good reason. The easy-to-follow instructions cut down the time it takes to make the savory snack using an innovative approach. Seeing as breakfast is said to be the most important meal of the day, this could be a game changer. According to Time, a study done by The Journal of Physiology showed that eating in the morning increases your metabolism throughout the day. And this breakfast hack makes having time for this fundamental meal easier than ever.
The technique involves flipping the eggs and toast in one motion and just minutes later, folding it into a perfect sandwich. Recently Taste of Home writer Amanda Tarlton decided to test out this method to see if it actually works. Spoiler alert, it does. In fact, after making the recipe herself, Tarlton said it's now her go-to. "Seriously — the TikTok breakfast sandwich hack worked so much better than I expected," she said. "It was deliciously crispy and warm and the fact that you dip the bread in egg first made it reminiscent of French toast."
How to make the TikTok breakfast sandwich
To make this morning essential, you'll need two whole eggs, two slices of bread, and butter or oil for your pan. Cheese and bacon are optional, but definitely preferred for a delicious outcome. First you'll crack open and whisk two eggs in a bowl. Next, grease your skillet and pour the eggs into the pan over medium heat. Tarlton recommends preheating the skillet so the eggs start cooking right when you pour them in. Don't forget to season with some salt and pepper, to taste.
Now put the two pieces of bread on top of the egg blend, and cook until the eggs are done, then flip the eggs and bread over simultaneously, so the eggs are on top. If you want to add cheese and cooked bacon, this is the time. Tarlton recommends waiting about three minutes before turning. Lastly, fold overlapping edges of the egg onto the bread and flip the other slice of bread on top.
Now, you're ready to enjoy a delicious easy-to-make breakfast sandwich, with your bacon, eggs, and toast all in one bite.