The Truth About The $800 Takeout Sushi Box
If you are a sushi fan and have $800 to burn, you may want to get three close friends or family members who you might be quarantining with to order Chef Masa Takayama's DIY sushi kit from his three Michelin-star restaurant, Masa. Just 20 of these boxes are available every Friday (via Inside Hook), for as long as pandemic lasts — and are only available if you order via email. The box's hefty price tag hasn't even kept the sushi box from being a hit, because to get your hands on one of these, you'd have to put your name on a waitlist (via Eater).
Eater writer Gary He writes that each takeout box is delivered between 3:30 and 5 pm on Friday afternoon out of an Igloo cooler to keep the raw fish from getting spoiled. All the ingredients to make hand rolls, including slices of premium toro, salmon, akami tuna, sea bream, and toro sashimi are presented in beautifully crafted and wax-sealed boxes. There's Osetra caviar on top of ground-up fish for servings of the restaurant's signature dish. The boxes also contain seaweed, ginger and wasabi, rice, and hand-illustrated instructions to build your sushi the way Masa's skilled chefs might — if you were at the restaurant. 
Because the kit comes cold, Eater says you're best leaving the box at room temperature before enjoying the gourmet feast.
The takeout boxes are a bargain compared to what you might pay at Masa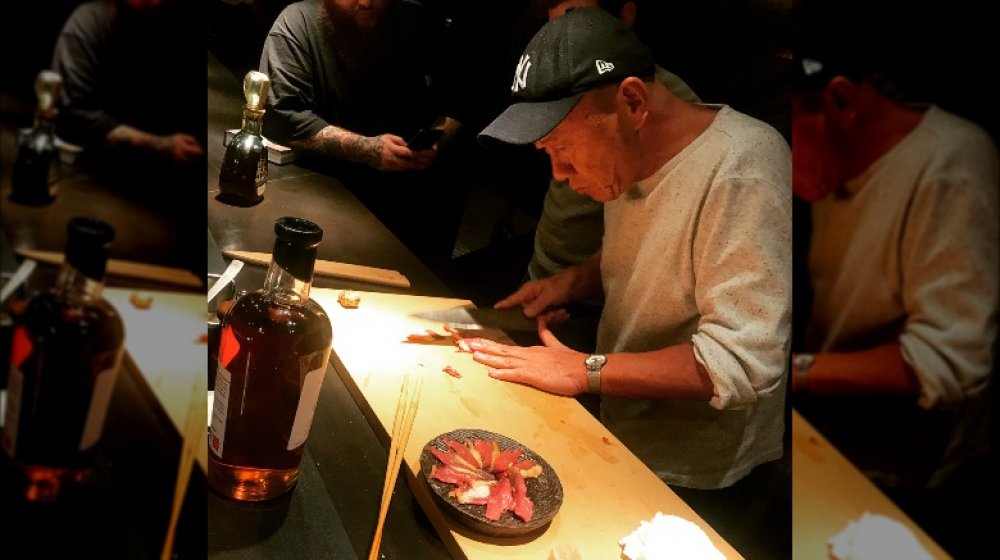 Instagram
Is the $800 take out worth the money? It's a question Chef Masa may want to address, because he once famously told Eater (via YouTube) that every dish needs to be prepared, served, and consumed right away because "this has power and energy right there. I don't want you to miss that. 10 seconds, 15 seconds... change." What happens to a dish, then, if you have to prepare it, pack it, and then send it across town? Does its integrity and energy suffer for having to be transported and delivered? Speaking of delivery (and in case you were wondering), delivery is free within Manhattan and will set you back an extra $20 if you live outside (via Time Out).
Keep in mind, though, that each takeout box feeds four, so it basically costs $200 per head. This actually makes it a bargain for Masa's regular, high net-worth clientele. A regular, in-person, sit down meal at the restaurant could set you back just under $600 per person — excluding drinks. We hope revenue from these boxes goes some way in helping out Masa's furloughed employees who, on the restaurant's website, have asked patrons to visit their GoFundMe page so they can get the financial support they need to ride out the pandemic.