The Whole Foods Potato Chips That Have People Talking
Aw, yeah. Potato chips: the accomplice to any good sub sandwich, a rival to their corn-made cousin the tortilla chip, loved by most and known by all. Whole Foods is famous for taking fan favorites and putting a spin on them; now they've taken notice of potato chips' popularity and decided to dabble in the art of crispy, crunchy spuds. The company got creative and launched a new line of sammie-flavored chips, so now you can leave the sub alone and get all the flavor of the main course from what used to be a side dish.
Foodie Eric Koenreich took to Instagram to share the new Whole Foods' 365 Everyday Value chips in three totally drool-worthy flavors: pastrami on rye, Italian hoagie, and Cuban press (via Delish). Koenreich noted that all the flavors were great, but the pastrami on rye was his favorite for sure. Commenters unsurprisingly went nuts over the chips, because honestly who wouldn't?
Whole Foods' new chips are limited edition, so get 'em while you can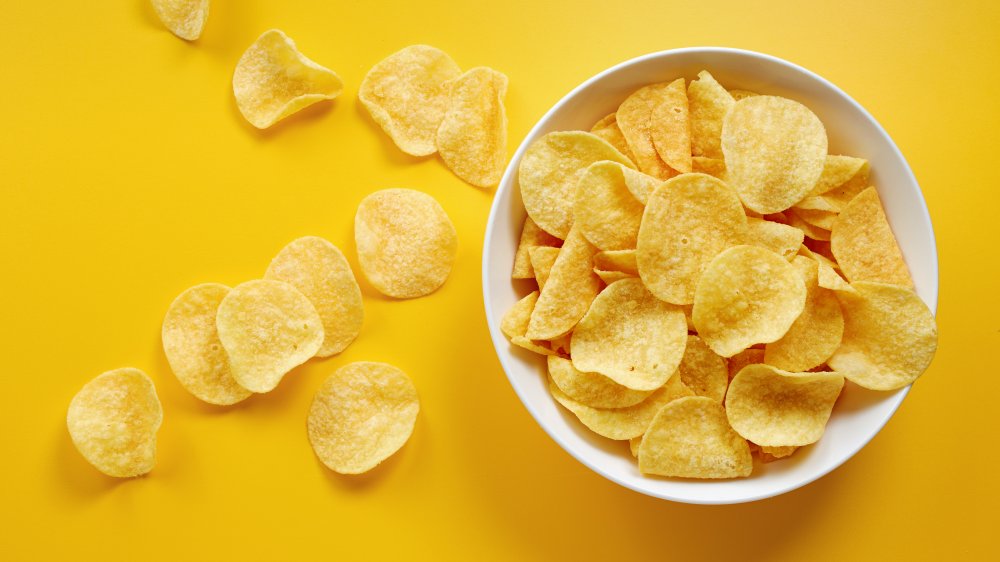 Shutterstock
Other Instagram users and fans of the account shared their experiences with the new chips, and most seemed to agree with Koenreich that all three are totally delicious.
A Whole Foods representative told Mashed that all three flavors contain 150 calories and 9 grams of fat in a 1-ounce serving. None of the chips are organic "but they are gluten free," the representative noted. 150 calories seems like a steal when you consider the average pastrami on rye contains 760 calories per sandwich (via My Fitness Pal).
The chips photographed in Koenreich's post are labeled as 10 ounces each, gluten-free, and are marked with a charming "Giant sandwich NOT included" so as to not confuse consumers. But they appear to be limited edition, so clear of a shelf or two and stock up because who knows how long they'll last.