The Real Reason Aldi Is Flipping Houses
Discount grocery chain Aldi is well known for its loyal fan base, who praise the brand's exclusive private label items, eco-friendliness, Special Buys, and ability to offer high-quality foods at unbeatable prices. Aldi stores are easily recognizable by their no-frills design, which CNN calls incredibly efficient. They note the company's exceptionally economical business model is how Aldi is able to keep their prices so low while maintaining the standard their customers have come to expect, cutting out small conveniences which the chain's devotees claim to not miss. Aldi evens require customers to bring their own bags (or buy them from the store), and they charge a quarter deposit for shopping carts — all in the name of savings. 
In addition to the efficiency and savings passed on to the consumer, Southern Living praises the supermarket's vast selection of organic products, which are free of artificial ingredients and colors, antibiotics, and hormones. Aldi offers these foods at prices much lower than those that can be found in the organic aisle of other major grocery chains. 
However, Aldi has recently been attempting to sell one unconventional, highly-priced product to Illinois residents that will totally surprise you.
Why Aldi is selling a house in Illinois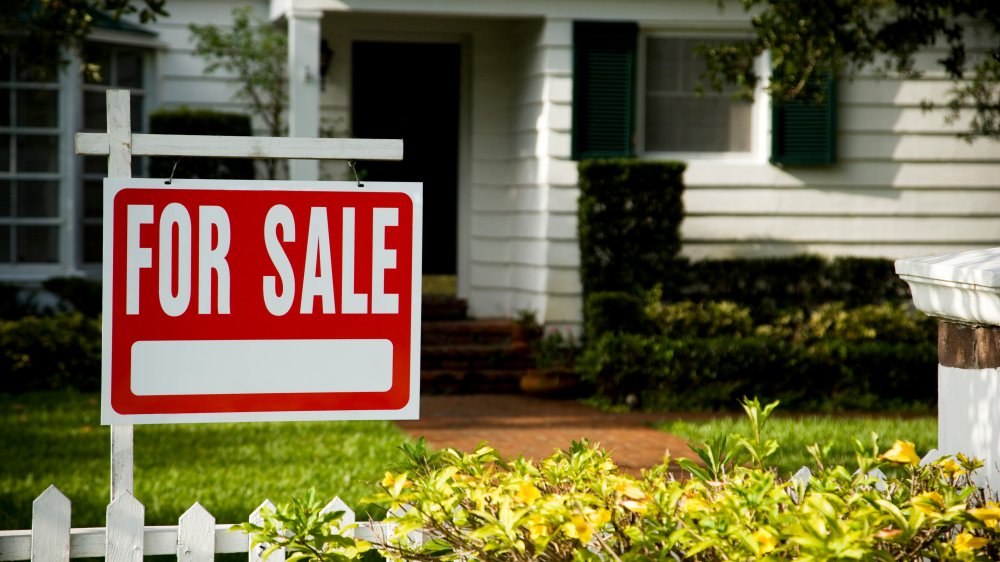 Shutterstock
According to the Chicago Tribune, the Batavia, Illinois-based chain has owned two homes in the area, one of which they quietly put on the market in 2019 and another that was sold privately. 
The 3,983-square-foot home currently up for sale was originally purchased by Aldi executive Horst Leitner for $1.14 million, who ran into trouble reselling the property after he relocated within the company in 2018. His original asking price of $1.24 million garnered no offers, so Aldi purchased the house from Leitner for $1.19 million. The company then relisted the house for $999,000, but recently had to lower the cost even further to $925,000 in April 2020. The home was originally built in 1992, and has five bedrooms, five bathrooms, and a three-car garage. 
The second house Aldi temporarily owned was also purchased by the company from an Aldi employee. The 1,950-square-foot home was purchased for $530,000 from an unnamed Aldi purchasing director who relocated to Australia, and the house was resold privately off the market for an undisclosed sum.