The Reason Everyone Is Talking About Sweet Baby Ray's New BBQ Sauce
If summer had a scent, it would waft towards us in waves of sweet and slightly-salty sunblock, with a bitter afternote of char from the barbecue. Grilling is part of the time-honored American summer tradition, and it wouldn't be complete without an excellent barbecue sauce. The only catch is that barbecue sauce, like many other sauces and dressings, is a quick way to add extra calories and those calories definitely don't match most of our summer outfit goals. 
Fortunately, the classic sauce makers at Sweet Baby Ray's have introduced a new, low-calorie, low-carb sauce just in time for the sunshine. Like other sauces by this brand, the flavor profile is sweet, smoky, and tangy. The new, no-sugar added sauce is available in both original recipe and hickory flavors, and Ray's themselves promise that the product is "a low sugar barbecue sauce that's actually worth eating."
What's in Sweet Baby Ray's new BBQ sauce?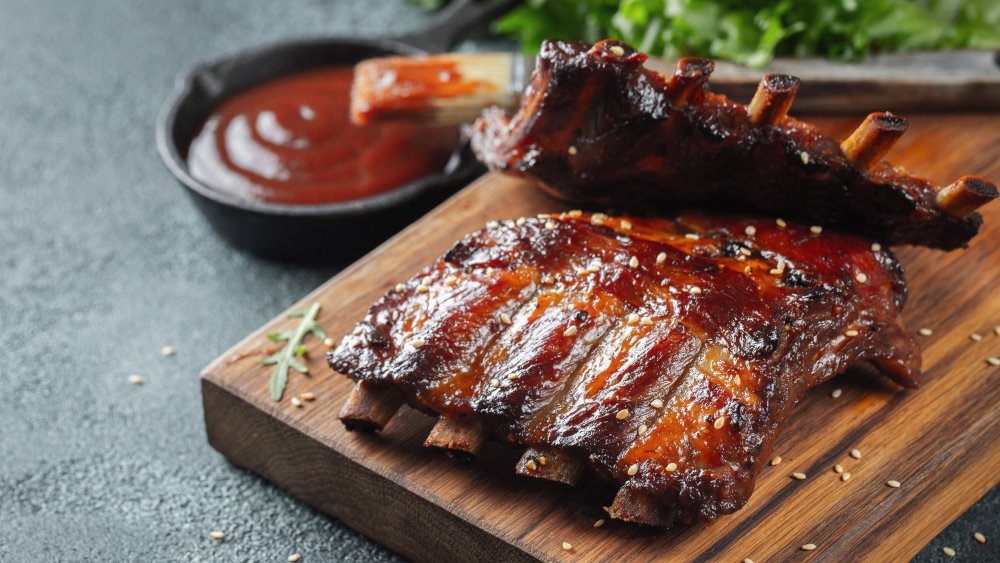 Shutterstock
It seems taste-testers agree that this is indeed a sauce worth eating. Fans are loving this new reduced-guilt punch of flavor. Says one Instagrammer, "This is some of the best tasting bbq sauce." Another said of Sweet Baby Ray's new no sugar added sauce, "0 point sauce is a 10/10, way better than the regular, more smokey and less sweet."
According to Ray's, the new sauce contains 1 gram of net carbs per serving, which comes from tomatoes, apple cider vinegar, and Allulose, which is an almost calorie-free natural sweetener that can be found in figs and jackfruit (via Allulose). Allulose is said to cook and bake similarly to sugar, but not react in the same manner in the body, with lower calorie content and a reduced impact to blood glucose. It's worth noting sucralose is listed on the ingredient label (via Ray's). Some studies have linked the consumption of this artificial sweetener to an increased cancer risk, and blood sugar changes (via Healthline).
Here's why no sugar added BBQ sauce has people excited
In both variations, this new sauce is friendly to many different diets. While the manufacturer recommends you specifically check each label for variations, Sweet Baby Ray's No Sugar Added sauce is keto friendly, certified OU Kosher, does not contain any animal products for vegans and vegetarians, and gluten-free. As the popularity of the keto diet continues, this is no doubt great news to those who have been skipping the BBQ sauce 'til now.
And if that's not enough to convince you to taste test it out, Sweet Baby Ray's has also provided recipe ideas far beyond a simple piece of meat, from Hawaiian BBQ Shrimp, to Game Day Chili, to Barbecue Chopped Salad. Yum!
The sauces are currently available at retailers for a suggested price of $3.29 a bottle (via Delish).