Little Debbie Just Shared Good News For Fans
There's something so nostalgic thinking about being a kid and reaching into your lunch bag and discovering a Little Debbie treat. Whether it was their famous Chocolate Cupcake, Oatmeal Creme Pie, or their Nutty Buddy Wafer Bars, we were hooked, and so were many others. In fact, the Tennessee-based food brand is so popular it currently posts annual sales of around $1.4 billion, as reported by Food Dive. 
Now, super fans of its baked goods have even more to be excited about. Little Debbie just announced it's bringing back their fan-favorite Sparkling Strawberry Unicorn Cakes.
The colorful treat features a strawberry filling, and is covered in white frosting and bedazzled with bright sprinkles. According to a press release received from the brand, each box contains eight whimsical cakes that are the perfect portion size making them ideal for a party or a lunchbox snack. But how do these fun-looking confections actually taste?
What do Sparkling Strawberry Unicorn Cakes taste like?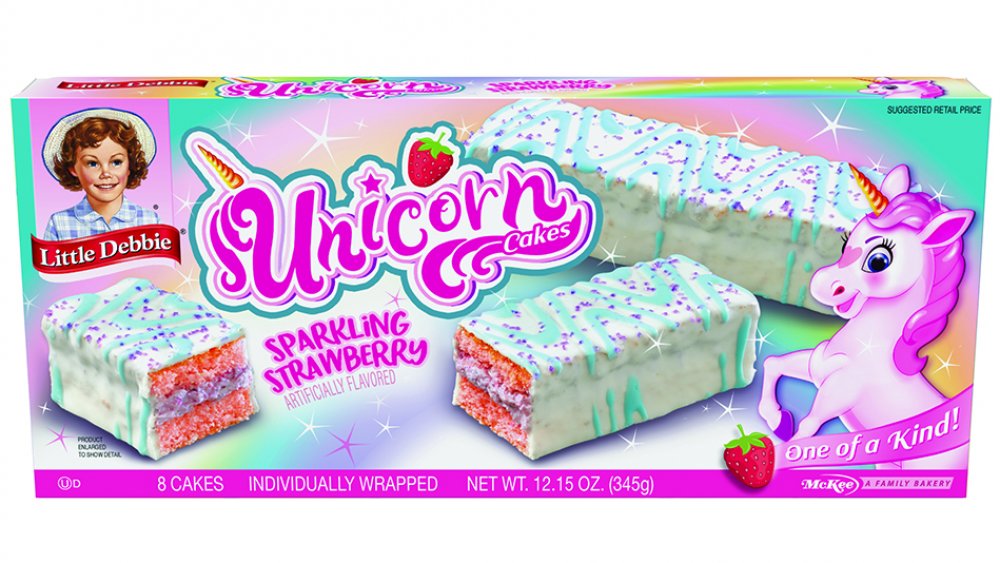 Little Debbie
A reviewer from The Impulsive Buy wrote, "Little Debbie lived up to my expectations by making each one of these cakes taste as great as they looked. The cake itself is appropriately soft and buttery, with a thin layer of whipped filling in the middle to separate the two cake layers." Another reviewer wrote on Influenster, "This is so good I'm going to the store to stock up. Not only is it soooo good... it's very pretty!" 
So where can you get your hands on these magical cakes?
Beginning June 2020, the unicorn-themed treats are available wherever the famous brand's products are sold. Little Debbie Associate Brand Manager, Tara Wiese, said they're excited to bring the product back for enthusiasts. "Bringing back this delicious favorite is so exciting for our brand fans, and also for employees in the company," said Wiese in a press release. "We are gearing up for the fun and smiles these snacks bring to everyday moments. We can't wait to see consumers sharing their enjoyment on social media once they return to shelves again."