This White Claw Pizza Has Everyone Talking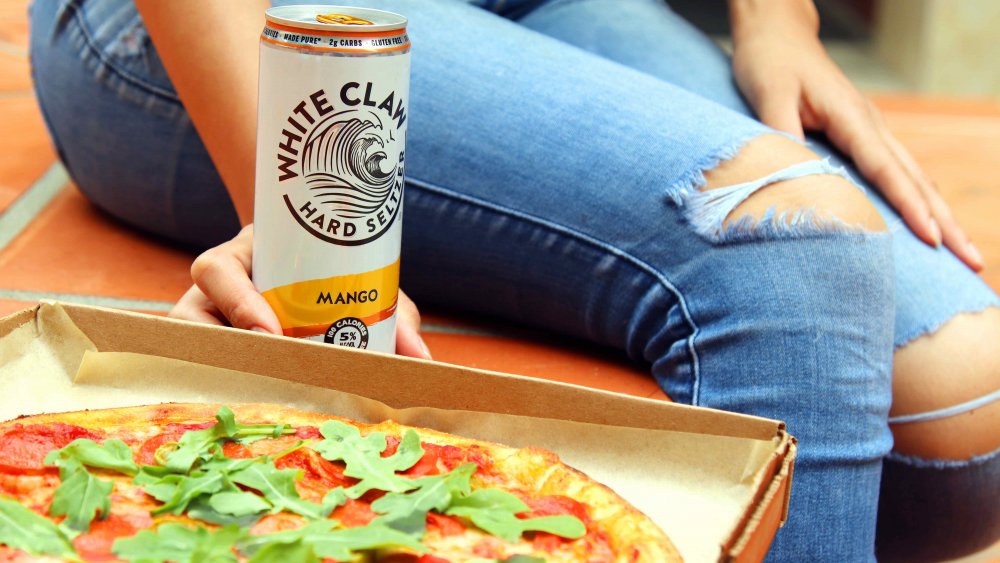 Blaze Pizza
Chefs live in a different world from those of us who enjoy their creations. Alton Brown uses salt to make his coffee less bitter, and Gordon Ramsay adds a half tablespoon of cold creme fraiche to scrambled eggs to keep them from overcooking. So it shouldn't be a surprise to us that Blaze Pizza's latest offer sounds like something we might legitimately consider a kitchen accident — crafting pizza dough with a combination of flour, yeast, extra virgin oil, salt, a pinch of sugar, and, wait for it, Mango White Claw to bring it all together. If you're wondering whether you'll be able to taste the mango, according to a press release from Blaze Pizza, Executive Chef Brad Kent has offered up list of toppings that will bring out the flavor of the hard seltzer, including the chain's Signature Red Sauce, shredded mozzarella, pepperoni, roasted red pepper, jalapeño, pineapple, and fresh arugula (after baking). 
Blaze Pizza's special White Claw crust is only available for one day
White Claw might seem like an odd addition to pizza crust, but the idea of adding a sparkly drink to dough isn't new. Food scientist Kevin Ryan says when sparkling water is added to dough or batter, its bubbles create air pockets that can trap water droplets which in turn, expand under heat. As a result, we're left with a bread or pastry — or in this case, pizza dough — that is lighter and more crisp (via Chicago Tribune).
If you love White Claw and live for pizza, you might just consider Blaze's out-of-the-box White Claw pizza base to be the best thing since stuffed crust. The pizza dough will be made fresh and on-site, and while there are more than 300 Blaze Pizzas across the country, the special crust will be rolled out at just 40 or so locations. And don't rush out to your local Blaze Pizza while you're reading this — unless it's Thursday, June 18 — because it will only be available then, and for just one day. You'll find a list of Blaze Pizza locations serving up the White Claw crust here.