This Easy Vegan Alfredo Sauce Changes Everything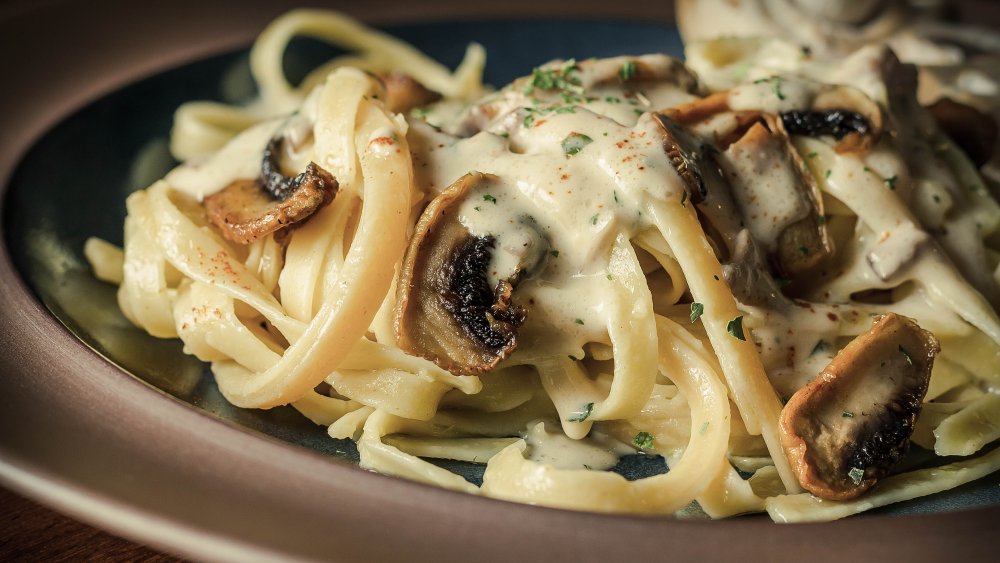 Shutterstock
There are some strict rules when it comes to Alfredo, and that means you can't call just any white pasta sauce an Alfredo sauce. Traditional Italian Alfredo sauce absolutely cannot include cream, but rather is a whisked combination of butter, parmesan cheese, and starchy pasta water (via Bon Appetit). Americanized Alfredo sauce often includes cream and other seasonings like garlic and red pepper flakes, too (via My Recipes). But, obviously, a lot has to give to make a vegan version of this beloved pasta sauce. 
No matter which sauce you make, it relies on parmesan and butter, and a vegan Alfredo sauce couldn't use these ingredients. Recipes are out there to accommodate those who don't eat animal byproducts, like the recipe for vegan Alfredo sauce on the vegan-friendly site, Minimalist Baker. And of course, in keeping with the times, we can turn to TikTok for a vegan Alfredo sauce hack that tasters swear is beyond delicious, and perhaps just as importantly, easy to pull off! 
How to make vegan Alfredo sauce
To make a relatively fast vegan-friendly Alfredo sauce without extensive prep, blogger Ereka Vetrini's TikTok recipe is the way to go. Her sauce calls for a few common kitchen ingredients so it's likely a trip to the store isn't even required. Naturally, you'll want to use eggless pasta to ensure the entire dish is indeed vegan (via Yahoo).
To make Vetrini's Alfredo sauce, start by roasting two bulbs of garlic wrapped in aluminum foil in a 400-degree oven for 40 minutes. Once the garlic is smooth and soft, squeeze it out into a saucepan. We can practically smell that yumminess now! Next, add olive oil, salt, red pepper flakes, and some lemon juice. Whisk all the ingredients together until they are well-combined and smooth. Now, add your pasta in, give the dish a toss, and top it with toasted breadcrumbs and parsley to serve. Now that's a delicious and easy dinner any vegan can dig into.