The New Haagen-Dazs Flavor Everyone Is Talking About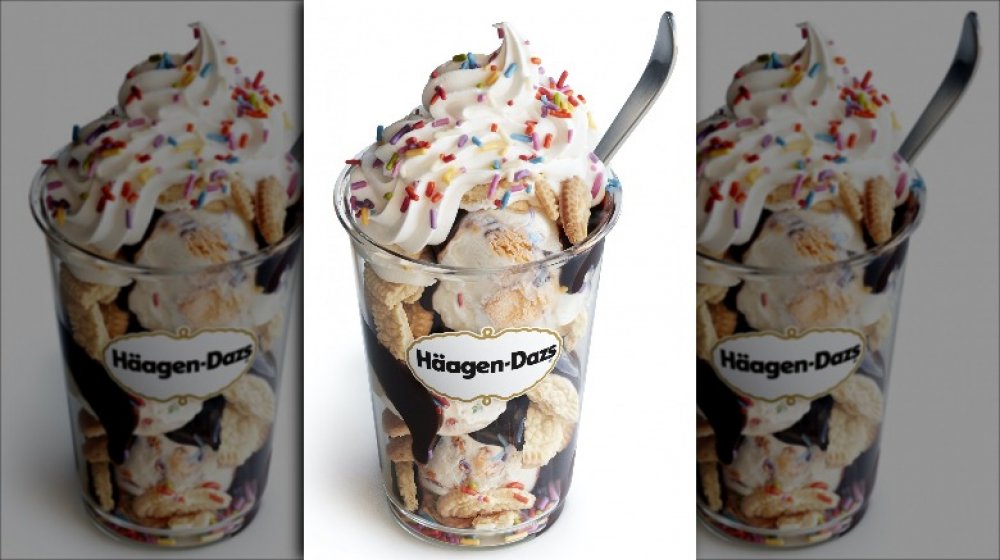 Häagen-Dazs
This year, ice cream brand Häagen-Dazs is celebrating their 60th birthday with a summer-long celebration to thank loyal customers for their support. According to the Häagen-Dazs website, company founder Reuben Mattus set out to create premium ice cream using only the best ingredients available, in response to a decline in quality he noticed throughout the ice cream world. In 1960, his vision was realized and Häagen-Dazs was launched with only three flavors — chocolate, vanilla, and coffee. In 1966, they finally perfected their strawberry ice cream recipe, and in 1976, Mattus and his daughters opened the first-ever Häagen-Dazs store in Brooklyn, New York, which you can still buy ice cream from today.
For their birthday celebrations, Häagen-Dazs has a few fun promotions scheduled, including special birthday packaging on classic flavors, an AR experience through the multimedia messaging app Snapchat, a special Instant Win + Sweepstakes website, and a limited-time flavor which will only be sold at Häagen-Dazs Shops.
Celebrate Häagen-Dazs' 60th birthday with a limited time scoop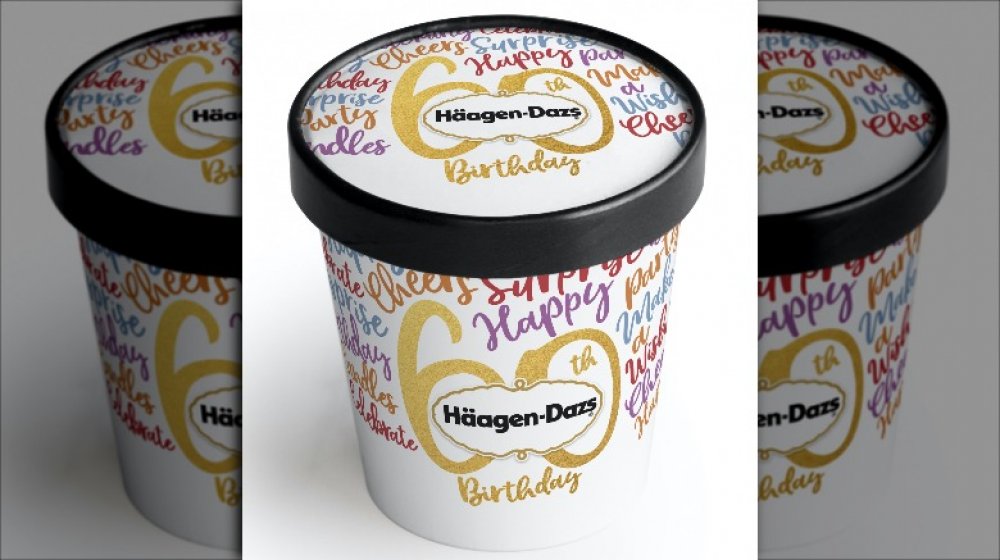 Häagen-Dazs
In a press release provided to Mashed, Häagen-Dazs' brand new, limited-time flavor was announced to be Birthday Cake! They describe the Birthday Cake flavor as combining vanilla cake batter ice cream, chunks of classic yellow cake, chocolate brownie batter swirls, and rainbow birthday sprinkles. You can get the new flavor in a cup, cone, take-home pint, or as part of their premium Birthday Cake Dazzler Sundae. The special Sundae comes with scoops of the Birthday Cake ice cream topped with hot fudge, vanilla cookie pieces, whipped cream, and more rainbow sprinkles.
The special birthday packaging, which includes a code that can be used with the Snapchat app to gain entry to the Instant Win + Sweepstakes site, will be featured on the brands most iconic and historic flavors, Vanilla, Chocolate, Coffee, and Strawberry, as well as their Vanilla Chocolate Milk Almond Bars. They will be awarding daily prizes to entrants like wireless headphones, smartwatches, free ice cream, and more through the 15th of September, 2020.
We're particularly excited to try out the new Birthday Cake ice cream, which Häagen-Dazs has confirmed to us is available at Häagen-Dazs Shops now. They have not yet released an end date for the flavor, but say it will be around through the fall, so you have time to check their online store locator to find a shop near you that is carrying the celebratory scoops for take-out and delivery.