The Truth About Martha Stewart And Emeril Lagasse's Relationship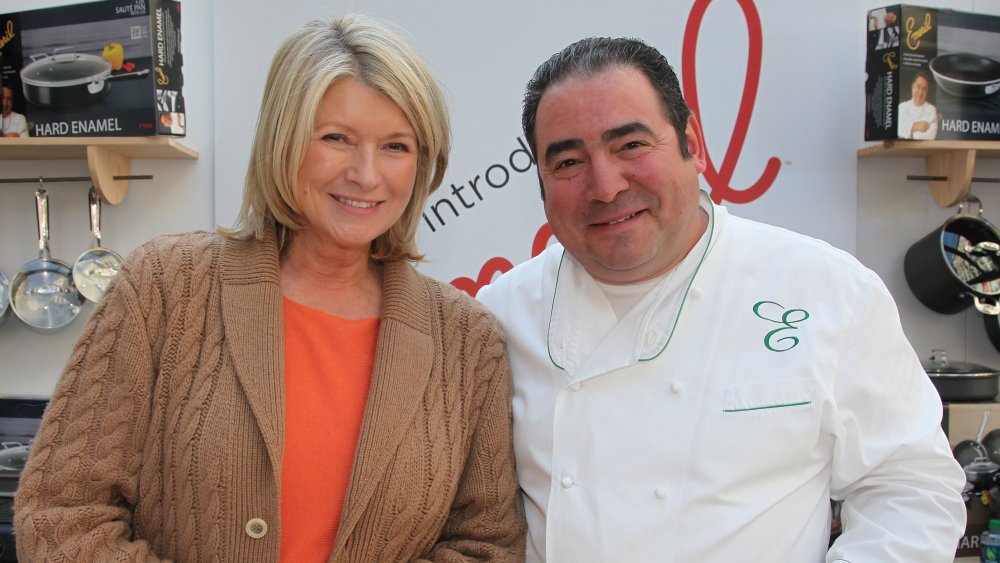 Donald Bowers/Getty Images
In the immortal words of John Lennon and Paul McCartney, "I get by with a little help from my friends." It probably helps a lot when those friends give you millions of dollars. That was certainly the case for chef Emeril Lagasse in 2008. The charismatic baron of "Bam!" had been awash in financial hardship since 2005, when Hurricane Katrina badly damaged three of his New Orleans restaurants, per AL.com. The total damage to his establishments topped $1 million.
Misfortune continued to pile on in 2007. The Food Network pulled the plug on his show, Emeril Live, concluding a decade-long stint on the station. But Lagasse got by with more than a little help from his friend, Martha Stewart. In 2008, her company, Martha Stewart Living Omnimedia, acquired the rights to his cookbooks, TV shows, and kitchen wares. The price was right for Lagasse, who netted at least $45 million and another $5 million in stocks. "She showed up at a tough time when I thought the whole ship might be going down," he remarked. "Basically, what I have now is a business partner."
Taste of Home Shopping Network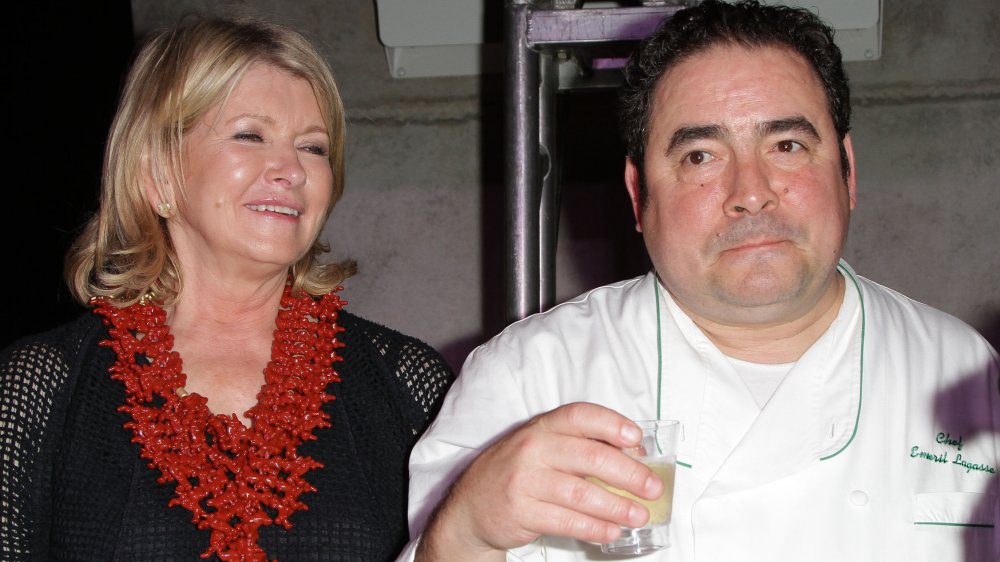 Alexander Tamargo/Getty Images
For Stewart, helping Lagasse was both a shrewd move and a show of appreciation. She explained, "His remarkable talents in the kitchen and his high-energy exuberance delight and inform. He made television cooking programs mainstream, opening the category to new audiences and proving that cooking is something everyone can enjoy." Lagasse lavished praise of his own, describing Stewart as "delightful" and declaring he had "no regrets." But it wasn't all smooth sailing from there.
In 2014, Stewart, Lagasse, and the Home Shopping Network landed in legal hot water for defrauding viewers. The problem? They sold knives purported to be from Germany. One side of the blade bore the inscriptions "Emerils" and "Solingen, Germany." The other side revealed where the knives really came from: China. The German Chamber of Industry and Commerce Wuppertal-Solingen-Remscheid, a German trade association, were not amused. The group sued. Per Yahoo Finance, as part of a larger settlement a court permanently barred Stewart, Lagasse, and HSN from using the Solingen certification. 
Nonetheless we're sure Stewart and Legasse's relationship will endure!