Here's How Scientists Made Gin From Peas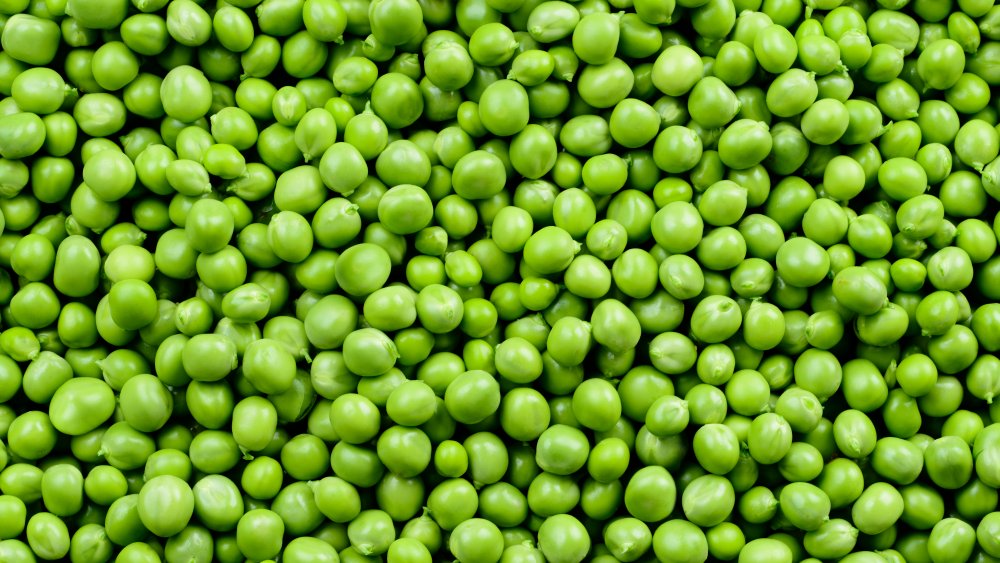 Shutterstock
Traditional gin has always been made by mixing botanicals with grain-based alcohol (via Food Republic). To be a true gin, these botanicals must include juniper. Distillers take an aromatic food or spice such as juniper, coriander, citrus peel, cinnamon, almond, or licorice and then mix this aromatic with neutral grain alcohol. A liquor designed for cocktails, gin and tonics have long been know as a United Kingdom favorite and has plenty of fans stateside, too. 
Now, distillers are taking their gin-making up a level as one Scottish distillery has figured out how to create gin from peas. It's about drinking responsibly — for the environment. Called Nàdar, after the Gaelic word for nature, this new gin is carbon neutral and climate positive (via Arbikie). A five-year labor of love, this product by Arbikie distillery was created in partnership through a Ph.D. study at Abertay University and The James Hutton Institute through Master Distiller Kirsty Black. In the case of Nàdar, the base alcohol is created from peas with added botanicals of lemongrass and citrus.
Climate-positive gin you can drink responsibly
Peas source nitrogen from the air, thereby avoiding the need for environmentally-damaging nitrogen fertilizers. In addition, the pea created at this sustainable food-focused distillery has a carbon footprint of -1.54 kg CO2e per 700ml bottle. In simpler terms, it means the production of this liquor avoids more carbon emissions than it produces. 
While this spirit is certainly eco-friendly, the bigger question is — how does it taste? "Following two distillations plus an infusion with botanical ingredients including juniper and coriander, the final gin retains the same sumptuous, aromatic flavor as if made from cereal grain," says Black (via Food & Wine). One happy taster describes the experience on Instagram, "A delicious refreshing gin. Goes well with bread from the oven in the morning! Get some if you can."
If you'd like to enjoy, try pouring some Nàdar gin over ice, then add lime juice, lemongrass, kaffir lime leaves, and lime sugar syrup. Shaken it all up and garnish with mint (via Instagram).