The Truth About Anthony Bourdain And Nigella Lawson's Friendship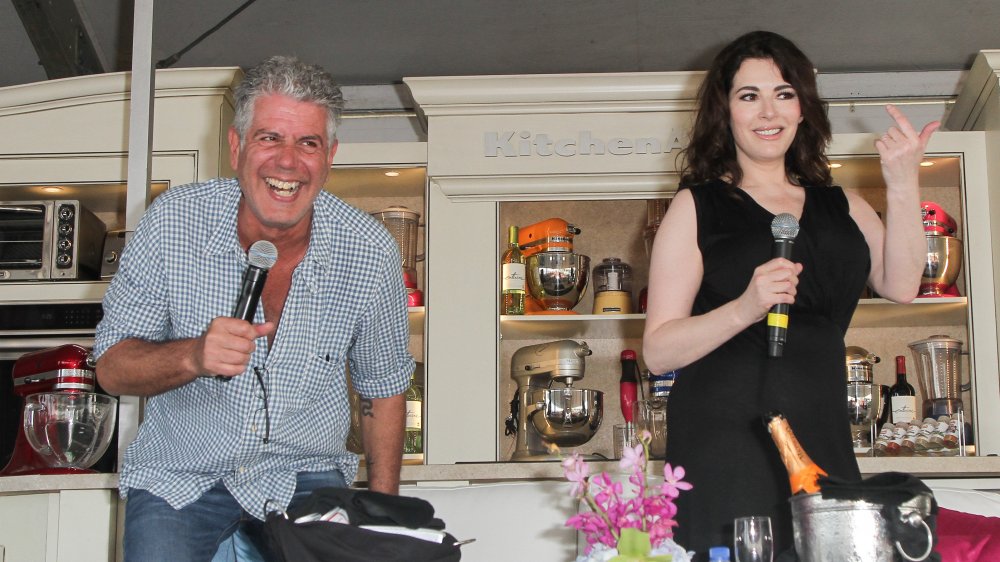 John Parra/Getty Images
Anthony Bourdain has taken us around the world with no reservations. His acerbic wit, defining taste, and infectious enjoyment of the absurd are trademarks of his lasting legacy. In addition to Bourdain's edgier side, however, are his displays of the bonds of friendship, and his relationship with Nigella Lawson is a prime example. Lawson herself is an accomplished figure on the celebrity food scene. This British chef stands out with exquisite recipes and mouthwatering desserts. Lawson and Bourdain worked together on the short-lived cooking competition show The Taste, which ran from 2013-2015 (via IMDb). The affection between this power-chef duo is evident in a sweet photo of the two spending time together over a pint in Europe in 2016. Writes Bourdain in a caption, "Always looking out for me. Late afternoon pint. Scotch egg" (via Instagram). 
But while this friendship was easy, their closeness stems from a mutual understanding that life can be difficult.
Shared suffering can create close bonds of friendship
Anthony Bourdain made no secret of his youthful struggles with addiction, and lifelong struggles with depression. On a 2016 episode of his show Parts Unknown he describes, "Suddenly I look at the hamburger and I find myself in a spiral of depression that can last for days," (via Yahoo!). His compassionate understanding of others was likely why Bourdain ended up being the perfect person to support Lawson through her own trials in 2013. During the second season of filming their show together, Lawson went through a very public split with her then-husband of ten years, Charles Saatchi (via Page Six). Video had emerged of the husband and wife in an altercation at a London restaurant resulting in his publicly choking her, and a subsequent arrest. During this time, sources said, "Anthony has really taken her under his wing and is looking after her." 
While the two remained very close throughout the remainder of Bourdain's life, they were not romantically linked. "Heartbroken to hear about Tony Bourdain's death. Unbearable for his family and girlfriend," Lawson shared upon Bourdain's untimely passing (via Twitter).