The Real Reason Popeyes Changed Its Name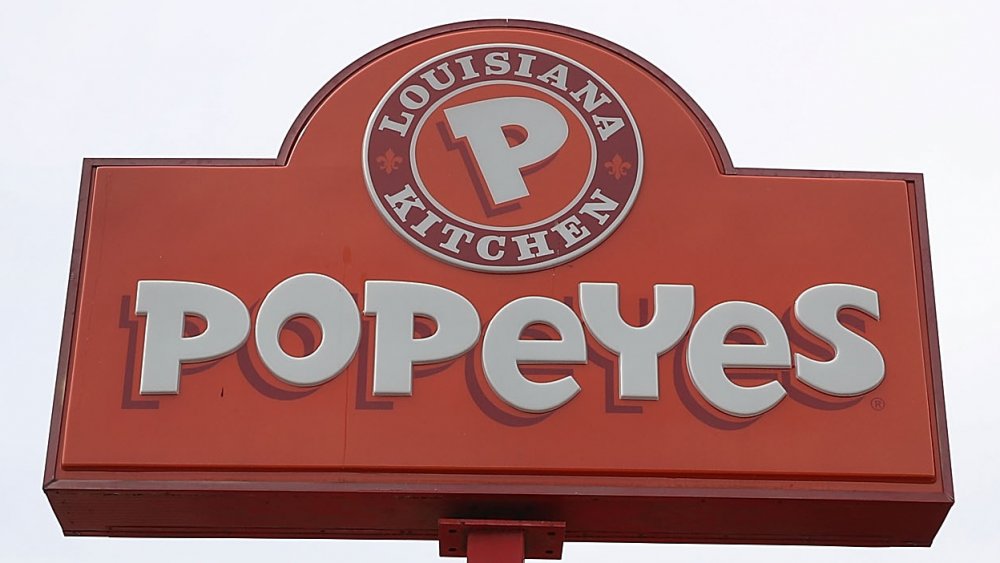 Joe Raedle/Getty Images
During a 2020 broadcast of Family Feud Canada, contestant Eve Dubois seemed supremely confident that she would kill it in the "Sudden Death" round. As People magazine recounts, the only things standing in the way of winning $10,000 were her opponent and what host Gerry Dee described as a "real simple" question: "Name Popeye's favorite food." It should have been like stealing candy from a baby, specifically Swee'Pea, the affable infant who popped up on Popeye the Sailor's doorstep (via Popeye the Sailorpedia).
Unfortunately, Dubois went the sweet tea route. After beating her opponent to the buzzer, she sing-songily answered, "Chiiiiicckkkkennn!" and did a giddy victory dance. The correct answer, of course, was spinach. Popeyes the restaurant sailed to the rescue, offering Dubois $10,000 worth of "chiiiiicckkkkennn!" However, that failed to address the million-dollar question of why Popeyes has that name when it doesn't even sell spinach, as one Edmonton man was appalled to learn in 2017, according to the Beaverton.
It gets weirder when you consider that Popeye the Sailor hangs out with quite a few food-themed characters — a sweet pea-themed baby, a professional damsel in distress named Olive Oyl, and Wimpy the hamburger addict. Yet you won't find a single olive, burger, or baby on Popeyes' menu. Weirdest of all, Popeyes used to have a completely different name, and the change wasn't inspired by the spinach-powered sailor who caused the sudden death of Dubois' game show hopes.
Popeyes' original name was a recipe for failure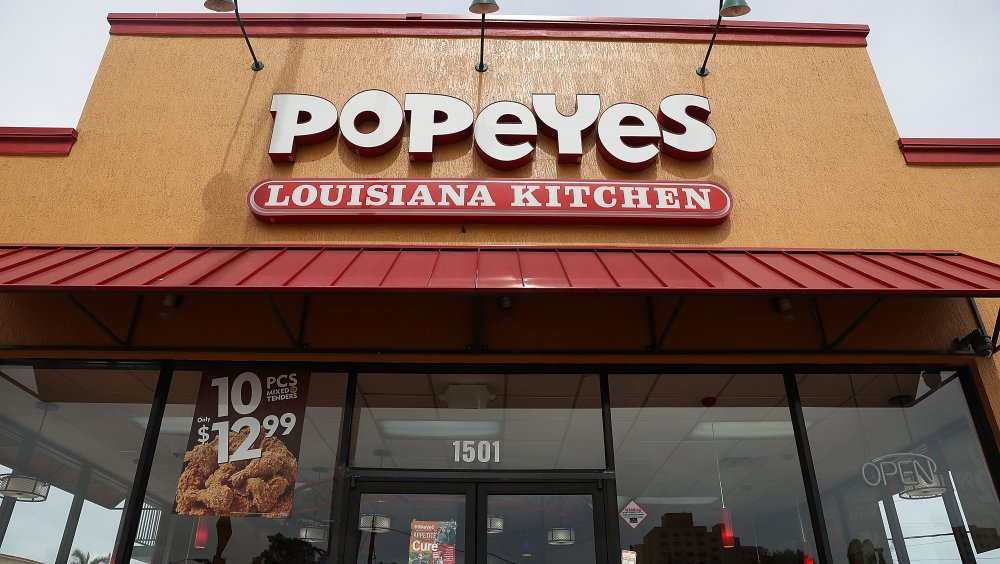 Joe Raedle/Getty Images
Per the Popeyes website, the first link in this fast food chain was originally called "Chicken on the Run." But the fledgling restaurant didn't hit the ground running when Al Copeland founded it in the New Orleans, Louisiana suburb of Arabi in 1972. Perhaps "Chicken on the Run" evoked images of chickens fleeing for their lives or fleeing the law like feathered fugitives from justice. Either way, for months, people showed little interest in running to Copeland's chicken kitchen. A name change was obviously the answer to renew interest in the restaurant, so it was reopened as "Popeyes."
The new name was a nod to Gene Hackman's character in the The French Connection: Jimmy "Popeye" Doyle." The rebrand also came with brand new spicy, New Orleans-style chicken. Considering that the city is steeped in Cajun and Creole cuisine (via NewOrleans.com), you argue say that Popeyes' name has multiple French connections. The most important connection was to customers' stomachs. In 1976, the company opened its first franchise, and in 1980 it hatched its iconic catchphrase, "Love That Chicken from Popeyes." Clearly, that chicken was running smoothly.