Here's How Much Money Jacques Pepin Is Really Worth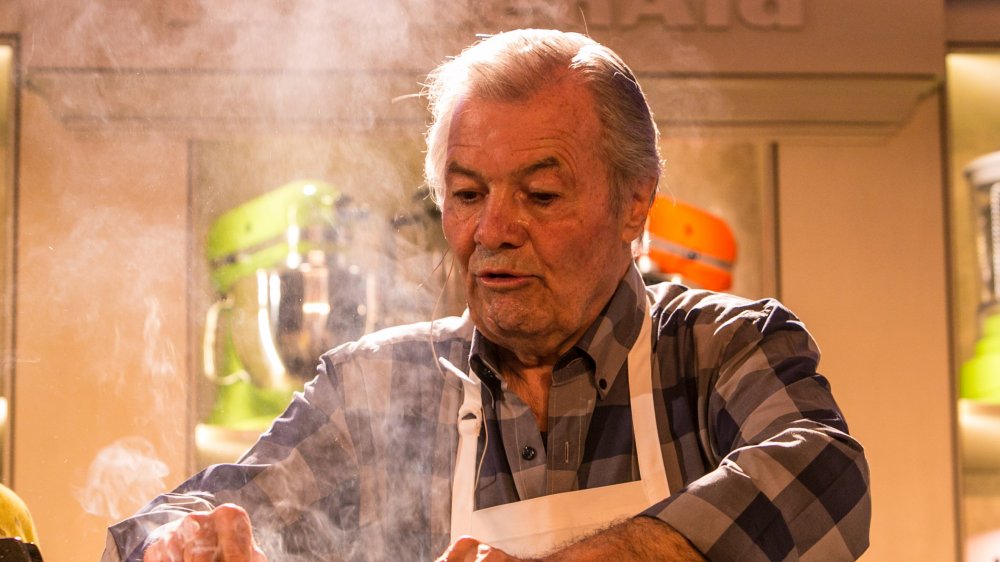 George Rose/Getty Images
We may receive a commission on purchases made from links.
Before Food Network and Bravo spun a ton of aspiring chefs into the spotlight, there was one man making culinary television history on local PBS stations. Born outside of Lyon, France in 1935, Jacques Pepin grew up in his parents' restaurant and had an early appreciation for all things gourmet. After training in some of Paris's top dining institutions, Pepin went on to be a personal chef for political bigwigs in France.
After emigrating to the U.S. in 1959, Pepin spent time working at Le Pavillion, an iconic New York French restaurant. From there Pepin got his first taste of corporate life, taking on a position at Howard Johnson's hotels and restaurant group as director of marketing and research, developing new menu items for the chain's properties, and even working as a line cook according to an op-ed he penned that appeared in The New York Times. 
In the mid-1970s, Pepin transitioned from successful corporate chef to household name with a series of bestselling cookbooks focusing on classic French technique. The talented home cooks at The Splendid Table called them game-changers, noting that there were no other books out there like Pepin's at the time. Over the course of his writing career, Pepin has penned many, many volumes, with countless copies landing in kitchens all over the world (via Amazon).
Between cookbooks and TV shows, Pepin has done quite well for himself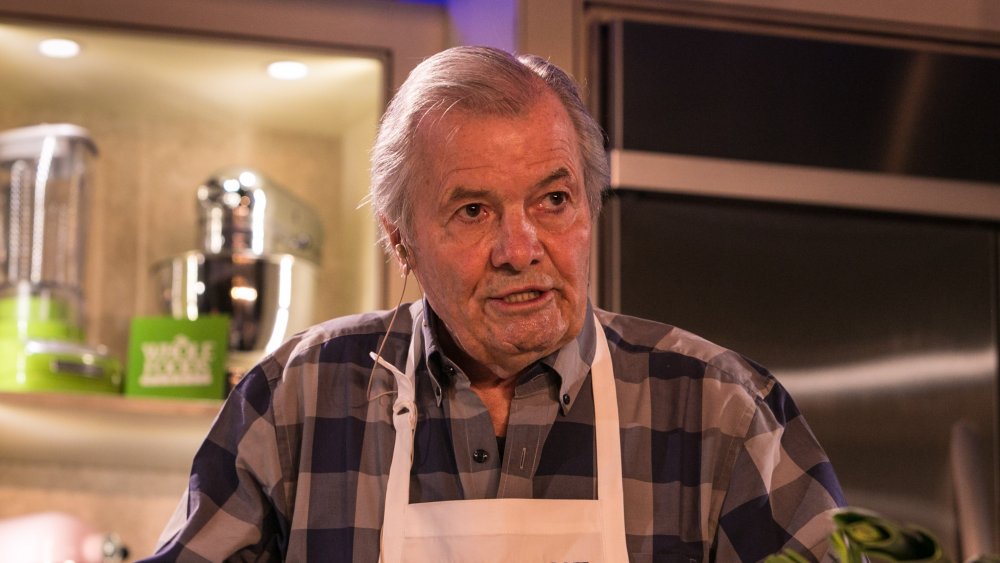 George Rose/Getty Images
Pepin made a name for himself by teaching American home cooks about the simple joys of French cuisine through his technique-based cookbooks, and became a familiar face beginning in the late '90s with a series of cooking shows airing on PBS stations across the country.
During his TV career, the egg enthusiast flew solo in shows like Today's Gourmet (via JP Foundation) and Essential Pepin (via KQED), co-starred with fellow big personality Julia Child (via PBS) as well as in a series with his daughter (via JP Foundation). Pepin's tenure on TV brought him a daytime Emmy Lifetime Achievement Award (via JP Foundation).
According to KPBS, Jacques Pepin Heart & Soul was the chef's last television chapter back in 2015, although Pepin can be spotted occasionally on various food-themed programming, though The Daily Meal notes that he's not a big fan of reality TV cooking shows.
Introducing American audiences to traditional French techniques has paid off for Pepin, and according to Celebrity Net Worth, the chef and author is worth upwards of $20 million. These days the chef and his wife live comfortably in  Connecticut where they have been sharing the wealth through the Jacques Pepin Foundation, a charity committed to proving culinary education to those in need.