Sonic Just Announced Exciting News For Bacon Lovers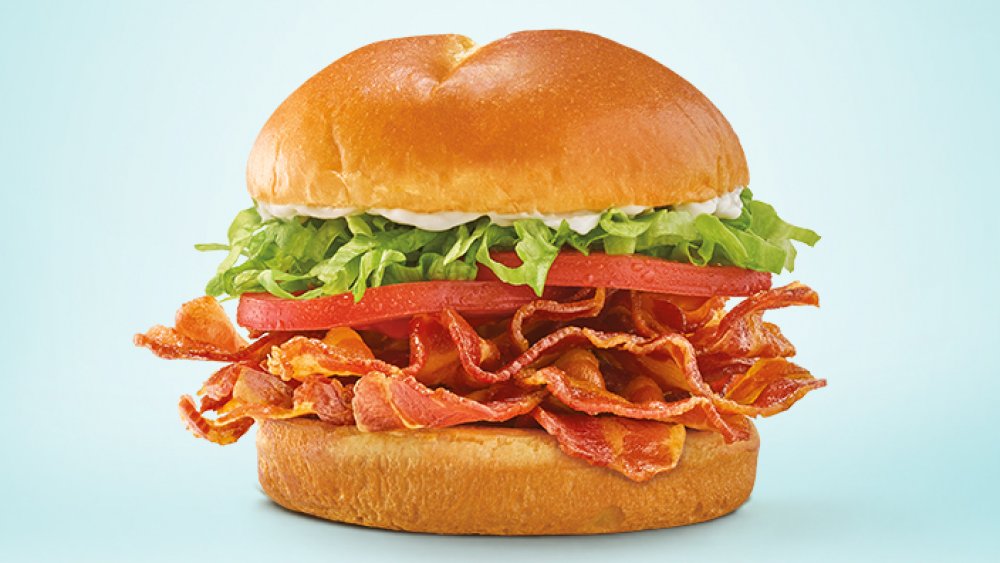 Sonic
While the BLT could possibly be considered the official sandwich of summer, drive-in fast food chain Sonic is ready to take it to the next level with the return of their BBLT. In a statement sent to Mashed, Sonic says that they are bringing back the bacon-filled sandwich starting July 8th, 2020 for a super limited time. If you missed out last year, the sandwich features hand-cut tomatoes, crisp lettuce, creamy mayonnaise, and a whopping six pieces of bacon stacked on a brioche bun. They state that the sandwich will run you $3.99 and is only available through August 2nd, 2020, while supplies last.
According to Business Wire, Sonic's BBLT was originally released in the summer of 2019. The sandwich clearly sold well, since they decided to bring it back when the U.S. hit peak tomato season once again. Interestingly, last year's BBLT came with tots alongside the sandwich, but the summer 2020 ads only mention the BBLT. No word on whether or not this year's iteration comes with the fried potatoes, but with rising meat prices (via CNN Business) we kind of can't blame them if they decided to skip the free side.
Sonic is also releasing a limited-time float inspired by the flavors of summer
Sonic
In addition to the meat-heavy BBLT, Sonic is releasing another limited-time menu item to help you get into the summer spirit which we cannot wait to try. In the statement provided to Mashed, Sonic describes the all-new Lemonberry Slush Float as their classic Frozen Lemonade Slush layered with ice cream and topped with real fruit strawberries. We already know the Frozen Lemonade Slush is super refreshing and perfect for hot summer days (My Recipes rated the flavor an 82 out of 100!), and feel strawberries are the perfect addition to the sour drink. The frozen treat costs $2.99 for a medium size and, like the BBLT, will be available until August 2nd, 2020.
In a statement to Fox Business, Sonic's Vice President of Product Innovation and Development Scott Uehlein said, "When you think about summer, you reminisce the tastes of ripened strawberries, tart lemonade, and cold, creamy ice cream. The Lemonberry Slush Float embodies all three iconic summer flavors, providing guests with a sip and spoonful of sunshine in a cup and a little moment to celebrate everyone's favorite season." Sign us up!