The Cheez-It And Wine Combo Everyone's Talking About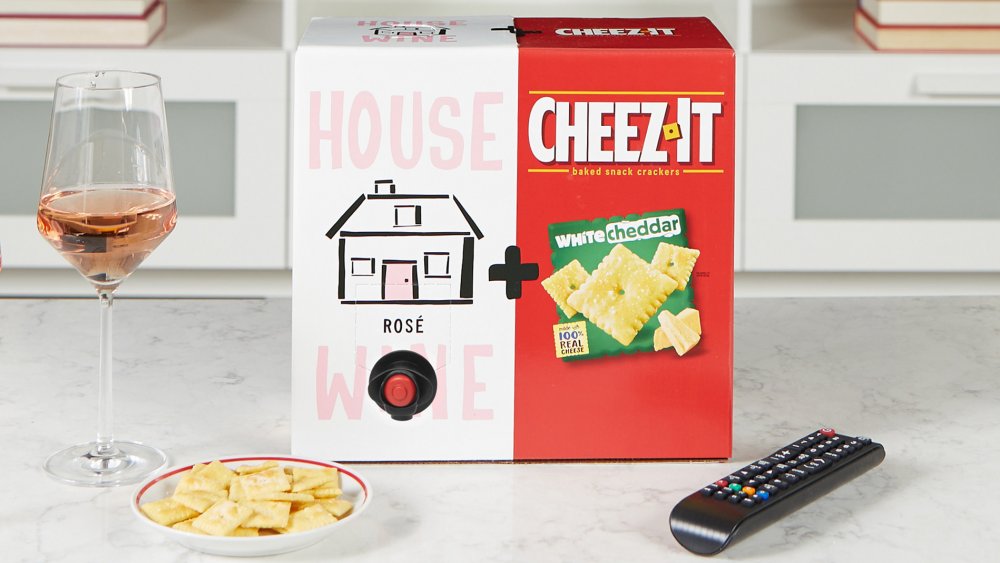 Kellogg Company
This summer, snack food brand Cheez-It is partnering with House Wine to release a new combo box in honor of National Wine and Cheese Day on July 25th, according to Bustle. The limited-time product is a follow up to the brand's successful partnership last year, which paired Cheez-It's Original flavor with House Wine's red wine. Delish reports that this year's combo box will feature White Cheddar Cheez-Its and House Wine Rosé.
USA Today states that each combo box contains three liters of wine, which is about four bottles worth, and 20 servings of Cheez-Its. The combo package will be available for sale starting at 2 pm Eastern Time on Saturday, July 25th at OriginalHouseWine.com, and will retail for $29.99. Hal Landvoigt, a winemaker for House Wine, said, "We've seen rosé skyrocket in popularity over the past few years, especially during the warm summer season," so this year's celebratory combo pack is likely to sell out fast, especially considering last year's Original Cheez-It and red wine pairing was allegedly gone in just a few minutes.
You might want to just head to the grocery store and make your own Cheez-It and House Wine pairing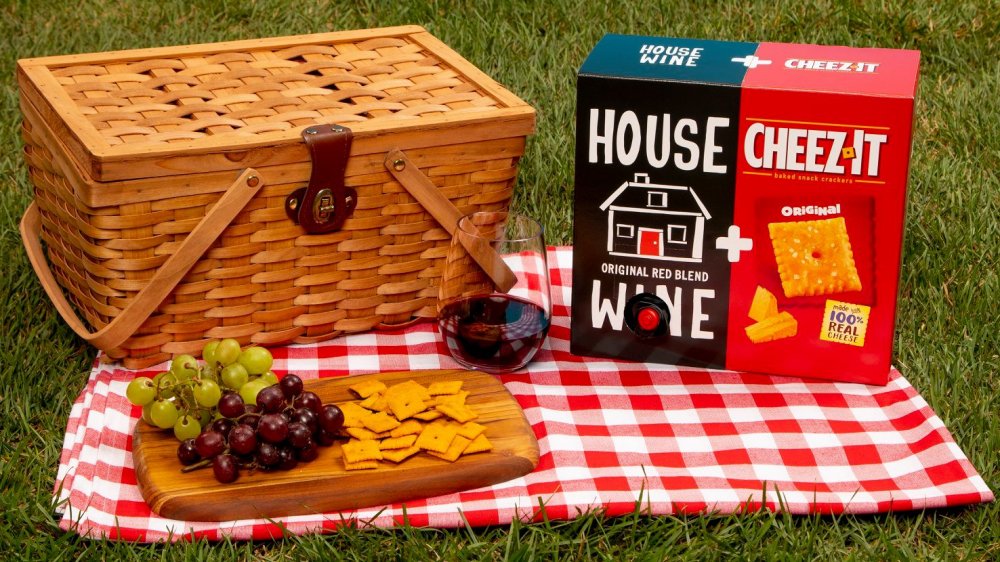 Kellogg Company
If you miss out on the promotion, the two companies have offered some wine and cracker combinations for you to try out at home. In their Cheez-It and Cheer-It guide, they suggest pairings like Cheez-Its Extra Toasty with Sauvignon Blanc, Cheez-It Grooves Zesty Cheddar Ranch with Malbec, and Cheez-Its Duo Sharp Cheddar and Parmesan with Chardonnay. It honestly might even be a better idea to take this guide and hit up your local grocery store instead of battling for one of the limited-time combo boxes online, as Bustle states that you're likely to spend more money on the combo package at $29.99 than you would just buying individual boxes of Cheez-Its and House Wine. Apparently, at most shops, a box of Cheez-Its retails for $2.99 and a box of House Wine costs $21.99, so you're basically paying an extra $4 to avoid going out.
Pairing a glass of wine with a handful (or five) of Cheez-Its is a classic snack we've all definitely indulged in after a particularly stressful day, so we're super excited to see how well these two flavors go together and to try out the other pairings the brands have come up with.